Emergency Medicine Ultrasound Machines Buyer's Guide

Ultrasound technology, which provides physicians with critical diagnostic information about patients, becomes more advanced every year. Emergency medicine ultrasounds are especially useful, allowing ER and urgent care doctors to diagnose and treat patients as quickly as possible. These devices can be compact and portable or full-sized. Keep reading to learn about the features you can expect with an emergency room ultrasound machine and the best models available.
Ultrasound Machine: 
Chison SonoTouch 30 
GE Logiq P9
SonoSite S-Series
Ranking
Best tablet-style ultrasound machine for emergency medicine
Best cart-style emergency medicine ultrasound machine
Best mountable ultrasound machine for emergency medicine
Price Range
$11,000 to $12,500
$17,500 to $22,000
$9,000 to $22,000
3D/4D Imaging
No
Yes
No
Monitor Size
10.4"
21.5"
10.1"
Image Quality
High-definition
High-definition
High-definition
Controls 
Touchscreen
Knobs, buttons

, and touchscreen

Knobs, buttons, and trackpad
Battery Life
2.5 hours
1 hour
2 hours
Workflow Features:
Compound imaging, intuitive/fast touch controls, customizable control mapping
Footswitch, Scan Assistant, AutoDoppler, Auto Optimization, intuitive/customizable touch controls, four active probe ports
Simple, two controls for depth and gain. Quick adjustments with touchpad, automated functions.
ER Features:
Fast boot time (less than 30 seconds), portability, 2.5-hour battery life, quick workflow
Four active probe ports allow for quick switching for different scans, quick workflow, easily transport between rooms
Boots in 15 seconds, fast, simple controls, can be wall or ceiling mounted to keep out of the way
What sets it apart:
Touchscreen, integrated kickstand, easy portability, long battery life, full set of measurement analysis packages
Compatibility with almost every type of scan, four active probe ports to switch quickly, easy to move
Wall, ceiling, or cart mounting. From off to scanning in 15 seconds, easy two controls from depth and gain, specialized for emergency medicine
Common Features of an Emergency Medicine Ultrasound Machines
ER ultrasound machines often come with needle visualization to help doctors administer anesthesia before emergency procedures. They can also help doctors decide if patients are healthy enough for surgery. Many devices have automatic image optimization for a clearer image that's easier to interpret, and they can connect to more than one probe at once for excellent versatility. Color Doppler imaging highlights blood flow, letting doctors evaluate circulation and vascularization.
Some devices have a 3D imaging mode that combines images from slightly different angles. They might also have a 4D or live mode that lets ER doctors see how injured joints, muscles, and other body parts move.
The Chison SonoTouch 30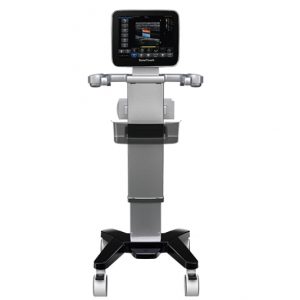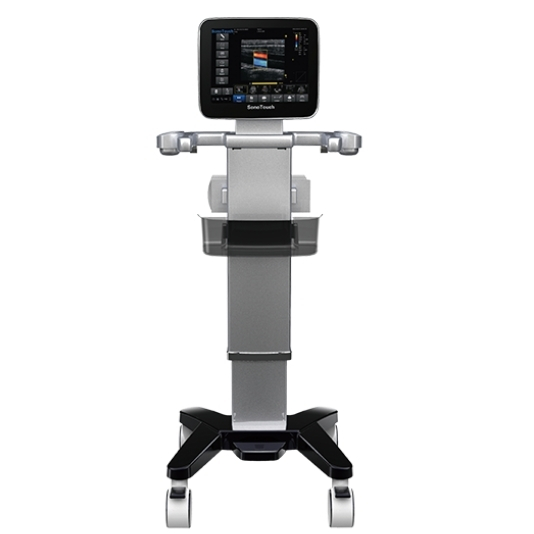 The Chison SonoTouch 30 is the best tablet-style ultrasound machine for emergency medicine, and prices usually range from $11,000 to $12,500. The touch screen comes with intuitive, customizable fast-touch controls, and compound imaging software combines several similar images for a clear view with fewer artifacts. This machine can boot up and start scanning in less than 30 seconds, making it ideal for trauma cases and other emergencies. It only weighs 10 pounds, so it's easy to transport to patients.
A collapsible stand on the back of the tablet allows you to prop it up on a surface next to the patient while performing a scan. The machine is compatible with linear, convex, microconvex, sector, and endocavity transducers. The Chison SonoTouch 30 is also compatible with DICOM (digital imaging and communications in medicine) image archives often used to keep hospital records. Other standard features include:
A 10.4-inch HD screen
A 2.5-hour battery life
A full set of measurement and analysis packages
An Ethernet port
Three USB ports
Color Doppler imaging
Pulsed wave Doppler to detect the speed and direction of blood flow
within a small area such as the chambers of the heart
M-mode to detect motion from changes in sequences of 2D images
Needle visualization
Speckle reduction
Tissue harmonics for more contrast between tissue types
The Fujifilm SonoSite S-Series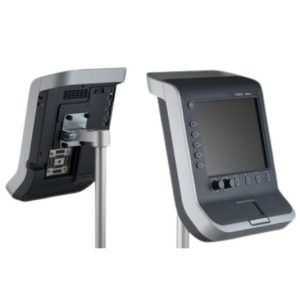 The SonoSite S-Series was the first mountable ultrasound machine in the industry. It usually costs between $9,000 and $22,000. You can attach it to a wall, the ceiling, or a stand for easy access, and you can fold or collapse it inward or adjust it outwards toward the patient. That way, you can keep it in an exam room and avoid wasting valuable time bringing it to a patient from storage.
You can also boot this ultrasound machine up and be ready for scanning in less than 20 seconds. This makes it ideal for emergency medicine, and it lets patients enjoy a quick, streamlined visit. Knobs, buttons, and a trackpad make controlling this ER ultrasound easy, and many functions are automated for a smoother workflow. The S-Series also comes with:
A 10.1-inch HD monitor
A two-hour battery life
Image optimization to adjust for depth
Two simple controls for depth and gain
DirectClear technology for better signal penetration and contrast resolution
Two probe ports
Three USB ports
An Ethernet port
Wireless capability
Color power Doppler to detect the direction and speed of blood flow
Tissue harmonics for better differentiation between tissues
DICOM record-keeping compatibility
Speckle reduction
Needle visualization
Compound imaging
Pulsed wave Doppler
M-mode
The GE Logiq P9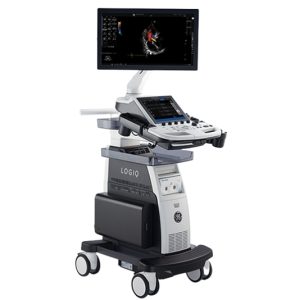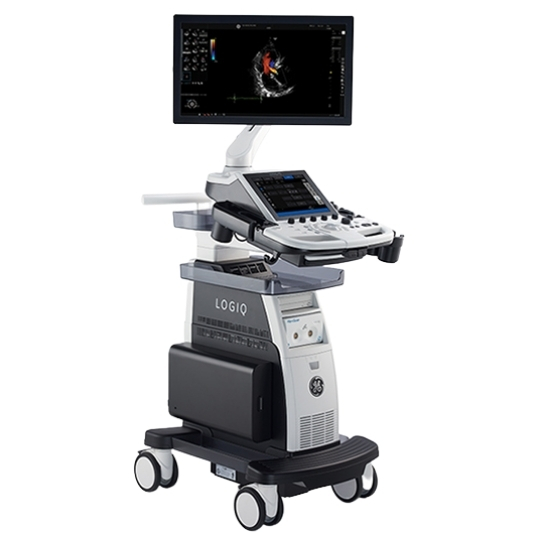 The GE Logiq P9 is the best cart-style emergency medicine ultrasound machine. It's easy to transport from room to room and weighs 132 pounds. Prices usually range from $17,500 to $22,000, and the image quality is excellent. You can control this ultrasound with a 10.4-inch touch screen, a footswitch, knobs, and buttons.
This user-friendly machine lets doctors conduct almost every type of ultrasound scan. Its dynamic range, or the difference between the minimum and maximum signal values, is adjustable for better visibility. With Compare Assistant, you can compare current and past scans to look for changes. You can add an articulated arm for the monitor, a gel warmer, and wireless capability. With this machine, you'll also get:
A 21.5-inch HD monitor
A one-hour battery life
3D and 4D imaging
Imaging depth up to 33 centimeters
Scan Assistant to shorten exam times by decreasing the number of keystrokes needed and increasing exam accuracy and consistency
Automatic image optimization (AIO)
Four probe ports
Elastography with quantification
B Steer+ needle visualization
Panoramic imaging
Additional Options From Strata Imaging
At Strata Imaging, we offer an extensive inventory of these musculoskeletal ultrasound machines and more. You can get a refurbished device or a brand-new model to diagnose and treat patients. Contact us to learn more about the MSK ultrasound machines we have available.
Contact for Price Quote
Discover Ultrasound from Strata Imaging
If you are in need of an ultrasound system or C-arm maintenance and repair service, or if you are looking to purchase a unit, allow our knowledgeable customer service and expert repair teams to assist you in developing a solution that fits your requirements.
We know that fast repairs are crucial on down equipment; that is why we strive for a less than 24 repair service.
Strata Imaging's Guarantee

FDA Certified Products

Factory OEM Specifications

100% Guarantee
Our clients
Trust Others From Around The World
Served over 4,000 Ultrasound and C-Arm Clients since 2004