MSK Ultrasound Machines Buyer's Guide

Musculoskeletal (MSK) ultrasound machines are important tools designed for orthopedics, rheumatology, podiatry, pain management, needle visualization, and other MSK applications. Advances in technology make these machines more accurate and easier to use every year, and a variety of different brands are available. You can choose from hundreds of ultrasound machines, the best of which depends on your patients and their needs. At Strata Imaging, we can help you find a high-quality musculoskeletal ultrasound. Here are the typical features of an MSK ultrasound machine and the best options for practices with varying budgets.
| | | | |
| --- | --- | --- | --- |
| Ultrasound Machine:  | Medison Accuvix XG | GE Venue 40 | Sonimage MX1 |
| Ranking | Best premium orthopedic ultrasound machine | Best portable orthopedic ultrasound machine with touchscreen | Best budget orthopedic ultrasound machine |
| Price Range | $10,000-$25,000 | $9,000-$12,000 | $14,000-$16,000 |
| 3D/4D Imaging | Yes | Yes | No |
| Monitor Size  | 15" | 15" | 12.1" |
| Image Quality | 1024×768 resolution | 1024×768 resolution | 1024×768 resolution |
| Controls | Knobs, buttons, and trackball | Knobs, buttons, trackball, and touchscreen | Knobs and buttons |
| Battery Life | 1 hour | 1.5 hours | 2 hours |
| Workflow Features: | Tissue enhancement imaging (TEI), XView, CMM, MView, ergonomic keyboard | Compound Imaging, Speckle Reduction Imaging, AutoIMT, Automatic Image Optimization, fully customizable, 2-active probe ports | DirectClear Technology, dual imaging, duplex imaging, dynamic range/gain, remappable controls, soft keys for advanced features |
| Orthopedic Features: | Tissue Enhancement Imaging (TEI), Tp-View, QIMT – Quality Intima Media Thickness, CnTI (Contrast Tissue Enhanced Imaging) | Auto Optimization, Needle Visualization, i-Image(Intelligent image optimization) | High color sensitivity for visualization of nerves and vessels, needle visualization |
| What sets it apart: | Wide selection of probes and many diagnostic tools for orthopedics | Unparalleled image quality, removal battery for fast swap and recharge, easy to carry built-in handle | Quick boot time < 25 seconds, ruggedness, armored cables, fast booting time |
The Typical Features of an MSK Ultrasound Machine
Musculoskeletal ultrasound can help professionals diagnose various problems affecting the joints, muscles, ligaments, and tendons. People working in sports medicine often use these devices to examine sprains, torn ligaments, and other injuries. MSK ultrasounds can also help diagnose tumors, cysts, hernias, arthritis, and carpal tunnel syndrome. However, they're less effective for examining bones or deep tissues.
Color flow imaging, or color Doppler imaging, helps diagnose active inflammation by detecting elevated blood flow in soft tissue. Contrast agents can enhance visibility, and 3D imaging uses sound waves from different directions to create a three-dimensional image. With 4D imaging, you can see a live video of muscle and joint movement as well as blood flow.
The Sonimage MX1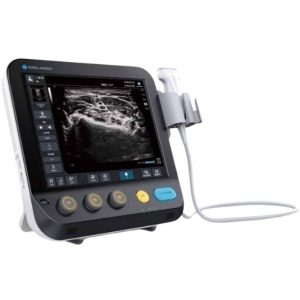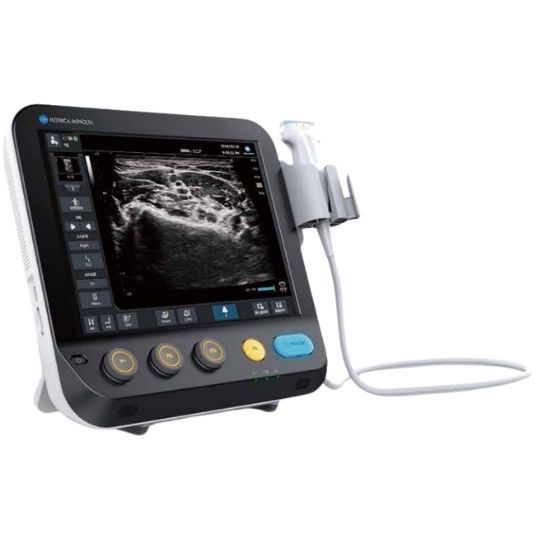 The Sonimage MX1 is the best budget, tablet-style ultrasound machine for MSK, and it usually costs between $6,500 and $10,000. The HD IPS, or in-plane switching monitor, provides a wide viewing angle and excellent color accuracy. Buttons, knobs, hotkeys, and a customizable touch screen make this device easy to control. It's easy to transport and use, and it comes with a tabletop dock so you can charge it when it's not in use.
Dual sonic technology uses different frequencies for the inner and outer parts of the probe, increasing penetration and improving the signal-to-noise or S/N ratio. The Multi-Parameter Adjuster, or MPA, lets you change multiple image parameters, such as frequency and depth, with just one touch. It reduces unnecessary keystrokes by optimizing the image and providing convenient presets. Other standard features include:
A 12.1-inch monitor
A one-hour battery life
Simple needle visualization (SNV) for accurately placed injections in muscles and joints
Software designed for sports imaging and athlete support
The GE Venue 40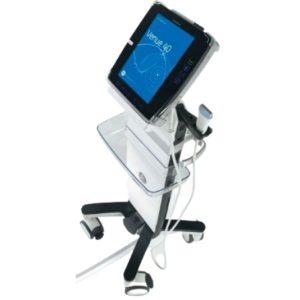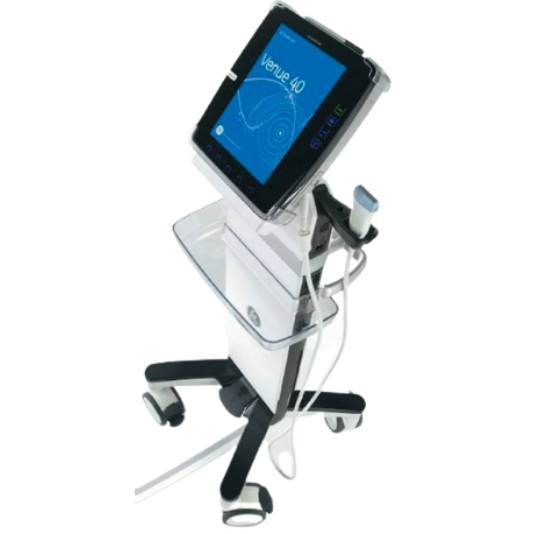 The GE Venue 40 is an ideal choice for organizations with larger budgets. Like the Sonimage MX1, it's a portable, tablet-style MSK device. It usually costs between $10,000 and $15,000, and it's easy to connect to a cart or take it on the go for excellent versatility. The touch screen has an intuitive interface and simple, one-touch controls. It's smooth and easy to clean and designed to withstand wear and strong disinfectants.
You can use this MSK ultrasound for superficial and deep scanning. The power Doppler imaging (PDI) feature helps measure the density and vascularity of many tissue types. PDI uses software to generate color images and provide more detail about blood flow. You'll also get B-steer technology that can angle the ultrasound image in real-time for an optimal view and better needle visualization. The GE Venue 40 also comes with:
A 10.4-inch monitor with 800 x 600 resolution
A one-hour battery life
A quick start or boot time
Easy screen height and tilt adjustments
The Samsung Medison Accuvix XG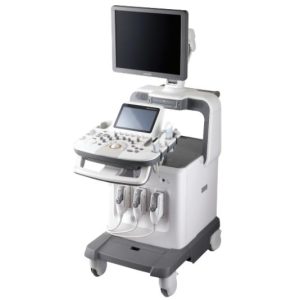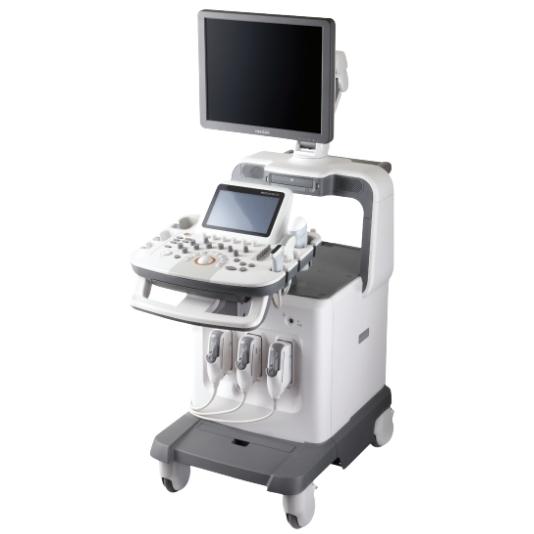 The Medison Accuvix XG is a full-sized, cart-style ultrasound machine that works well for many applications, including MSK. It's the best choice for organizations with a variety of specialists, including cardiologists or OB/GYNs, and it usually costs between $10,000 and $25,000. This machine has convenient knobs, buttons, and a 9-inch touch screen. It uses compound imaging to combine several images from slightly different angles for a clearer view.
High-definition volume imaging, or HDVI, improves tissue differentiation and edge depiction for more accurate diagnoses. Three-dimensional eXtended imaging, also called 3D XI, has a multi-slice view and an oblique or curved view. You can see several slices of an area simultaneously on the same screen. The Samsung Medison Accuvix XG comes with:
3D imaging
Live video or 4D imaging
A 19-inch monitor with 1280 x 1024 resolution
Easy adjustments for monitor height and articulation
Three active probe ports
A foot control
QuickScan intuitive image optimization
A wide dynamic range
The Dynamic MR Plus speckle reduction filter
Additional Options From Strata Imaging
At Strata Imaging, we offer an extensive inventory of these musculoskeletal ultrasound machines and more. You can get a refurbished device or a brand-new model you can use to diagnose and treat patients. Contact us to learn more about the MSK ultrasound machines we have available.
Contact for Price Quote
Discover Ultrasound from Strata Imaging
If you are in need of an affordable option and are looking to save 30-60% over new OEM prices then allow our knowledgeable customer service and expert team to assist you in developing a solution that fits your requirements.
We offer solutions with a 100% satisfaction guarantee, ensuring you receive the best value for your investment.
Strata Imaging's Guarantee

FDA Certified Products

Factory OEM Specifications

100% Guarantee
Our clients
Trust Others From Around The World
Served over 4,000 Ultrasound and C-Arm Clients since 2004