Urology Ultrasound Machines Buyer's Guide

Urology ultrasound machines are important diagnostic tools for evaluating the kidney, bladder, prostate, and more. Thanks to continual advances in technology and a variety of brands, you can choose from hundreds of these machines. Which model is best depends on your practice's needs. At Strata Imaging, we can help you select the best urology ultrasound machine for your doctors and patients. Continue reading to learn more about urology ultrasound machine features and the best choices for practices with varying budgets.
| | | | |
| --- | --- | --- | --- |
| Ultrasound Machine:  | GE Logiq E9 | Philips ClearVue 550 | Chison Sonobook 9 |
| Ranking | Best premium urology ultrasound machine with share-service support | Best budget urology ultrasound machine | Best Portable Ultrasound Machine for Urology |
| Price Range | $16,000 to $27,000 | $18,000-$27,000 | $16,000-$32,000 |
| 3D/4D Imaging | Yes | 4D Optional | Yes |
| Monitor Size | 19″ LCD | 17″ LCD | 15″ LED |
| Image Quality | 1280×1024 resolution | 1280×1024 resolution | Ultra HD |
| Controls | Knobs, buttons, trackball, and touchscreen | Knobs, buttons, and trackball | Knobs, buttons, and trackball |
| Battery Life | No battery | No battery | 2 hours |
| Workflow Features: | Intuitive touchscreen controls, custom workflow, Scan Assistant, Compound imaging, Auto Optimization | Compound imaging, panoramic imaging, 4 transducer ports, one-button iSCAN, AutoSCAN, XRES, Active Array | Automatic Image Optimization for B-mode and D-mode, user-defined workflow, instant switch between modes and measurements, auto ambient adjustments |
| Urology Features: | Built-in urological and renal calculations, Q-analysis, coded contrast imaging, Elasto QA, Shear Wave Elastography | iSlice tools, probes available for all urological exams, tissue harmonic imaging | AIO (automatic image optimization), high-sensitivity probes, speckle reduction, Elastography |
| What sets it apart: | Extraordinary image quality, compatibility with other applications | Slim profile, sleek control panel, a wide range of probes, and built-in scan configurations for urological exams | Portability, HDLive, auto measurements, user-defined workflows, fast booting speeds, competitively priced |
The Typical Features of a Urology Ultrasound Machine
A urology ultrasound is a type of noninvasive imaging urologists and other medical professionals use to view the prostate, bladder, kidney, testicles, and other organs and tissues. Urology ultrasounds can help diagnose an enlarged prostate, urethral stricture or narrowing, kidney stones, and more. They can also help doctors guide medical instruments during biopsies and other procedures. Depending on the patient's symptoms, a urology ultrasound can be transvaginal, transrectal, or abdominal.
Urology ultrasounds sometimes include the administration of contrast agents for better visibility. High-intensity focused ultrasound, or HIFU, can be effective for tumor ablation. Urology ultrasounds often come with 3D or 4D imaging. With 3D imaging, sound waves sent from different directions produce a three-dimensional image. With 4D imaging, you can see a live video of the urinary tract, related blood vessels, and more. These features can make diagnosing and treating many diseases easier and faster for doctors and patients.
The Chison Sonobook 9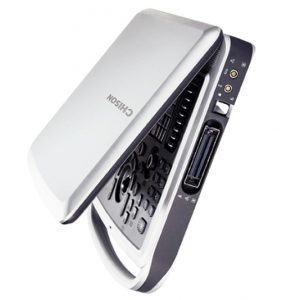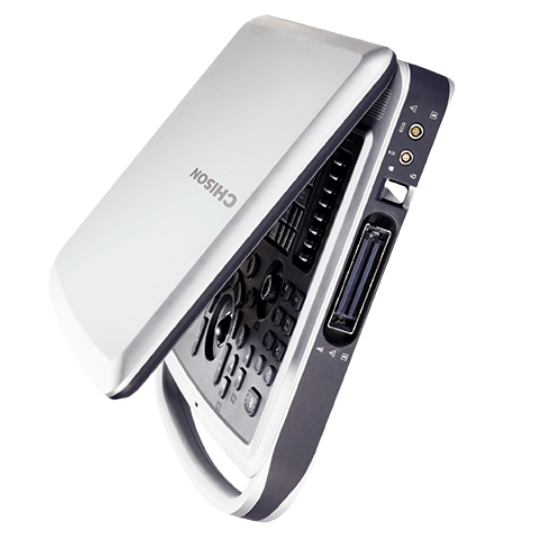 The Chison Sonobook 9 is the best portable, laptop-style ultrasound machine for urology and many other medical fields. It usually costs between $16,000 and $32,000, and you can control it with convenient knobs, buttons, and a trackball. Its internal solid-state hard drive makes saving images, changing modes, adjusting image quality, and transferring data fast and easy. You can start it in less than a minute, and its user-friendly design makes switching between ultrasound modes simple.
Q-Image tissue optimization has multiple settings for different tissue types. They make automatic adjustments to improve image quality. Elastography capabilities let you measure the stiffness of tissue, and you can combine it with an MRI for magnetic resonance elastography (MRE). The HDLive system uses a virtual light source that lets operators adjust lighting for better visibility. This urology ultrasound unit also includes:
3D and 4D imaging
A two-hour battery life
A 15-inch LED monitor
Ultra HD image quality
Automatic image optimization (AIO) for B-mode or two-dimensional images and D-mode or Doppler images
High-sensitivity probes
Speckle reduction software
Elastography
Automatic measurements
The Philips ClearVue 550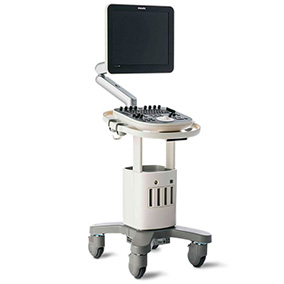 The Philips ClearVue 550 is the best budget urology ultrasound machine, costing about $18,000 to $27,000. You can control it with a trackball and a sleek control panel with conveniently placed knobs and buttons. A wide range of probes for all types of urological exams are available, and the lightweight, maneuverable cart is easy to operate. The monitor folds down like a laptop for easy storage, and you can turn it and adjust the height during use. This ultrasound machine is energy-efficient, and it emits low amounts of heat to help keep small exam rooms comfortable.
You can use the iSCAN automated scanning feature by pressing just one button, and the SonoCT compound imaging technology combines images from slightly different angles into one much clearer image in real-time. XRES high-resolution image processing improves tissue definition and image quality. Active Array technology improves 2D, 3D, and 4D image quality as well. iSlice intelligent slicing software provides progressive views of the patient's anatomy, and the customizable exam software makes conducting urology ultrasounds easier. The machine's features also include:
Optional 4D imaging
A 17-inch LCD monitor
1280 x 1024 resolution
A slim profile
Four transducer ports
Panoramic imaging
AutoSCAN
Tissue harmonic signal processing and imaging
The GE LOGIQ E9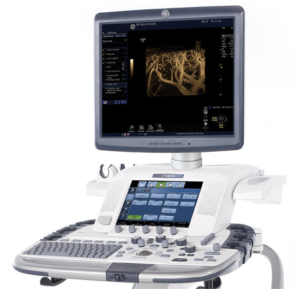 The GE LOGIQ E9 is the best premium urology ultrasound machine — ideal for urology exams as well as many other applications, including musculoskeletal ultrasounds. Prices usually range from $16,000 to $27,000, and the image quality is outstanding. You can control this device with a touch screen, a full keyboard, a trackball, knobs, and buttons, all of which are customizable and easy to use.
The GE LOGIQ E9 is designed to increase exam consistency and accuracy. Its sound waves can penetrate even the largest patients for accurate images, and Scan Assistant helps decrease keystrokes and shorten exam times. You can use shear wave elastography, or SWE, to evaluate tissue stiffness. It sends sound waves through the patient at perpendicular angles for a more detailed image. Advanced quantitative analysis, or Q-analysis, software can conduct many urological and renal calculations for you. With this machine, you'll also get:
3D and 4D imaging
A 19-inch LCD monitor
1280 x 1024 resolution
Automatic image optimization
Compound imaging
Coded contrast imaging
Full Inventory of Urology Ultrasound Machines
At Strata Imaging, we also have an extensive inventory of other urology ultrasound machines. You can choose a pre-owned, refurbished device or a brand-new model. With the right equipment, you can conduct more accurate testing. Contact us to learn more about all the urology ultrasound machines we offer.
Additional Options From Strata Imaging
At Strata Imaging, we offer an extensive inventory of these musculoskeletal ultrasound machines and more. You can get a refurbished device or a brand-new model you can use to diagnose and treat patients. Contact us to learn more about the MSK ultrasound machines we have available.
Contact for Price Quote
Discover Ultrasound from Strata Imaging
If you are in need of an affordable option and are looking to save 30-60% over new OEM prices then allow our knowledgeable customer service and expert team to assist you in developing a solution that fits your requirements.
We offer solutions with a 100% satisfaction guarantee, ensuring you receive the best value for your investment.
Strata Imaging's Guarantee

FDA Certified Products

Factory OEM Specifications

100% Guarantee
Our clients
Trust Others From Around The World
Served over 4,000 Ultrasound and C-Arm Clients since 2004