Cardiac Ultrasound Machines Buyer's Guide

Cardiac ultrasound machines are essential tools for observing and diagnosing cardiac conditions. As these medical technologies continue to advance, increasingly clearer images and improved data collection processes have made it easier to identify and treat heart abnormalities before they become severe. More companies are providing this type of equipment, and the medical technology market now has hundreds of cardiac ultrasound machines for you to consider.
Finding the machine that provides the best value and high-quality performance can be a challenging and daunting task. At Strata Imaging, we can help you determine the ultrasound machine that's best for your cardiac assessments. Here are the best cardiac ultrasound machines to fit any medical facility's budget and needs, plus some of their most common features.
| | | | |
| --- | --- | --- | --- |
| Ultrasound Machine:  | GE Vivid E9 | Philips CX50 | Philips EPIQ 7 |
| Ranking | Best Premium Cardiac Ultrasound Machine | Best Portable Cardiac Ultrasound Machine | Best Shared Service Ultrasound Machine with Cardiac Features |
| Price Range | $32,000-$48,000 | $20,000-$40,000 | $47,500-$71,250 |
| 3D/4D Imaging | Yes | Yes | Yes |
| Monitor Size | 17" | 15" | 21.5" |
| Image Quality | High-definition, 1280×1024 resolution | High-resolution capable of displaying up to 1,024 scan lines | MaxVue HD display provides over 1M pixels |
| Controls | Knob and Buttons plus 12" touchscreen | Knobs and Buttons | Knob and Buttons plus 12" touchscreen |
| Battery Life | No battery | 40 to 60 minutes before recharge | 45-minute charge |
| Workflow Features: | Customizable touch screen, ergonomic keyboard, 3 active probe ports + 1 TEE | Customizable, onboard explanations of features, easy-to-use trackball and keyboard | iSCAN for B/C/D |
| Cardiac Features: | 4D Auto LVQ, 4D Strain, 4D View with on-touch images, 4D LV Mass | Strain Quantification, ICE intracardiac echo, Live3D (4D) TEE, Mitral Valve Quantification, 3D Quantification, MicroVascular Imaging, cardiac motion quantification | 4D TEE, QLAB, aCMQ, nSIGHT beamforming, MPR, Echocardiography, stress echo, live 3D echo |
| What sets it apart: | In-transducer 4D beamforming, high-performance 4D imaging with on-touch options to view 4-chamber, 2-chamber, mitral valve, aortic valve, and septum. GE's Accelerated Volume Architecture with 8X processing power enables a large field of view | Advanced technologies on par with large console machine, deep penetration, high frame rate, fantastic image quality, multiple ECG/Aux inputs, post-process image comparing, diagnostic tools. Best 2D color doppler wall definition | Extremely fast processing speeds, great image quality, great walk-up usability, & full cardiac support. Can be used in other ultrasound applications like OB/GYN |
The Common Features of a Cardiac Ultrasound Machine
Cardiac ultrasound machines frequently come with video clip processing capabilities and post-exam imaging functionality. These devices provide sonographers with bolstered frame rates so they can view images with greater real-time visual accuracy. It's become increasingly more common in the modern medical industry for contemporary ultrasound machines to have cardiac sector probes that offer scanning compatibility for all patient types, including neonatal cardiology assessments.
Cardiac ultrasound machines also offer a more diverse selection of probe types, including Pedoff, non-imaging pencil probes, pediatric sector, and adult TEE.
In current medical practices, a wide range of cardiac ultrasound machines use 4D cardiac imaging, which helps provide a clear live video and audio of the heart beating inside the patient's chest. Sounds of flowing blood and the heart valves opening and closing appear on the screen as a signal graph. 4D imaging technologies make it simpler for sonographers to identify unusual heart movements and peculiar noises that might indicate heart murmurs, palpitations, heart disease, and other abnormal cardiac conditions.
If you're considering a shared service ultrasound machine, it's important to understand how it differs from a cardiac ultrasound machine. Simply put, the shared service version is a catch-all device, meaning it can provide all the essential functions needed for a diverse range of ultrasound scans. While cardiac ultrasound machines are manufactured specifically for cardiology, the shared service machine can relay images for many purposes, including vascular, OB-GYN, kidney, carotid, urology, pediatric, musculoskeletal, and others, depending on the machine.
The GE Vivid E9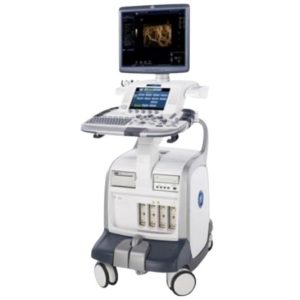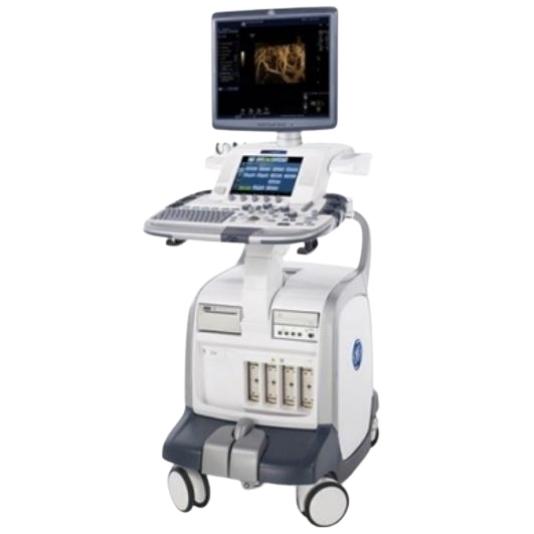 The GE Vivid E9 is the best cardiac ultrasound machine on offer — the Cadillac of our options — with a price range that falls between $32,000 and $48,000. This system provides remarkable image quality and premium features worth the cost for any medical practice. The XDclear in-transducer 4D beamforming provides high performance and unbeatable image quality with one-touch capabilities. It has an accelerated volume architecture with 8X processing power capability to expand a massive field of view. The ergonomic keyboard encourages comfortable hand and wrist posture for sonographers working with this device.
Medical professionals can use the 4D TEE transducer, which provides clear imaging of critical cardiac structures, for a wide range of interventional cardiac procedures. Being 20% smaller and 100 pounds lighter than most other cardiac ultrasound systems makes this lightweight machine highly flexible and exceptionally mobile when sudden cardiac crises need immediate attention.
With a 2D-M mode, M-color flow mode, anatomical M-mode, and trapezoidal mode, this machine offers various options to retrieve the cardiological information you need. The tissue Doppler imaging feature allows for accurate measurement of blood flow velocity. Panoramic imaging capabilities provide a full-scale viewing experience and ensure the sonographer can identify every detail about the patient's heart condition. This ultrasound machine provides other features, including:
A 17-inch high-definition LCD monitor
Customizable 12-inch touch screen
1280 x 1024 monitor spatial resolution
Adjustable monitor that can tilt and rotate for easy viewing
Four probe ports (three active + one TEE)
Sleep mode with standby option
4D Auto LVQ, 4D Strain, 4D view, and 4D LV Mass
Live 3D echo and stress echo
CP backlighting
The Philips CX50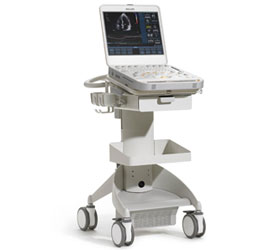 The Philips CX50 is the best portable cardiac ultrasound machine that doesn't sacrifice performance for flexibility. It's unbeatably lightweight and portable like a laptop, allowing technicians to maneuver it quickly and easily from one location to another. With an average price range between $20,000 and $40,000, it's the most affordable option for any medical practice working within the parameters of a strict budget. This machine returns to the classic simplicity of a knobs-and-buttons control system. Simplification is the key to this device, with onboard explanations of features and a user-friendly keyboard and trackball.
Despite its size, the Philips CX50 possesses advanced technological capabilities on par with its larger console machine counterparts. It boasts deep image penetration, a high frame rate, excellent image quality, and several ECG/Aux inputs for connecting to other devices. The post-process image comparison ensures proper analysis.
PureWave transducer technology provides excellent imaging results and diagnostic confidence, especially for patients with challenging conditions. This highly mobile platform makes portable echo studies simple and adapts to the technicians' workflow, whether they're remote, at a patient's bedside, or in a critical care facility. Its small size benefits from a fast-system startup time to begin working with minimal delay. The wireless and wired DICOM functionality provides flexibility when connecting to PACS. Other features include:
High-resolution display up to 1,024 scan lines
15-inch monitor size
40 to 60-minute battery life
Customizable interface
ICE intracardiac echo capabilities
Live 3D TEE
Mitral valve, strain, cardiac motion, QLAB, and 3D quantification
Microvascular imaging
2D Doppler wall definition
The Philips EPIQ 7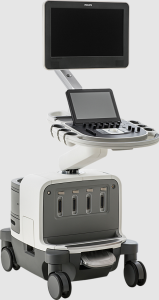 The Philips EPIQ 7 is the best-shared service ultrasound machine that works for not only cardiology but also OB-GYN, breast, urology, and many other scans. This is a top-of-the-line device that has a price range between $47,500 and $71,250. Its 3D imaging and other premium capabilities make the upfront cost worth the expense. An xMATRIX transducer provides clear cardiac images, and the nSIGHT feature is the most advanced Philips beamforming technology.
This device is extremely lightweight and silent, making it an excellent choice for its mobility and unobtrusive size. Its ergonomic setup provides walk-up usability for technicians. Extremely fast processing speeds ensure images display with quick precision and minimize the delay of real-time monitoring. You can count on this incredible mobile and user-friendly design to provide full cardiac support.
The WideSCAN internal system offers an expansive view when used with the SonoCT real-time software for imaging. XRES noise and artifact reduction capabilities ensure a more cohesive border and tissue definition. The Fetal Heart Navigator modality takes just two seconds to calculate fetal heart volume. This ultrasound machine provides additional features, including:
A 21.5-inch LED monitor
12-inch touch screen capabilities
1920 x 1080 monitor resolution
MaxVue HD display with more than a million pixels for maximum viewing
MicroFlow imaging to detect abnormal blood flow
TrueVue Pro technology for photorealistic heart and fetal images
45-minute battery charge
20-second sleep mode
Four probe ports
Strain-based elastography helps with gynecology and breast ultrasound imaging
iSCAN for B/C/D
4D TEE, QLAB, aCMQ modality
Echocardiography capable
We Have Options
We offer a wide range of cardiac ultrasound machines, which are available new, refurbished, and pre-owned. Selecting the right cardiac ultrasound machine with ample features ensures you can test and examine your patients with clarity and quality. These technologies also help make the cardiac ultrasound examination process easier and faster to complete. Contact us to learn more about the latest ultrasound machine options so you can purchase the right equipment at a fair price.
Additional Options From Strata Imaging
At Strata Imaging, we offer an extensive inventory of these musculoskeletal ultrasound machines and more. You can get a refurbished device or a brand-new model you can use to diagnose and treat patients. Contact us to learn more about the MSK ultrasound machines we have available. Search all the available cardiac ultrasound machines in our inventory.
Contact for Price Quote
Discover Ultrasound from Strata Imaging
If you are in need of an affordable option and are looking to save 30-60% over new OEM prices then allow our knowledgeable customer service and expert team to assist you in developing a solution that fits your requirements.
We offer solutions with a 100% satisfaction guarantee, ensuring you receive the best value for your investment.
Strata Imaging's Guarantee

FDA Certified Products

Factory OEM Specifications

100% Guarantee
Our clients
Trust Others From Around The World
Served over 4,000 Ultrasound and C-Arm Clients since 2004