4D Ultrasound Machines Buyer's Guide

A 4D ultrasound machine can show live video along with two-dimensional images. These devices are useful diagnostic tools for cardiologists, radiologists, orthopedic surgeons, OB/GYNs, emergency physicians, veterinarians, and many other medical professionals. Ongoing technological advances make 4D ultrasounds more compact, accurate, and versatile every year, and practices have many brands and models to choose from. Here are common 4D ultrasound machine features and the best product options that offer great value and performance.
| | | | |
| --- | --- | --- | --- |
| Ultrasound Machine:  | GE Vivid E9 | GE Voluson S10 | Philips ClearVue 650 |
| Ranking | Best 4D Ultrasound Machine for Cardiac | Best 4D Ultrasound Machine for OB/GYN | Best-Budget 4D Ultrasound Machine for OB/GYN |
| Price Range | $32,000-$48,000 | $35,000-$45,000 | $22,000-$33,000 |
| 3D/4D Imaging | Yes | Yes | Yes |
| Monitor Size | 17" | 23" | 19" |
| Image Quality |  1280×1024 resolution | 1920×1080 resolution | 1280×1024 resolution |
| Controls | Knobs, buttons, and 10.4" touchscreen | Knobs, buttons, and 10.1" touchscreen | Knob and Buttons |
| Battery Life | No battery | 20 minutes | No battery |
| Workflow Features: | 4D Views with one-touch options, Accelerated Volume Architecture with a large field of view, one-button customizable shortcuts, customizable touchscreen controls | Scan Assistant, SonoBiometry, SonoNT/SonoIT, SonoRenderlive, SonoAVC, SonoVCADheart, one-button customizable shortcuts, customizable touchscreen controls | 4 active transducer port allows quick switching, quick-launch OB measurements, configurable reports, one-button automation tools, SmartExam protocols |
| 4D Features: | 4D Auto LVQ, 4D LV Mass, In-transducer 4D beamforming, 4D Views with one-touch options, 4D Strain | HDLive (4D Virtual HD), Advanced Volume Contrast Imaging (VCI) with Omniview, SonoRenderlive | 4D transvaginal, 4D convex, Auto Face Reveal, iSlice, Fetal STIC |
| What sets it apart: | Highly customizable, high-performance 4D cardiac ultrasounds, advanced 4D cardiac technologies, Accelerated Volume Architecture | Outstanding image quality, HDLive, HD-Flow, easy 3D/4D scanning with enhanced depth perception, streamlined workflow features, 10.1-inch touch panel | Active array technology, Auto Face reveal, versatile in a wide range of ultrasound applications, pulse inversion, SonoCT, TDI Cardiac capabilities |
What to Expect With a 4D Ultrasound Machine
With a 4D ultrasound, doctors can diagnose a wide range of medical issues. These devices can show three-dimensional images for realistic views, and you can use them with contrast agents made for ultrasounds. Cardiologists often use these devices to see live renderings of parts of the heart and the overall structure, and OB/GYNs use them to see live renderings of fetuses and show parents their unborn babies. A 4D ultrasound can let professionals see how heart valves, joints, muscles, and other body parts move, allowing doctors to find issues they wouldn't see on a still image. Most 4D devices also have 3D capabilities.
Many come with color Doppler imaging to make the amount and direction of blood flow in a variety of tissues more visible. Needle visualization helps doctors administer local anesthesia and other medications and complete procedures. Automatic image optimization saves time and reduces speckles and other image artifacts.
The Philips ClearVue 650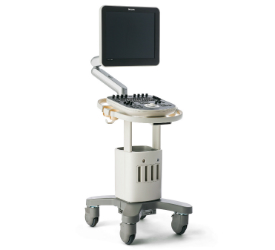 The Philips ClearVue 650 is the best budget 4D ultrasound machine for OB/GYN, cardiac, and many other applications. It usually costs between $22,000 and $33,000 and has convenient knobs, buttons, and a trackball. Active Array technology can provide 2D, 3D, and 4D imaging. One-button automation tools and SmartExam protocols streamline workflows and make operations much easier. You can configure reports in different ways as well.
The cart is lightweight and easy to maneuver, and you can adjust the height and direction of the monitor to let patients view the image. The monitor folds down for easy storage. A maximum depth of field of 30 centimeters lets you see most anatomical structures, and the machine pairs with a wide range of probes, including 4D transvaginal and 4D convex options.
The SonoCT compound imaging technology combines several images from slightly different views into one much clearer picture. The Philips ClearVue 650 also has tissue Doppler imaging (TDI) to measure the velocity of myocardial motion during echocardiograms. Other features you'll get with this device include:
A 19-inch monitor with 1280 x 1024 resolution
Four active transducer ports
Quick-launch OB measurements
Auto Face Reveal and Fetal STIC (Spatio-Temporal Imaging Correlation) for realistic 3D images
iSlice intelligent slicing software for progressive views of the patient's anatomy
Pulse inversion for detecting microbubble contrast materials
Speckle reduction
Panoramic imaging
The GE Voluson S10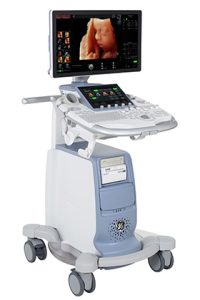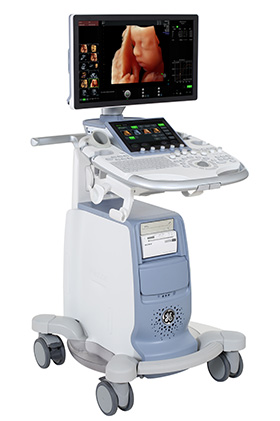 The Voluson S10 is the best 4D ultrasound machine for OB/GYN applications. This model has HDLive 4D Virtual HD, SonoRenderlive, and 3D capabilities, and it usually costs between $35,000 and $45,000. This device comes with a 10.1-inch touch screen with customizable controls and one-button shortcuts, along with the standard knobs and buttons controls. The Omniview algorithm helps detect possible birth defects, and advanced volume contrast imaging can adjust slice thickness to improve contrast resolution. HD-Flow can detect the amount and direction of blood flow in small vessels. Other features include:
A 23-inch LCD monitor with 1920 x 1080 resolution
A 20-minute battery life
Scan Assistant to decrease exam complexity, streamline workflow, and increase consistency
SonoBiometry for automatic fetal measurements
CrossXBeamCRI, or compound resolution imaging
3D printing
Easy 3D or 4D scanning with enhanced depth perception
Sonography-based nuchal translucency (SonoNT)
Sonography-based intracranial translucency (SonoIT)
SonoAVC automatic volume calculation
The GE Vivid E9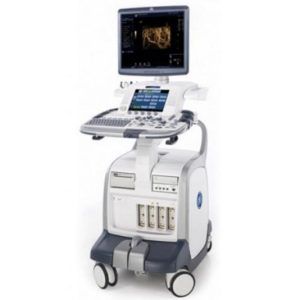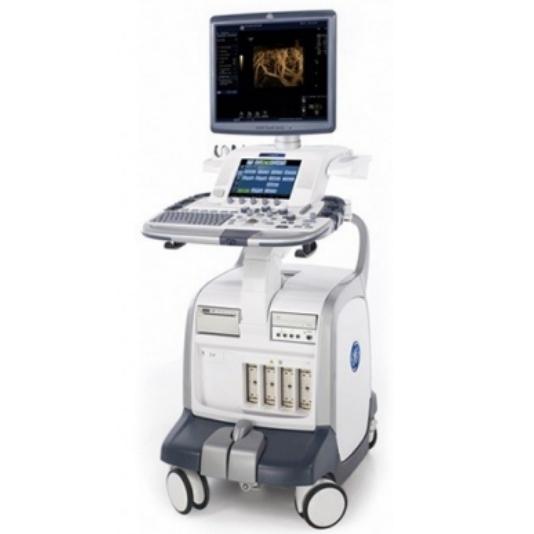 The GE Vivid E9 is the best 3D/4D ultrasound machine for cardiac or cardiovascular applications, and it usually costs between $32,000 and $48,000. Its high-performance, 4D cardiac ultrasounds are highly customizable, and they use advanced technologies. This machine has easy-to-use knobs, buttons, a trackball, and a 10.4-inch touch screen, plus customizable touch-screen controls and shortcuts.
The GE Vivid's depth of field is up to 30 centimeters, and accelerated volume architecture lets clinicians view the shape and volume of each chamber of the heart. 4D Strain is a convenient 4D tracking tool that provides quantification of left ventricular function, strain curves, and bull's-eyes to identify heart wall motion abnormalities. The GE Vivid E9 also comes with:
A 17-inch HD LCD monitor with 1280 x 1024 resolution
4D views with one-touch options
Four probe ports
A standby mode to conserve power
A large field of view
4D Auto LVQ (left ventricle quantification)
4D LV Mass left ventricular mass and mass index
In-transducer 4D beamforming
Tissue Doppler imaging
Color, power angio, and pulse wave Doppler
Steerable continuous-wave (SCW) Doppler
Contrast imaging
Speckle reduction
More Ultrasounds From Starta Imaging
Contact us at Strata Imaging to learn more about 4D ultrasound machines. We can help you choose the best device for your needs. You can get a new model, or you can select an excellent refurbished machine.
Additional Options From Strata Imaging
At Strata Imaging, we offer an extensive inventory of these musculoskeletal ultrasound machines and more. You can get a refurbished device or a brand-new model you can use to diagnose and treat patients. Contact us to learn more about the MSK ultrasound machines we have available.
Contact for Price Quote
Discover Ultrasound from Strata Imaging
If you are in need of an affordable option and are looking to save 30-60% over new OEM prices then allow our knowledgeable customer service and expert team to assist you in developing a solution that fits your requirements.
We offer solutions with a 100% satisfaction guarantee, ensuring you receive the best value for your investment.
Strata Imaging's Guarantee

FDA Certified Products

Factory OEM Specifications

100% Guarantee
Our clients
Trust Others From Around The World
Served over 4,000 Ultrasound and C-Arm Clients since 2004