Vascular Ultrasound Machines Buyer's Guide

Vascular ultrasound machines are essential diagnostic tools, and technological advances continually make them more accurate and useful. Hundreds of these machines are on the market, and you can choose from many brands. Deciding which models offer the best performance and value for your investment can be challenging. At Strata Imaging, we can help you decide which vascular ultrasounds are right for your needs.
Here are the most common features of vascular ultrasound machines and the best options for organizations with varying budgets.
| | | | |
| --- | --- | --- | --- |
| Ultrasound Machine:  | GE Logiq E Next Generation | Philips Affiniti 70 | Siemens Acuson X300 |
| Ranking | Best Portable Ultrasound Machine for Vascular Applications | Best Premium High-End Ultrasound Machine for Vascular Applications | Best Mid-Range Ultrasound Machine for Vascular Applications |
| Price Range | $10,000-$20,000 | $45,000-$67,500 | $15,000-$25,000 |
| 3D/4D Imaging | 3D optional | Yes | Yes |
| Monitor Size | 15" | 21.5″ | 18″ |
| Image Quality | 1024×768 resolution | 1920×1080 Resolution | 1024×768 Resolution |
| Controls | Knob and Buttons | Knob and Buttons plus 12" touchscreen | Knob and Buttons |
| Battery Life | 1 hour scan time | No battery | Optional external – 7 hours |
| Workflow Features: | Customizable 4-button transducers to adjust gain, freeze, save, imaging mode, depth, and more. CrossXBeam compound imaging, portable, fast response time. Auto Optimization | 4 active probe ports, intuitive/customizable touchscreen control, Auto Doppler, AutoSCAN, SmartExam, 2D anatomical intelligence, SonoCT, iScan | 3 active probe ports for swift changes, 12 second boot time from standby, automatic imaging optimization (Doppler and B mode) |
| Vascular Features: | Auto Optimization for B mode image and pulse wave Doppler. Flow QA, CW Doppler, PW Doppler, Power Doppler | Q-Lab, PW Doppler, CW Doppler, Color Doppler, Auto Optimization, MicroVascular Imaging, Power Doppler | M-Color flow, color, power angio, pulse wave doppler, SCW Doppler |
| What sets it apart: | Portability, customizable 4-button probes, high-quality images despite small form factor, and shared-service capabilities | Touchscreen, tablet-like interface, PureWave transducer provide deep penetration, AutoDoppler, and AutoSCAN. Also a complete shared service ultrasound machine. | Slim profile, easy transport, economy priced, compatibility with other modalities such as OB/GYN, MSK, and Cardiac |
Typical Features of a Vascular Ultrasound Machine
Vascular ultrasound is a type of noninvasive vascular imaging used by cardiothoracic surgeons, cardiologists, and vascular surgeons. Vascular ultrasounds can help diagnose narrowing arteries, deep vein thrombosis, chronic venous insufficiency, and many other conditions.
They also help doctors decide whether patients are healthy enough for procedures such as cardiac bypasses and evaluate them after surgery. Vascular ultrasound probes or transducers are usually smaller than standard probes, and they're designed to provide detailed images of arteries, veins, and other tiny parts of the body.
Many vascular ultrasound machines come with 3D or 4D imaging. With 3D imaging, the probe sends sound waves from different directions to produce a more accurate, three-dimensional image. With 4D imaging, medical professionals can see live video of blood moving through arteries and veins.
These sophisticated features can show exactly where blood is moving in the body, and they can make diagnosing many diseases faster and easier for doctors and patients.
GE Logiq E Next Generation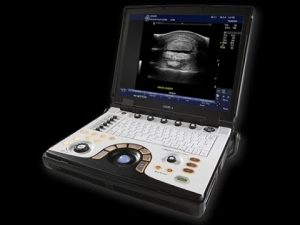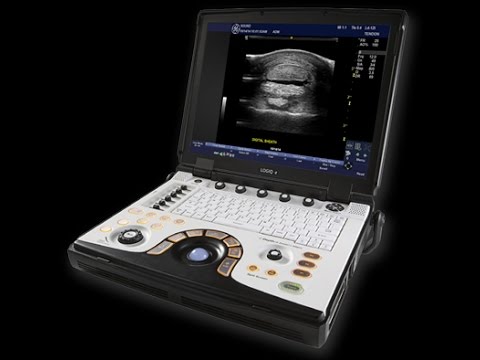 The GE Logiq E Next Generation is the best portable ultrasound machine for vascular applications. It's durable and compact, and prices range from $10,000 to $20,000. You can control it with convenient knobs and buttons, or you can change settings through the transducer.
Customizable four-button probes let you adjust gain, freeze or save an image, change the depth, and more. You can view structures deep in the body or blood vessels close to the surface, and this versatile device can also image many other areas.
CrossXBeam compound imaging combines multiple images for a clear, high-quality picture. 3D images are optional, and anatomy-specific presets let you display only the functions you need. Pulse wave or PW Doppler and continuous wave or CW Doppler help determine blood flow rates.
Power Doppler helps you search for tiny movements in smaller blood vessels, and the Patient Follow-up Tool with Fusion helps ensure technical consistency and accuracy from exam to exam.
Other features include:
A 15-inch monitor
1024 x 768 resolution
A one-hour battery life
Enhanced cybersecurity
Helpful tutorials to teach you how to operate the machine
Windows 10 compatibility
Automatic image optimization for B-mode or two-dimensional ultrasound images
Split-screen capability
Siemens Acuson X300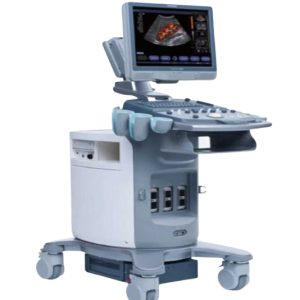 The Siemens Acuson X300 is the best midrange vascular ultrasound machine. It usually costs $15,000 to $25,000 and comes with an optional external battery that lasts seven hours. M-Color flow uses Doppler imaging to add virtual colors to the image.
You can also use power angiography to get a close look at blood vessels. It has convenient knobs and buttons, and its slim profile makes it easy to transport. It also works well for OB/GYN, musculoskeletal, and cardiac applications.
Other features include:
An 18-inch monitor
1024 x 768 resolution
3D and 4D imaging
Three active probe ports for swift changes
A 12-second boot time from standby mode
Automatic imaging optimization with Doppler and B-modes
Pulsed wave or PW Doppler
Steerable continuous wave or SCW Doppler
Philips Affiniti 70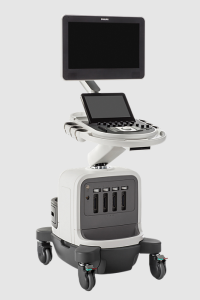 For a premium vascular ultrasound with lots of features, choose the Philips Affiniti 70. It usually costs between $45,000 and $67,500, but it's worth the extra money for discerning practices. However, it doesn't have a battery, and it's larger than some models.
You can adjust the controls and monitor height so you can use the machine easily from a standing or sitting position. The monitor can also turn and move left or right.
PureWave transducers are designed to increase the penetration of sound waves for better images in technically difficult patients. The Affiniti 70's precision beamforming delivers superb spatial and contrast resolution and tissue uniformity.
You'll also get fewer artifacts and image clutter. The SmartExam on-screen menu guides you through required views by exam type, enters notes automatically, and makes creating a report easy. These features reduce exam time and errors.
Tissue-specific presets can automatically adjust more than 7,500 parameters to optimize the transducer for the exam type and improve image quality. SonoCT imaging technology combines images from slightly different angles into a single, compounded image in real-time.
This ultrasound machine also comes with:
3D and 4D imaging
A 21.5-inch monitor
A 12-inch touch screen with customizable, intuitive controls
Knobs and buttons in addition to the touch screen
A MaxVue high-definition display with 1920 x 1080 resolution
Four active probe ports for Phillips C5-1, C9-2, L18-5, and S5-1
transducers
Sleep mode to conserve power between uses
Auto Doppler blood flow tracking to allow color box positioning and sample volume placement in just three steps
Continuous-wave or CW Doppler
Color Doppler
Power Doppler
Pulsed wave or PW Doppler
AutoSCAN or iSCAN automated scanning
Philips remote services monitoring to detect and correct many issues wirelessly
2D anatomical intelligence and modeling tools
Automatic image optimization
Microvascular imaging
Advanced Q-Lab ultrasound quantification software
We also offer a variety of other vascular ultrasound machines. You can choose a new model or a pre-owned, refurbished device. With the right ultrasound machine, you can provide more accurate testing, diagnoses, and treatments for patients. Contact us to learn more about all the vascular ultrasound machines we have available.
Additional Options From Strata Imaging
At Strata Imaging, we offer an extensive inventory of these musculoskeletal ultrasound machines and more. You can get a refurbished device or a brand-new model you can use to diagnose and treat patients. Contact us to learn more about the MSK ultrasound machines we have available.
Contact for Price Quote
Discover Ultrasound from Strata Imaging
If you are in need of an affordable option and are looking to save 30-60% over new OEM prices then allow our knowledgeable customer service and expert team to assist you in developing a solution that fits your requirements.
We offer solutions with a 100% satisfaction guarantee, ensuring you receive the best value for your investment.
Strata Imaging's Guarantee

FDA Certified Products

Factory OEM Specifications

100% Guarantee
Our clients
Trust Others From Around The World
Served over 4,000 Ultrasound and C-Arm Clients since 2004