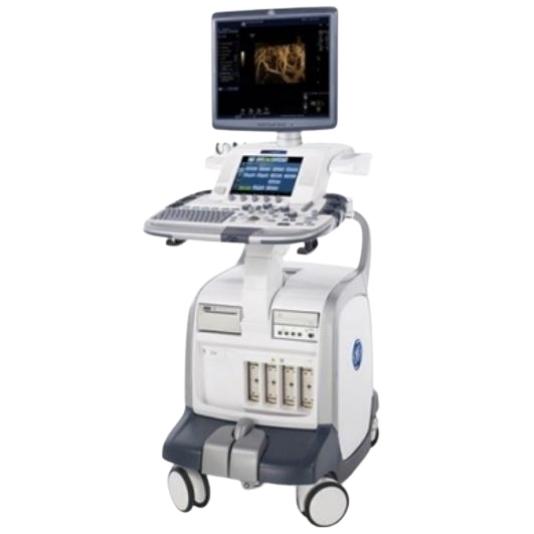 Refurbished
GE Vivid E9
---
Call For Customization (Software and Probe Selection)

866-222-3025
---
Included in the price

90 Day Warranty
with extended warranty options
---

Download GE Vivid E9 Guide User Manual

FDA Certified
Products

Factory OEM
Specifications

100%
Guarantee
Product highlights
Type
Cardiac / Shared services / Versatile
Popular Configurations
11L-D, 3V-D, M5S-D
The GE Vivid E9 is the successor to the highly successful GE Vivid 7. The Vivid E9 is a premium cardiovascular ultrasound machine, including many industry-leading features such as 4D cardiological imaging. Specifically, 4D cardiac ultrasound imaging is exceptionally efficient and effective at diagnosing heart abnormalities, disease, and blockages.
Cardiologists benefit from the other 4D technologies of the Vivid E9, including 4D view with "one-touch" options, 4D LV Mass, 4D strain, and 4D Auto LQ, which removes artifacts and variable heart rhythms interference from the equation.
Besides the impressive gamut of cardiac features, the GE Vivid E9 has additional features that make it a powerful shared-service system too. Its ergonomics and customizability allow it to be easily transferred and shared between departments. It is one of the top-rated cardiology-focused ultrasound machines on the market, and it comes at an affordable price.
Specifications
Applications
Cardiac, OB/GYN, Vascular, MSK, 4D
Features
M-Mode, Anatomical M-Mode, Color doppler, Power doppler, CW doppler, PW doppler, Tissue doppler, Tissue harmonic imaging, Tissue tracking, Tissue synchronization, Continuous high pulse repetition frequency, IMT, Speckle reduction, Strain and strain elastography, Elastography, Stress echo, 4D stress echo, Auto optimization, DICOM 3.1, Needle visualization, 3D/4D, CD/DVD-R, Compound imaging, Tomographic, 4D TEE
Frequently Asked Questions
What is 4D Auto LVQ on the GE Vivid E9?
The 4D Auto LVQ feature on the GE Vivid E9 is a surface-tracking model that is mesh-based and provides imaging results that are not as susceptible to variable heart rhythms and artifacts.
Does the GE Vivid E9 works with other ultrasound applications or just cardiology?
The Vivid E9 is designed specifically for the cardiac ultrasound modality. However, it also includes extensive features and compatibility with various probes that enable it to be used as a shared-service system. OB-GYN, neonatal, pediatric, abdominal, urology, and small parts are just some of the modalities that the Vivid E9 supports.
How many probes can be connected to the GE Vivid E9?
The GE Vivid E9 has 3 ultrasound probe ports and 1 TEE port.
Similar equipment
Strata Medical's Review
GE Vivid E9
When the GE Vivid E9 first launched, the cardiologists and ultrasound techs at our clinic were skeptical of the 4D cardiac ultrasound capabilities that GE claimed. It wasn't until we saw it in action that we realized it wasn't too good to be true after all. The 4D cardiac capabilities are simply impressive. We can view many different views of the heart with a single capture. We're able to complete more accurate diagnoses faster than ever before. This machine makes it feel like we are living in the future.
---
Call us for a price quote

866-222-3025
Get a Free Quote
GE Vivid E9
Included in the price

90 Day Warranty
with extended warranty options
Looking to sell this device?
Get a Free Quote for GE Vivid E9
I want a free price quote on the GE Vivid E9, send it today!

Your information is private and secure with us
Included in the price

90 Day Warranty
with extended warranty options
Looking to sell this device?