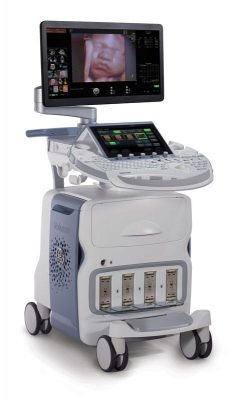 Refurbished
GE Voluson e10
---
Call For Customization (Software and Probe Selection)

866-222-3025
---
Included in the price

90 Day Warranty
with extended warranty options
---

Download GE Voluson e10 Guide User Manual

FDA Certified
Products

Factory OEM
Specifications

100%
Guarantee
Product highlights
Type
OB/GYN / Shared services / Versatile
Popular Configurations
C1-5-D, 11L-D, RIC5-9-D, RAB2-5-D
The Voluson e10 is the flagship, premium OB/GYN ultrasound machine from GE. The E10 has industry-leading probe technology, an updated user interface, ultra-HD LED display, and 4D imaging capabilities making it the most advanced GE women's health ultrasound machine on the market.
The GE Voluson e10 has impressive image quality, fast frame rates, and intuitive controls. Compared to the GE Voluson e8, the e10 provides 4X processing power, better beamforming, updated rendering technologies, and a larger LED display. The Voluson e10 and e8 are complementary models produced side-by-side, with the Voluson e8 being the lower-cost alternative.
The Voluson e10 provides a fantastic, high-quality 4D rendering of unborn fetuses on its amazingly detailed LED display. Additionally, its superb processing performance, fast render times, and smooth frame rates allow for quick scans, rapid diagnosis, and high-contrast, realistic images.
Specifications
Applications
Cardiac, OB/GYN, MSK, Vascular, Urology
Features
B-Flow, M-Mode, Anatomical M-Mode, Color doppler, CW doppler, PW doppler, Tissue doppler, AutoDoppler calculations, Tissue harmonic imaging, Speckle reduction, Volume speckle reduction, Tomographic, XTD, Compound imaging, Auto IMT, Scan assistant, DICOM 3.1, SonoIT, SonoNT, SonoRenderLive, SonoBiometry, SonoVCAD, 3D/4D, 4D virtual HD, Advanced 4D, Advanced STIC, HD-DVR
Frequently Asked Questions
What is e4D SnapShot on the GE Voluson e10?
The e4D SnapShot feature on the Voluson e10 provides real-time 4d images with higher-res 3D volume.
What type of user-interface does the GE Voluson e10 have?
The GE Voluson e10 has a traditional knob and button interface paired with a customizable multi-touch LCD screen.
What type of 4D transducer works with the GE Voluson e10?
The GE Voluson e10 works with a new 4D convex transducer probe that eliminates the mechanical design of other 4D probes. This design provides higher frame rates and better image quality leading to accurate diagnoses.
Similar equipment
Strata Medical's Review
GE Voluson e10
The GE Voluson e10 is an awe-inspiring OB-GYN ultrasound machine. We've never seen such fantastic image quality and 4D renderings. Although the GE Voluson (rightly) comes at a higher price, it provides industry-leading 4D technology, superb efficiency and speed, and flexible imaging formats. The GE is the perfect machine for general OB-GYN exams, complex fetal scans, and fetal echos. Compared to other 4D ultrasound machines we've used, the e10 is hands down the best.
---
Call us for a price quote

866-222-3025
Get a Free Quote
GE Voluson e10
Included in the price

90 Day Warranty
with extended warranty options
Looking to sell this device?
Get a Free Quote for GE Voluson e10
I want a free price quote on the GE Voluson e10, send it today!

Your information is private and secure with us
Included in the price

90 Day Warranty
with extended warranty options
Looking to sell this device?