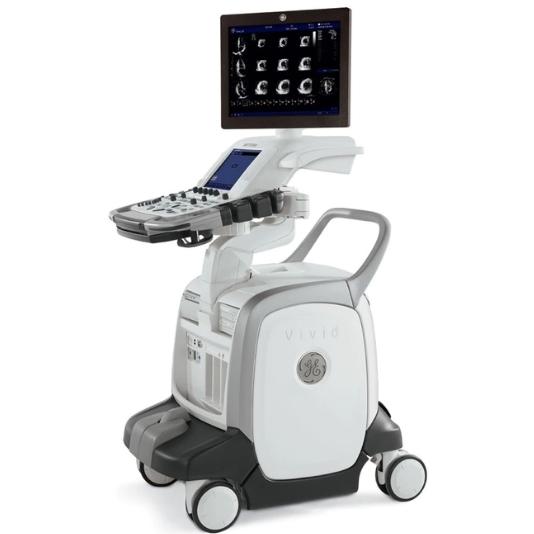 Refurbished
GE Vivid E95
---
Call For Customization (Software and Probe Selection)

866-222-3025
---
Included in the price

90 Day Warranty
with extended warranty options
---

Download GE Vivid E95 Guide User Manual

FDA Certified
Products

Factory OEM
Specifications

100%
Guarantee
Product highlights
Type
OB-GYN / Shared services / Versatile
Popular Configurations
P2D, M5SC-D, 9L-D, 4V-D
The Vivid E95 is GE's flagship cardiac ultrasound machine. It is a premium device that takes cardiovascular imaging to new levels with its combination of XDclear Matrix transducers with 4D TEE, 4D imaging capabilities, and GE's new cSound beamforming image software. The GE Vivid E95 replaces its predecessor, the GE Vivid E9. The E95 has improved quality, better ergonomics, and more advanced technological features.
The 4D cardiac imaging capabilities of the Vivid E95 provide superb image quality of the heart with fantastic clarity and fewer artifacts. GE has two similar machines, the Vivid E90 and E95. The GE Vivid E95 and Vivid E90 look nearly identical, with the only difference being that the E95 has 4D echocardiography capabilities while the E90 does not. Otherwise, they have the same features and performance.
The GE Vivid E95 has an advanced ergonomic design and user-input hardware. It has a familiar control layout with knobs and buttons, plus an advanced 12-inch LCD touchscreen that improves workflow. It also has a fully adjustable floating keyboard and an articulating 22-inch ultra-HD OLED monitor.
Specifications
Applications
Cardiac, OB/GYN, MSK, Vascular, 4D
Features
B-Flow, M-Mode, Anatomical M-Mode, Color doppler, CW doppler, PW doppler, Power doppler, Tissue doppler, Tissue harmonic imaging, Tissue tracking, Tissue synchronization, 3D/4D cardiac, Stress echo, Continuous high pulse repetition frequency, IMT, Compound imaging, Strain and strain rate, Needle visualization, DICOM 3.1, Speckle reduction, Tomographic, Auto ejection fraction, 4D auto LVQ, Auto AVQ, Auto EF, AFI stress
Frequently Asked Questions
Does the GE Vivid E95 have 4D echocardiography?
Yes, the GE Vivid E95 supports 4D cardiac imaging. If 4D echocardiography is not desired, the GE Vivid E90 is a nearly identical machine without 4D.
What is cSound on the GE Vivid E95?
GE's cSound is a software that performs beamforming to get complete scans of hearts that it uses to produce detailed cardiac images on the ultrad-HD OLED display.
What other ultrasound applications can the GE Vivid E95 handle?
The GE Vivid E95 is designed as a cardiovascular machine but can be used with other GE ultrasound transducers to work with the following modalities- OB/GYN, pediatrics, MSK, urology, small parts, abdominal, and more.
Similar equipment
Strata Medical's Review
GE Vivid E95
The GE Vivid E95 has many notable improvements over the already outstanding GE Vivid E9. The Vivid E95 is lightweight and has streamlined ergonomics, making it is to transport. The hardware has received many fantastic updates as well - the 12" HD touchscreen has an intuitive and customizable interface that significantly improves workflow. Secondly, it has a large, ultra-high-definition OLED monitor that provides the best image quality and contrast we've ever seen on an ultrasound machine. Lastly, instead of using hardware to perform beamforming functions, the Vivid E95 uses GE's advanced cSound software to produce clear and complete images of the heart. The cSound beamforming technology provides the highest quality 2D, 3D, and 4D cardiac renders that we've ever seen.
---
Call us for a price quote

866-222-3025
Get a Free Quote
GE Vivid E95
Included in the price

90 Day Warranty
with extended warranty options
Looking to sell this device?
Get a Free Quote for GE Vivid E95
I want a free price quote on the GE Vivid E95, send it today!

Your information is private and secure with us
Included in the price

90 Day Warranty
with extended warranty options
Looking to sell this device?