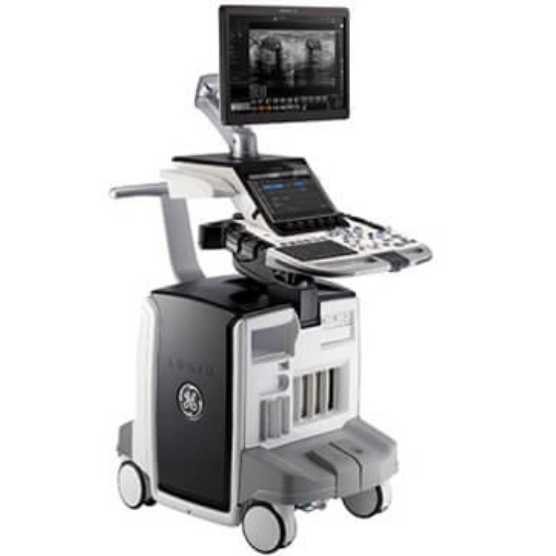 Refurbished
GE LOGIQ E10
---
Call For Customization (Software and Probe Selection)

866-222-3025
---
Included in the price

90 Day Warranty
with extended warranty options
---

Download GE LOGIQ E10 Guide User Manual

FDA Certified
Products

Factory OEM
Specifications

100%
Guarantee
Product highlights
The GE LOGIQ E10 shared service machine boasts significant technologies, including the "cSound Architecture" which combines single-crystal probes, enhanced processing power, and optimized software. It also emphasizes cybersecurity (Windows 10) and artificial intelligence. These innovations, along with efficient software and design, enhance workflow, making it ideal for high-volume environments. Additionally, it offers rare features like ShearWave elastography, contrast cardiac imaging, 4D with HDlive, ultrasound guided attenuation parameter, contrast microvascular imaging, contrast enhanced imaging, 3D GPS Fusion Imaging, and shared service capabilities for specialized procedures.
Specifications
Applications
Shared Service
Features
2D Shear Wave Elastography, Ultrasound-Guided Attenuation Parameter (UGAP), Contrast Enhanced Ultrasound (CEUS), Power Assistant, Scan Assistant, Semi-Quantitative Flow Analysis, Smart Apps, Adjustable floating keyboard, Articulating monitor
Frequently Asked Questions
Can the GE LOGIQ E10 ultrasound machine be used for a variety of medical examinations?
Yes, the GE LOGIQ E10 is a versatile ultrasound machine designed for a wide range of applications, including abdominal, vascular, cardiac, musculoskeletal, and obstetrics/gynecology imaging, making it suitable for various medical examinations..
Is it possible to integrate the GE LOGIQ E10 with hospital networks and PACS using DICOM connectivity?
The GE LOGIQ E10 supports DICOM connectivity, allowing seamless integration with hospital information systems and Picture Archiving and Communication Systems (PACS) for efficient workflow and image storage..
Can accessories and software enhancements be added to the GE LOGIQ E10 to expand its functionalities?
Yes, the GE LOGIQ E10 can be paired with a variety of accessories such as different probes, printers, and external monitors. Additionally, advanced imaging software and other software packages can be installed to enhance its imaging capabilities and adapt to specific medical applications.
Similar equipment
Get a Free Quote
GE LOGIQ E10
Included in the price

90 Day Warranty
with extended warranty options
Looking to sell this device?
Get a Free Quote for GE LOGIQ E10
I want a free price quote on the GE LOGIQ E10, send it today!

Your information is private and secure with us
Included in the price

90 Day Warranty
with extended warranty options
Looking to sell this device?