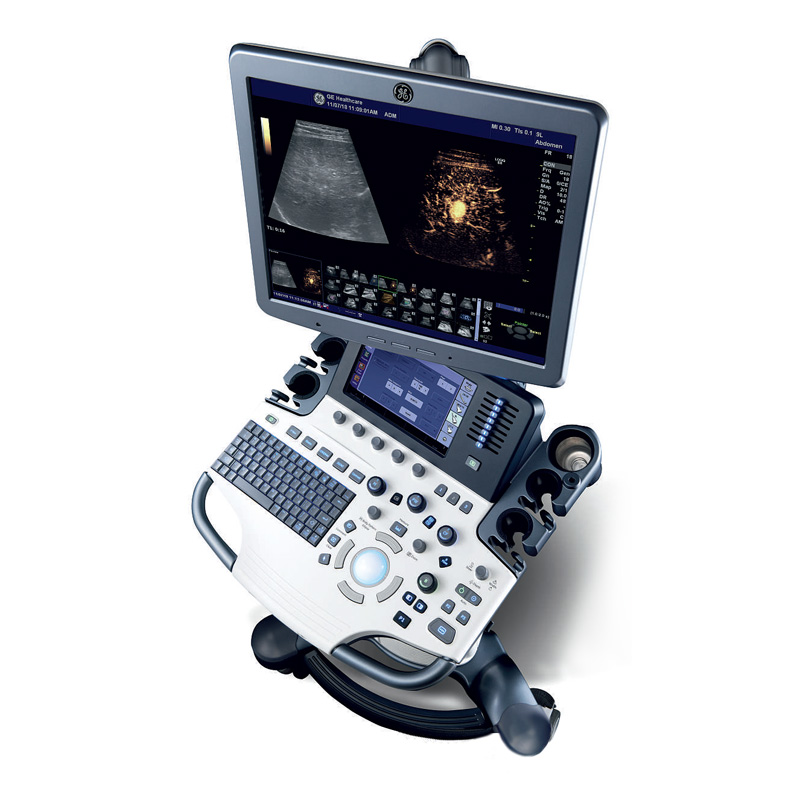 Refurbished
GE Logiq S8
---
Call For Customization (Software and Probe Selection)

866-222-3025
---
Included in the price

90 Day Warranty
with extended warranty options
---

Download GE Logiq S8 Guide User Manual

FDA Certified
Products

Factory OEM
Specifications

100%
Guarantee
Product highlights
Type
OB-GYN/ Shared services / Versatile
The GE Logiq S8 is part of GE's mid-range, "signature" series ultrasound machines. The S8 is a capable shared-service system that is sleek, lightweight, and easily transported between departments. It includes an articulating, high-definition 19" display and an intuitive touchscreen interface. Despite its smaller profile, the GE Logiq S8 is an advanced and powerful machine.
The Logiq S8 shares similar ergonomics, design, and appearance to the GE Voluson S6, Voluson S8, and the Logiq S7- which it replaced. The GE Logiq S8 has powerful cardiac features, including stress echo functions and 4D imaging capabilities. Additionally, it can handle a versatile line-up of clinical modalities such as breast, OB-GYN, urology, vascular, abdominal, neonatal, and more. Like most GE ultrasound machines, the Logiq S8 is compatible with GE's E-Series and XDclear transducers which provide industry-leading imaging performance.
The Logiq S8's features such as S-agile architecture, Logiq View, CrossXBeam, speckle reduction, elastography, and AutoIMT provide great workflow and reliable performance.
Specifications
Applications
Cardiac, OB/GYN, MSK, Urology, Vascular, 4D
Features
M-Mode, M-Mode color flow, Anatomical M-Mode, B-Mode, B-Flow color, Color doppler, CW doppler, PW doppler, Tissue doppler, Tissue harmonic imaging, Power doppler, DICOM 3.1, Compound imaging, Speckle reduction, Stress echo, Auto IMT, Elastography, Elastography Q-Analysis, Auto optimization, Scan assistant, CD/DVD-R, Panoramic imaging, 3D/4D
Frequently Asked Questions
What is the difference between the GE Logiq S8 and the Logiq S7
The GE Logiq S7 is an older unit that was replaced by the Logiq S8. They both have similar functionality. However, the S8 has many software and hardware improvements.
What type of controls does the GE Logiq S8 have?
The GE Logiq S8 has traditional knobs and buttons controls and a full color, touchscreen for added ease-of-use.
What does the "S" in GE Logiq S8 stand for?
The "S" designates the GE Logiq S8 as part of GE's signature line of ultrasound machines. Units in the signature line are mid-range systems with great image quality, have modality versatility, and are more cost-effective than higher-end systems.
Strata Medical's Review
GE Logiq S8
The GE Logiq S8 is not only a stunningly beautiful machine, but it is also very capable too. It has many advanced cardiac and OB/GYN features that set it above and beyond other shared-service ultrasound machines we've tested in the past. We have four Logiq S8s in our facility that we routinely share between departments. Their walk-up usability and intuitive controls make it easy for our ultrasound techs and our physician to use across multiple modalities. Whether we are screening trauma patients, performing urological or abdominal exams, or doing more advanced scanning of hearts and fetuses, the Logiq S8 delivers fantastic, crystal clear images that leave no question to the proper diagnosis.
---
Call us for a price quote

866-222-3025
Get a Free Quote
GE Logiq S8
Included in the price

90 Day Warranty
with extended warranty options
Looking to sell this device?
Get a Free Quote for GE Logiq S8
I want a free price quote on the GE Logiq S8, send it today!

Your information is private and secure with us
Included in the price

90 Day Warranty
with extended warranty options
Looking to sell this device?