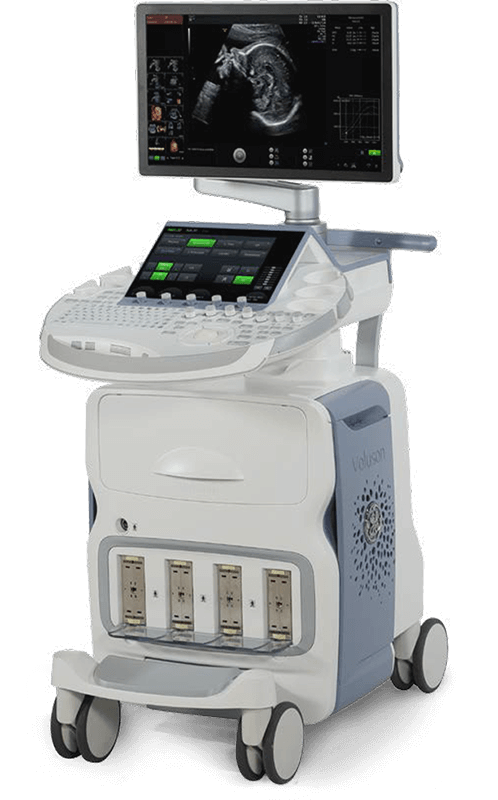 Refurbhished
GE Voluson E8
---
Call For Customization (Software and Probe Selection)

866-222-3025
---
Included in the price

90 Day Warranty
with extended warranty options
---

Download GE Voluson E8 Guide User Manual

FDA Certified
Products

Factory OEM
Specifications

100%
Guarantee
Product highlights
Type
OB/GYN / Shared services / Versatile
Popular Configurations
4C-D, 9L-D, RIC5-9-D, RAB4-8-D
The GE Voluson E8 is a premium, 4D women's health ultrasound machine incorporating GE's HDlive software. After its launch in 2006, the Voluson E8 became one of the most popular and widely purchased 4D ultrasound machines for OB/GYN applications.
It replaced the GE Voluson 730 series, providing industry-leading updates in not only 4D imaging but with HDlive, Radiance System Architecture, high-performance CPU, OmniView, and Advanced Volume Contrast Imaging.
In 2012, the flagship status of the GE Voluson E8 was usurped by GE Voluson E10- an updated machine with improved hardware, software, and even better 4D imaging capabilities. Compared to the Voluson e10, the Voluson E8 still provides exceptional performance, despite being an older machine, and is available at a much lower cost than the newer e10 model.
Specifications
Applications
Cardiac, OB/GYN, MSK, Vascular, Urology
Features
M-Mode, Anatomical M-Mode, ColorColor doppler, CW doppler, PW doppler, Tissue doppler, AutoDoppler calculations, Tissue harmonic imaging, Speckle reduction, Volume speckle reduction, Tomographic, XTD, Compound imaging, Auto IMT, Scan assistant, DICOM 3.1, SonoIT, SonoNT, SonoRenderLive, SonoBiometry, SonoVCAD, 3D/4D, 4D virtual HD, Advanced 4D, Advanced STIC, HD-DVR
Frequently Asked Questions
What is SonoVCAD labor on the GE Voluson E8?
The SonoVCAD feature on the Voluson e8 provides measurement automation of fetal head progression, direction, and rotation during labor.
What 4D ultrasound probes work with the GE Voluson E8?
The GE Voluson E8 is compatible with the RAB6-D 4D convex, RMS6C 4D convex, RM14L 4D linear, ML6-15-D linear probes, and more.
What is the difference between the GE Voluson E8 and Voluson e6?
The GE Voluson E8 and E6 are physically identical. The only difference is that the GE Voluson E6 has half the probe channels and fewer software features.
Strata Medical's Review
GE Voluson E8
The GE Voluson E8 is a high-quality OB-GYN ultrasound machine, but what really makes it shine is its advanced HDlive 4D renderings. HDlive allows ultrasound technicians to generate a virtual light source while they are scanning. The virtual light source allows our techs to generate shadows on unborn babies' faces providing a realistic view of the baby for expecting parents. Additionally, the E8 has fantastic workflow and swift performance, allowing our clinic to scan more patients every day.
---
Call us for a price quote

866-222-3025
Get a Free Quote
GE Voluson E8
Included in the price

90 Day Warranty
with extended warranty options
Looking to sell this device?
Get a Free Quote for GE Voluson E8
I want a free price quote on the GE Voluson E8, send it today!

Your information is private and secure with us
Included in the price

90 Day Warranty
with extended warranty options
Looking to sell this device?