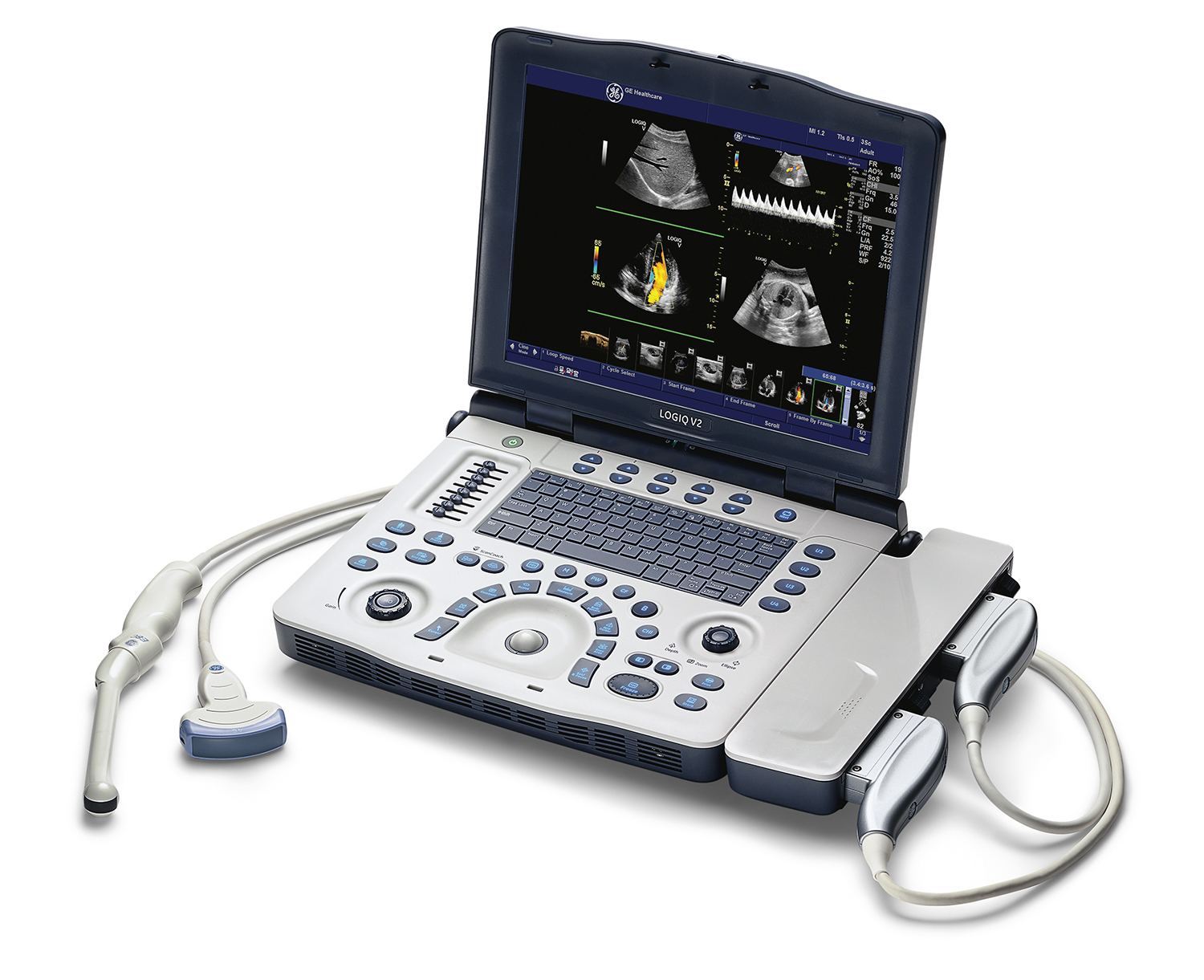 Refurbished
GE Logiq V2
---
Call For Customization (Software and Probe Selection)

866-222-3025
---
Included in the price

90 Day Warranty
with extended warranty options
---

Download GE Logiq V2 Guide User Manual

FDA Certified
Products

Factory OEM
Specifications

100%
Guarantee
Product highlights
Type
OB-GYN/ Shared services / Versatile
Popular Configurations
L6-12-RS, 4C-RS, E8C-RS
The GE Logiq V2 is an advanced, portable urology ultrasound machine. It is a full-color, laptop-sized device that includes many of GE's high-end features such as speckle reduction, CrossXBeam technology, and Coded Harmonics. It is designed for urology applications but can be used with other modalities such as OB-GYN, vascular, MSK, abdominal, and more.
The Logiq V2 features a compact design that is easily transferred between departments or patient rooms. Despite its compact design, it doesn't compromise on display size and performance, boasting a high-resolution 15" LCD. Additionally, it has superb walk-up usability with the "MyTrainer" onboard support software. The MyTrainer feature guides ultrasound technicians and physicians through its interface with real-time guidance.
Specifications
Applications
Cardiac, OB/GYN, Vascular, Urology, Veterinary, Portable
Features
M-Mode, Anatomical M-Mode, Color M-Mode, Color doppler, Directional color power doppler, CW doppler, PW doppler, Power doppler, Tissue harmonic imaging, Scan assistant, Scan coach, Speckle reduction, Compound imaging, Auto IMT, Panoramic, SonoBiometry, Auto optimization, DICOM 3.1
Frequently Asked Questions
How does the GE Logiq V2 differ from the GE Logiq E?
The GE Logiq V2 is a newer design that provides the same superb image quality of the Logiq E and includes new automated software features and a wireless option.
Does the GE Logiq V2 come with a cart?
The cart for the GE Logiq V2 is optional and can be provided at request.
What types of urology exams can the GE Logiq S8 perform?
The GE Logiq S8 is capable of performing a wide range of urology exams- scrotal, kidney, bladder, prostate, and everything in between.
Similar equipment
Strata Medical's Review
GE Logiq V2
The GE Logiq V2 is a very useful and versatile portable ultrasound machine. It enables us to provide exceptional care to our patients at our urology practice. Considering its budget-friendly price, it has fantastic image quality and many great features, including a wireless adapter that enables portable connectivity. Whether we are doing scrotal, prostate, kidney, or bladder exams the Logiq V2 has everything we need for our urology clinic.
---
Call us for a price quote

866-222-3025
Get a Free Quote
GE Logiq V2
Included in the price

90 Day Warranty
with extended warranty options
Looking to sell this device?
Get a Free Quote for GE Logiq V2
I want a free price quote on the GE Logiq V2, send it today!

Your information is private and secure with us
Included in the price

90 Day Warranty
with extended warranty options
Looking to sell this device?