Portable Ultrasound Machines Buyer's Guide

Many medical professionals, including radiologists, emergency physicians, cardiologists, veterinarians, and OB/GYNs, use portable ultrasound machines in their practices. They're easy to store and transport to patients, and advances make new models more versatile, compact, and accurate every year. Most portable ultrasounds are about the size of a large laptop, and you can choose from hundreds of different models. Continue reading to learn about the features you can expect and the best portable ultrasounds available.
| | | | |
| --- | --- | --- | --- |
| Ultrasound Machine:  | Philips CX50 | GE Vivid iq | Siemens P500 (ICE Edition) |
| Ranking | Most Versatile Portable Ultrasound Machine | Most Advanced Portable Ultrasound Machine | Best Portable Touchscreen Ultrasound Machine |
| Price Range |  $20,000-$40,000 | $25,000-$35,000 | $20,000-$25,000 |
| 3D/4D Imaging | Yes | Only 4D TEE | No |
| Monitor Size | 15" | 15.6" | 15.4" LCD |
| Image Quality | High-resolution capable of displaying up to 1,024 scan lines | 1920×1080 | HD |
| Controls | Knobs and Buttons | Buttons, touchpad, and touchscreen | Knobs, buttons, and touchpad |
| Battery Life | 40 to 60 minutes before recharge | 3 hours | 60 minutes |
| Workflow Features: | Live Compare, Auto Optimization, Compound Imaging, Smart Exam automated protocols, mitral valve quantification, cardia motion quantification | Auto optimization, AutoIMT, Scan Assistant, Tissue Tracking, Tissue Synchronization, AutoEF | Needle Visualization Enhancement, noise reduction, and high image clarity |
| Compatible Applications: | Cardiac, abdominal, vascular, OB/GYN, emergency medicine, MSK, anesthesia, veterinary | OB/GYN, Cardiac, Small Parts, Vascular, Emergency Medicine, MSK, and Abdominal | Abdominal, Vascular, OB/GYN, Breast, MSK, Urology and more |
| What sets it apart: | 4D imaging for cardiac applications, only portable systems compatible with single crystal and xMatrix transducers. Versatile feature set for a wide variety of applications. | 4D TEE, IntraCardiac Echocardiography (ICE), 4 probe ports, fast scans, top image quality, and battery life. | IntraCardiac Echocardiography (ICE), wide range of transducers for multiple applications |
Typical Features of a Portable Ultrasound
Small ultrasound machines have many of the same features as full-sized models. They can help doctors diagnose and treat a wide range of medical problems, and they're ideal if your practice uses more than one exam room and you don't want to buy multiple machines. Mobility carts with extra features are available, and many laptop ultrasounds have color Doppler imaging to monitor the amount of blood flow in different types of tissue.
These devices can detect ultrasound contrast agents, and three-dimensional (3D) imaging gives users a realistic view. Live or 4D imaging lets you diagnose many conditions more easily by displaying the way different body parts move. Automatic measurements and image optimization reduce operator fatigue and increase accuracy and consistency. Many models also have needle visualization. You can use this feature to administer local anesthesia, drain excess fluid, and complete other procedures.
The Philips CX50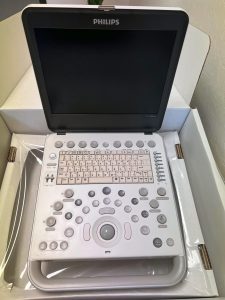 The Philips CX50 is the most versatile portable ultrasound machine, and you can use it for musculoskeletal, anesthesia, emergency medicine, OB/GYN, abdominal, or veterinary applications. You can expect to pay between $20,000 and $40,000, but it's worth the investment. It's one of the only portable ultrasound systems that works with xMatrix and single crystal transducers, and its knobs and buttons are easy to use.
This model is especially useful for cardiac scans, and it has advanced software with excellent image quality and heart wall definition. Compound imaging combines pictures from slightly different angles for a clearer view, and you can use Live Compare to view current and previous exam images side by side and find changes quickly. This device also comes with:
4D imaging for cardiac scans
A 40-minute battery life
A 15-inch HD monitor
iSCAN automatic image optimization software
Intelligent Doppler for maintaining a consistent, preselected angle
Two probe ports
Needle visualization
Cardiac motion quantification
Mitral valve quantification
ICE intracardiac echo capabilities
Strain quantification to measure cardiac function
Stress echocardiogram capabilities
Smart Exam automated protocols for a more streamlined workflow
PureWave technology for better penetration in hard-to-image patients
The GE Vivid iq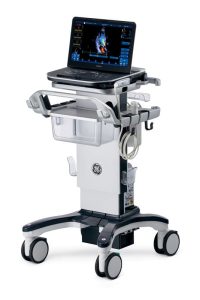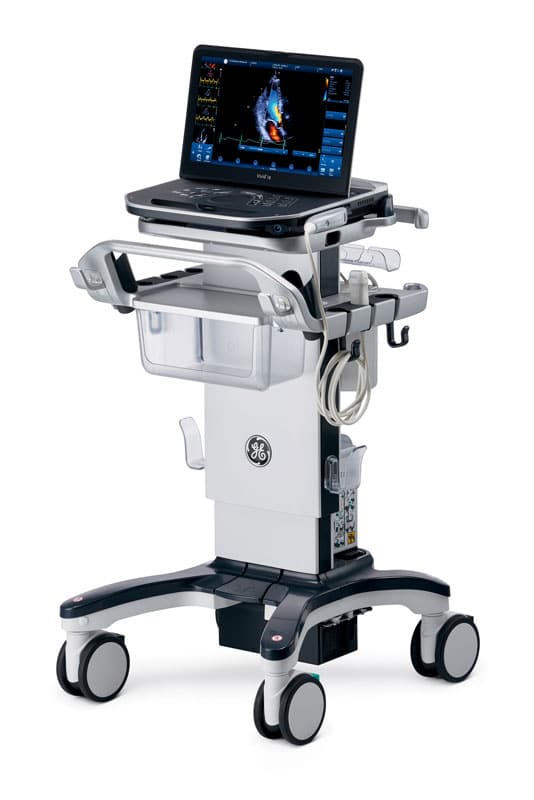 The GE Vivid iq is the most advanced portable ultrasound machine available, and it usually costs between $25,000 and $35,000. It's ideal for emergency medicine, abdominal, musculoskeletal, vascular, cardiac, OB/GYN, and small parts applications.
The touch screen, buttons, and touchpad make using it simple and intuitive, and you can view a 4D image when conducting transesophageal echocardiograms. Tissue Synchronization can detect left ventricular dyssynchrony, a common symptom of heart failure, and help predict the patient's response to treatment. AutoEF, or automatic ejection fraction software, can automatically track the endocardial border and calculate the left ventricle's ejection fraction. With this device, you'll also get:
A 15-inch LCD display with 1920 x 1080 resolution
A three-hour battery life
A sleek, convenient carrying case
Report templates for clear, concise reports
The ability to export data for long-term storage
Automatic image optimization
AutoIMT software for measuring the intima-media thickness of the carotid artery and detecting atherosclerosis.
Scan Assistant for decreased keystrokes and shorter exam times
Tissue Tracking for measuring the displacement of cardiac tissue
Intracardiac echocardiography
Four probe ports
The Siemens Acuson P500 ICE Edition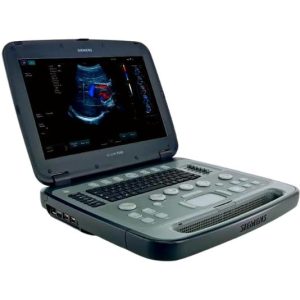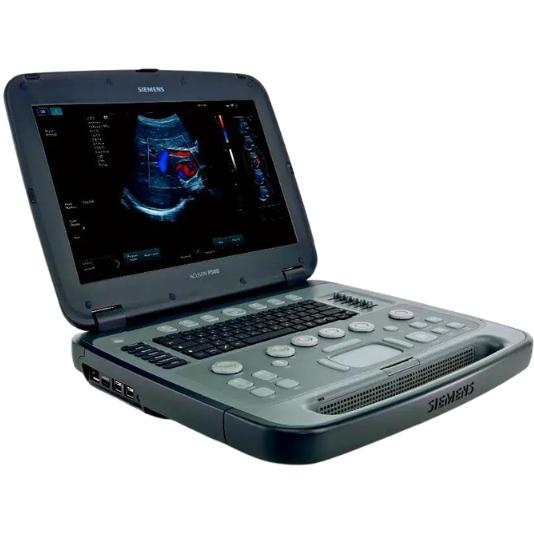 This device is the best portable ultrasound with a touch screen. It provides a clear image, and it also has easy-to-use knobs and buttons. You can use it for many applications, including urological, abdominal, vascular, OB/GYN, breast, and musculoskeletal scans. It's compatible with a wide range of transducers, and you can turn it on and be ready to scan in less than 30 seconds. You can use the ICE (intracardiac echocardiography) edition ultrasound with the Acuson AcuNav family of catheters.
With the eSie Measure workflow acceleration package, you can make semi-automated measurements during routine echocardiograms. Other features of the Siemens Acuson P500 ICE Edition include:
A 15.4-inch, HD LCD display
A one-hour battery life
Needle visualization
Dynamic Persistence and Auto Flash artifact suppression technology
Power Doppler imaging with vascular enhancement to detect small amounts of blood flow
A control panel cover for easy cleaning and better infection control
Three active transducer ports
A 180-gigabyte solid-state hard drive
More Ultrasound Options From Strata Imaging
To discover more about portable ultrasound machines and the brands and features available, contact us at Strata Imaging. Besides the ultrasound machines on this page, we have many other options. Give us a call or fill out our form and we can help you choose a new or refurbished portable ultrasound that's perfect for all your needs.
Additional Options From Strata Imaging
At Strata Imaging, we offer an extensive inventory of these musculoskeletal ultrasound machines and more. You can get a refurbished device or a brand-new model you can use to diagnose and treat patients. Contact us to learn more about the MSK ultrasound machines we have available.
Contact for Price Quote
Discover Ultrasound from Strata Imaging
If you are in need of an affordable option and are looking to save 30-60% over new OEM prices then allow our knowledgeable customer service and expert team to assist you in developing a solution that fits your requirements.
We offer solutions with a 100% satisfaction guarantee, ensuring you receive the best value for your investment.
Strata Imaging's Guarantee

FDA Certified Products

Factory OEM Specifications

100% Guarantee
Our clients
Trust Others From Around The World
Served over 4,000 Ultrasound and C-Arm Clients since 2004