Handheld Ultrasound Machines Buyer's Guide

Many doctors, radiology technicians, and other medical professionals use portable or handheld ultrasound machines to diagnose patients at the point of care in ambulances, doctor's offices, and hospitals. These devices prevent people from having to make separate appointments for ultrasounds and allows physicians to diagnose patients and start treatment as soon as possible.
Advances in technology make portable ultrasounds more versatile and compact than ever, and a range of models are available. Continue reading to learn about the features you can expect with a handheld ultrasound.
| | | | |
| --- | --- | --- | --- |
| Ultrasound Machine:  | Sonosite iVIZ | | GE Vscan with Dual Probe |
| Ranking | Best tablet-style handheld ultrasound machine | | Best pocket-size point-of-care ultrasound machine |
| Price Range | $18,000-$27,000 | | $5,500-$8,250 |
| 3D/4D Imaging | 2D only | | 2D only |
| Monitor Size | 7" | | 3.5" LCD |
| Image Quality | 1920×1200 resolution | | 1024×768 resolution |
| Controls | Touchscreen | | Buttons |
| Battery Life | 1 hour | | 1 hour |
| Workflow Features: | eFast, FATE, application-specific packages, lightweight, images easily uploaded to the cloud, intuitive multi-touch controls | | 2-in- probe provides quick change between sector and linear transducer scans, presets for a wide variety of applications, voice annotations |
| Handheld Features: | Built-in rugged handle for easy operation. Quick-swap battery. | | Small size (fits in a pocket), 2-in-1 probe with sector and linear functions, simple button interface |
| What sets it apart: | | | Small size, 2-in-1 probe, fast scanning |
Features To Anticipate With a Handheld Ultrasound
Small ultrasound machines often have many of the same features as larger models. They usually have streamlined, easy-to-use controls, and many can connect with a computer or smartphone for additional functionality.
Clinicians often use handheld ultrasounds for cardiac, vascular, OB/GYN, internal medicine, musculoskeletal, urology, veterinary, and other applications. They're ideal for professionals who often travel to see patients and have little storage space. Many models come with color Doppler imaging to monitor blood flow, and automatic image optimization makes scanning easy and accurate. Needle visualization lets medical professionals use handheld ultrasounds to help administer local anesthesia and perform other procedures.
The GE Vscan With Dual Probe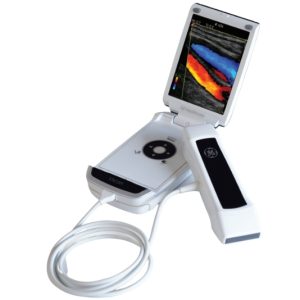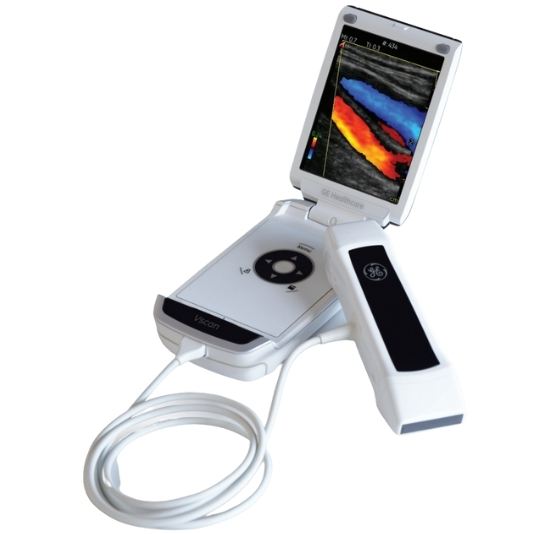 The GE Vscan With Dual Probe is a simple handheld ultrasound with two transducers on one probe. You can use the linear transducer on one end to scan anatomy close to the surface of the body. The convex transducer on the other end allows cardiac and transcranial imaging. This is one of the best pocket-sized ultrasounds, and the compact controls look like those you'd find on a flip phone. The GE Vscan was one of the first handheld ultrasounds and typically costs between $5,500 and $8,250.
The linear scanner can work at up to 8 centimeters of scanning depth, and the convex scanner functions at up to 24 centimeters. It has a 75-degree field of view. Switching between transducers is easy, and you can boot up the GE Vscan With Dual Probe and start scanning in under 25 seconds.
Transferring your scans to a PC so you can view them on a larger screen is easy. The device has a one-hour battery life, and you can use its compact charging station to charge it to 90% capacity in about 75 minutes. Other standard features include:
A 3.5-inch LCD screen with 1024 x 768 resolution
A sleep mode to save power
A soft case
Easy presets for many applications
A 4-gigabyte microSD card
Voice annotations
ColorFlow directional imaging
A thumb-controllable navigation wheel
Well-placed buttons
AutoCycle to detect full heart cycles
AutoOptimize automatic gain adjustment
Power angio or color power angiography to detect blood flow in small blood vessels and capillaries
Pulsed wave Doppler to measure the velocity of blood flow
The Fujifilm Sonosite iViz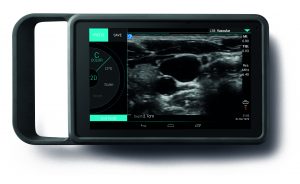 The Sonosite iViz is the best tablet-style handheld ultrasound machine. It usually costs between $18,000 and $27,000, and its 7.1-inch LCD touch screen comes with intuitive, multitouch controls.
This device has a lightweight, rugged, compact design with a convenient carrying handle. You can submerge it in liquid for easy cleaning, and you can use the tablet with one hand while you operate the transducer with the other. Extended focused assessment with sonography in trauma or eFast programming helps doctors examine trauma patients and detect issues quickly. You can also use tissue harmonic imaging with or without a contrast agent for better differentiation between tissue types.
Many software packages are available for different applications, including automatic measurements for cardiac and OB/GYN exams. You can choose from several compatible probes for a variety of scans. With this portable ultrasound, you'll get:
A one-hour battery life
1920 x 1200 resolution
DirectClear technology for better scan penetration and detail
The ability to share images wirelessly
An HDMI port
Focus-assessed transthoracic echocardiography
SonoADAPT Tissue Optimization
4x zoom capability
M-mode to detect motion
Color power Doppler to show the speed and direction of blood flow
More Ultrasound Options From Strata Imaging
To learn more about handheld ultrasound machines and the advanced features available, contact us at Strata Imaging. We can help you choose a new or refurbished device that's affordable and ideal for your needs.
Additional Options From Strata Imaging
At Strata Imaging, we offer an extensive inventory of these musculoskeletal ultrasound machines and more. You can get a refurbished device or a brand-new model you can use to diagnose and treat patients. Contact us to learn more about the MSK ultrasound machines we have available.
Contact for Price Quote
Discover Ultrasound from Strata Imaging
If you are in need of an affordable option and are looking to save 30-60% over new OEM prices then allow our knowledgeable customer service and expert team to assist you in developing a solution that fits your requirements.
We offer solutions with a 100% satisfaction guarantee, ensuring you receive the best value for your investment.
Strata Imaging's Guarantee

FDA Certified Products

Factory OEM Specifications

100% Guarantee
Our clients
Trust Others From Around The World
Served over 4,000 Ultrasound and C-Arm Clients since 2004