Point of Care Ultrasound Machines Buyer's Guide

Many medical professionals use POCUS, or point-of-care ultrasounds, to diagnose problems wherever patient treatment takes place, whether that's in an ambulance, a rural town, or a modern hospital. Advances often add new, useful features to POCUS ultrasounds, and many models are on the market. Here are some of the most common features, along with the best point-of-care ultrasounds available.
| | | | |
| --- | --- | --- | --- |
| Ultrasound Machine:  | Sonosite Edge II | Siemens Freestyle | GE Vscan with Dual Probe |
| Ranking | Best laptop-style point-of-care ultrasound machine | Best point-of-care ultrasound machine with wireless sensors | Best pocket-size point-of-care ultrasound machine |
| Price Range | $14,000-$16,000 | $8,500-$10,000 | $5,500-$8,250 |
| 3D/4D Imaging | No | No | No |
| Monitor Size | 12.1" LCD | 15″ LED | 3.5" LCD |
| Image Quality | 1920×1200 resolution | Varies depending on smartphone or tablet used | 1024×768 resolution |
| Controls | Knobs and buttons | Knobs, buttons, and touchscreen | Buttons |
| Battery Life | 2 hours | 1.5 hours | 1 hour |
| Workflow Features: | DirectClear Technology, dual imaging, duplex imaging, dynamic range/gain, remappable controls, soft keys for advanced features | On-transducer controls, customizable workflow, Spatial Compounding, focus/frequency/TGC automation | 2-in- probe provides quick change between sector and linear transducer scans, presets for a wide variety of applications, voice annotations |
| POCUS Features: | Quick boot time < 25 seconds, rugged case with handle, armored transducer cables, DirectClear technology | Needle guide, cable-free transducers, integrated transducer controls | Small size (fits in a pocket), dual-headed probe, ColorFlow directional imaging, quick visualizations |
| What sets it apart: | Ruggedness, armored cables, fast booting time | Cable-free transducers, controls on transducers, ability to scan 10 feet away from the ultrasound machine, fully submersible for easy cleaning | Small size, 2-in-1 probe, fast scanning |
Features to Expect With a Point of Care Ultrasound Machine
These are some of the most compact, portable ultrasound machines available, and clinicians often use them for cardiac, OB/GYN, vascular, internal medicine, urology, musculoskeletal, pain management, veterinary, and many other applications.
These devices have many of the same features as larger models, and they work well for professionals who have little storage space and treat patients in multiple locations. POCUS ultrasounds are available with stands or carts, and many models have color Doppler imaging for monitoring blood flow in various tissue types.
Automatic Image Optimization (AIO) reduces operator fatigue and increases scan accuracy and consistency. With needle visualization, you can administer local anesthesia or other medications and drain excess fluid when needed.
The GE Vscan With Dual Probe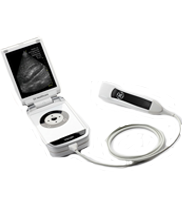 The GE Vscan With Dual Probe is the best pocket-sized point-of-care ultrasound machine, and it looks a lot like a flip phone. The Vscan line was the first series of handheld ultrasounds, with this model costing between $5,500 and $8,250. The Vscan With Dual Probe comes with two transducers mounted at opposite ends of the probe. A linear transducer gives clear images of structures near the surface of the body, and a convex transducer allows for transcranial and cardiac imaging.
The linear scanner's maximum depth is 8 centimeters, and the convex scanner has up to a 75-degree field of view with up to 24 centimeters of scanning depth. You can change between convex and linear scanning easily and boot the Vscan up to start scanning in less than 25 seconds. After you complete a scan, you can view and interpret the data on a PC. Other features include:
A 3.5-inch LCD display with 1024 x 768 resolution
A one-hour battery life
A 75-minute battery charging time for 90% capacity
A compact changing station
A sleep mode to conserve battery power
A soft case
A 4GB microSD card
Presets for many applications
Voice annotations
ColorFlow directional imaging
Well-placed buttons
A thumb-controllable navigation wheel
AutoOptimize automatic gain adjustment
AutoCycle to detect the full heart cycle
Power angio
Pulse wave or PW Doppler
The Siemens Acuson Freestyle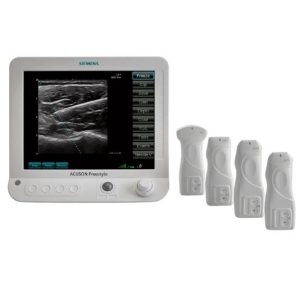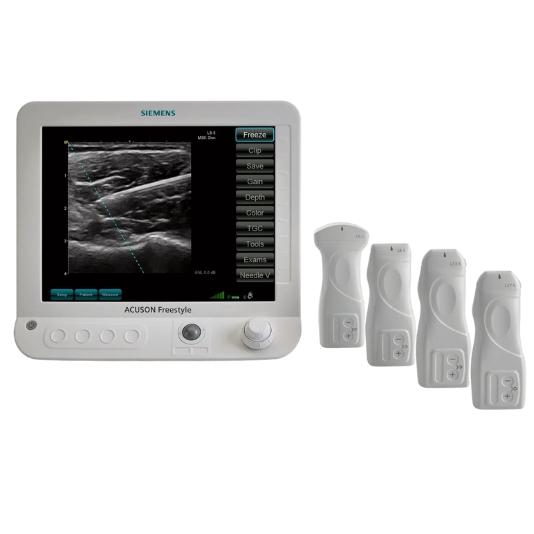 The Siemens Freestyle is the best point-of-care ultrasound machine with wireless sensors. It's the world's first wireless ultrasound, and it usually costs between $8,500 and $10,000. It resembles a tablet, and you can use it to conduct scans with wireless probes up to 10 feet away. The machine is available with one convex and two linear transducers, and integrated controls on the transducers let you operate the system from a distance. The Siemens Freestyle has a touch screen, knobs, buttons, and an intuitive menu with a customizable workflow that makes viewing ultrasounds and entering patient data easy.
The control panel and transducers are fully submersible for easy cleaning and sterilization. Time gain control automation normalizes signal amplitude with time, compensating for depth. This function makes scans easier to interpret by giving similar tissues at different depths the same levels of brightness. You can set the focus and frequency to adjust automatically as well. Spatial compounding combines several images from slightly different angles for a better view with more definition and fewer speckles. Three image size options are available. This point-of-care ultrasound also comes with:
A 15-inch LED monitor with 1024 x 768 resolution
Two USB ports
A 1.5-hour battery life
Enhanced needle visualization
Color Doppler imaging
The SonoSite Edge II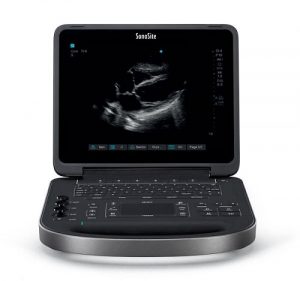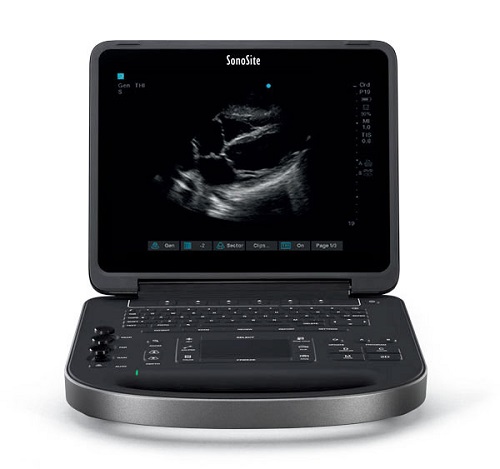 The SonoSite Edge II by FujiFilm is the best laptop-style point-of-care ultrasound machine. It usually costs between $14,000 and $16,000 and has easy-to-use remappable knobs, buttons, and a trackpad. The durable design works well in a variety of environments. The rugged case has a carrying handle, and the low-profile, silicone keypad is liquid-resistant for easy cleaning and sterilization. The transducers have armored cables to prevent damage if they get run over by the optional Edge Stand or other equipment. It's available with a variety of probes, and the scanning depth is up to 35 centimeters.
You can start this machine and be ready to scan in less than 25 seconds. It's easy to adjust the gain and the dynamic range, which is the difference between the minimum and maximum signal values, for better contrast. With many of the available transducers, DirectClear technology increases penetration and contrast resolution. You can add connections for three transducers and a PowerPark wireless charging station. With the SonoSite Edge II, standard features include:
A 12.1-inch LCD monitor with 1024 x 768 resolution and an antireflective coating
A two-hour battery life
Dual imaging that shows regular or B-mode and color Doppler scans next to each other
Duplex imaging combines the two scans into one image
More From Strata Imaging
To discover more about point-of-care ultrasound machines and the many brands and features available, contact us at Strata Imaging. We can help you select a new or refurbished POCUS ultrasound that's ideal for all your needs.
Additional Options From Strata Imaging
At Strata Imaging, we offer an extensive inventory of these musculoskeletal ultrasound machines and more. You can get a refurbished device or a brand-new model you can use to diagnose and treat patients. Contact us to learn more about the MSK ultrasound machines we have available.
Contact for Price Quote
Discover Ultrasound from Strata Imaging
If you are in need of an affordable option and are looking to save 30-60% over new OEM prices then allow our knowledgeable customer service and expert team to assist you in developing a solution that fits your requirements.
We offer solutions with a 100% satisfaction guarantee, ensuring you receive the best value for your investment.
Strata Imaging's Guarantee

FDA Certified Products

Factory OEM Specifications

100% Guarantee
Our clients
Trust Others From Around The World
Served over 4,000 Ultrasound and C-Arm Clients since 2004