Physicians Ultrasound Machines Buyer's Guide

Ultrasound technology becomes more advanced every year, and its use is no longer limited to radiologists. Many physicians can benefit from adding ultrasound machines to their practices, including cardiologists, emergency physicians, OB/GYNs, oncologists, sports medicine specialists, urologists, and more. You can choose a full-sized model with sophisticated features or a more portable, streamlined option. Continue reading to learn about the features you can expect with a physician's ultrasound machine and the best devices available.
Ultrasound Machine: 
Philips iU22
Siemens Freestyle
Toshiba Aplio i800
Ranking
Best budget ultrasound machine for physicians
Best wireless ultrasound system for physicians
Best premium ultrasound machine for physicians
Price Range
$15,000-$22,500
$7,000 to $10,000
$30,000 to $45,000
3D/4D Imaging
Yes
No
Yes
Monitor Size
17″ LCD
15″ LED
23″ LCD
Image Quality
1080×1024 resolution
1024×768 resolution
1024×768 resolution
Controls
Knobs, buttons, trackball, and touchscreen
Wireless probe control, knobs, and buttons
Knobs, buttons, trackball, and touchscreen
Battery Life
No battery
1.5 hours
2 hours
Workflow Features:
Compound imaging, Auto optimization, easy 4D imaging
Mobile link to Windows devices, Pixelformer image processing, Auto Study, Auto Send, custom automatizations
Touchscreen tilt to reduce glare and increase usability, fast touchscreen navitgation, intuitive key control, optimized frequencies, iPerformance
What sets it apart:
Fantastic image quality, features for many applications such as cardiac, OB/GYN, MSK, pediatrics, etc.
Compatibility with xMatrix probes- used for real-time 4D scanning
Built-in battery and probe storage, wireless probes, submersible probes are submersion rated for fast cleaning. Mobile Link App, Auto Send feature
Mobile battery, iSense workflow & productivity features, iDMS, Superb Micro-vascular Imaging (SMI), remote operation from wireless tablet
Common Features of a Physician's Ultrasound
Physician's ultrasound machines usually have intuitive, automated controls that allow doctors to perform quick assessments in their offices without the full training of a sonographer. These devices often come with color Doppler imaging to help you see the direction of blood flow. Needle visualization can help doctors administer anesthesia, and automatic image optimization can provide a clear, detailed image.
Many physicians' ultrasounds have a 3D imaging mode that sends sound waves from slightly different directions. Then, it combines the images for a three-dimensional view. Live or 4D imaging is often available as well. It lets doctors diagnose problems more easily by showing how the heart and other body parts move. Many physician's ultrasound machines can connect to multiple probes for excellent versatility.
The Siemens Acuson Freestyle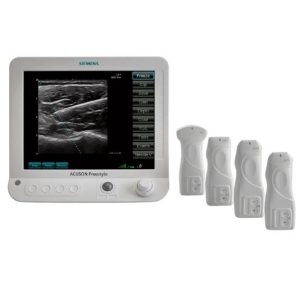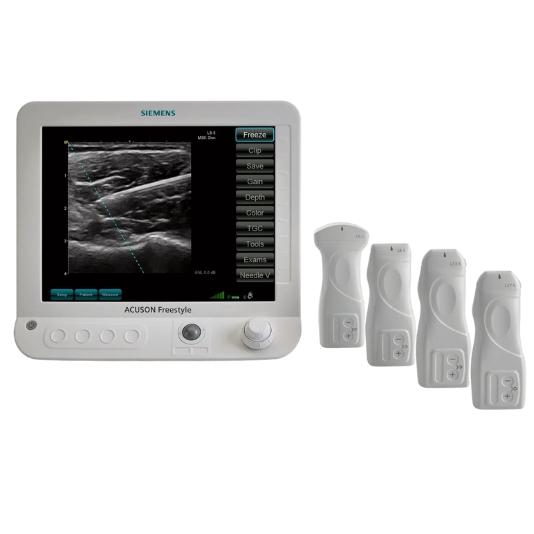 The Siemens Freestyle is the world's first wireless ultrasound is the best wireless ultrasound machine for physicians. Prices usually range from $7,000 to $10,000. The device looks like a tablet, and it works with wireless probes with integrated controls you can operate from a distance. The Siemens Freestyle can receive probe signals from up to 10 feet away, and it can link wirelessly with Windows devices. Two linear transducers for subcutaneous scanning are available, and you can choose a convex transducer for deeper scanning.
The intuitive menu and customizable workflow make viewing ultrasounds and recording patient data easy, and the control panel has a convenient touch screen, buttons, and knobs. You can submerge the probes in liquid for easy sterilization.
Time gain control software normalizes the signal amplitude with time to compensate for depth and makes scans easier to interpret. It also lets you set the ultrasound frequency and focus to adjust automatically. Spatial compounding or compound imaging combines several similar images for a clear image with fewer speckles, and Pixelformer image processing makes single images clearer. This physician's ultrasound machine also includes:
A 15-inch LED monitor
1024 x 768 resolution
Two USB ports
A 1.5-hour battery life
Three image size options
Color Doppler imaging
Enhanced needle visualization
Regular software updates
Auto Study image analysis
Auto Send to automatically send copies of ultrasound images to the cloud or another device
Mobile link app for viewing ultrasounds from anywhere
Customizable automations and controls
Built-in battery and probe storage
The Philips iU22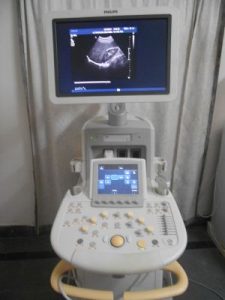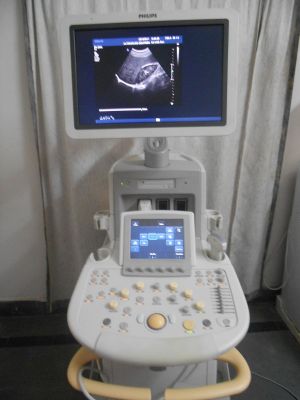 The Philips iU22 is the best budget physician's ultrasound machine, and it usually costs between $15,000 and $22,500. You can control it with its knobs, buttons, a trackball, and touch screen, and the image quality is fantastic. This device includes features designed for many applications, including pediatrics, musculoskeletal, OB/GYN, and cardiology. You can adjust the height of the monitor, turn it, and move it toward or away from you for easy viewing.
The iU22 is compatible with xMatrix transducers, and it uses Philips XStream image architecture to form a clear picture. Its Vascular Plaque Quantification tool can help physicians determine the amount of plaque in the carotid artery and evaluate the patient's risk of cardiovascular disease, heart attack, or stroke. This ultrasound machine also comes with:
3D and 4D (live imaging)
A 17-inch LCD monitor
1280 x 1024 resolution
Compound imaging
Automatic image optimization (AIO)
iSlice to show thin slices of an organ or other body part
Needle visualization
Smart exam automation software
The Toshiba Aplio i800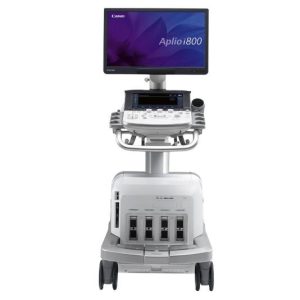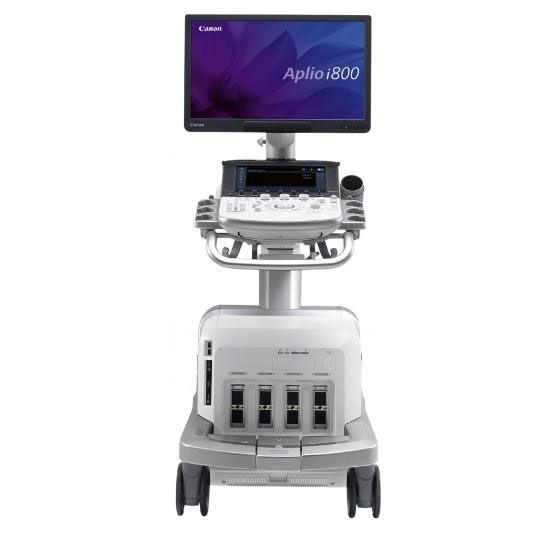 The best premium ultrasound machine for physicians is the Toshiba Aplio i800. It usually costs between $30,000 and $45,000. Like the iU22, you can control it easily with knobs, buttons, trackball, and a touch screen that's easy to tilt and adjust to reduce glare and increase usability. The controls and menus are intuitive, and you can adjust the control panel and monitor height, as well. You can even operate this physician's ultrasound machine remotely from a wireless tablet.
The Toshiba Aplio i800 comes with iBeam beam-forming technology. It combines a Multi-Sync Pulser for better beam transmission, a multi-beam receiver for a wider signal reception area, and multi-harmonic compounding for better processing power. The result is increased penetration, spatial resolution, and contrast resolution with fewer speckles and other artifacts. Intelligent Dynamic Micro-Slice (iDMS) creates precise beams to look at thin slices of body parts. Other features of this device include:
A 23-inch LCD monitor
Two-hour battery life
Optimized scanning frequencies
Performance technology for more processing power and clearer images
iSense ergonomic design
A multi-beam receiver that can detect a wide range of signals
Multi-harmonic compounding for additional beam processing power
Automatic image adjustments for a smooth workflow and easier scanning
Superb microvascular imaging for mapping blood flow through capillaries and other small blood vessels
More Options
Contact us at Strata Imaging to discover more about physicians' ultrasound machines and the many advanced models available. We offer an extensive inventory and can help you find a new or refurbished device that's perfect for your practice.
Additional Options From Strata Imaging
At Strata Imaging, we offer an extensive inventory of these musculoskeletal ultrasound machines and more. You can get a refurbished device or a brand-new model you can use to diagnose and treat patients. Contact us to learn more about the MSK ultrasound machines we have available.
Contact for Price Quote
Discover Ultrasound from Strata Imaging
If you are in need of an affordable option and are looking to save 30-60% over new OEM prices then allow our knowledgeable customer service and expert team to assist you in developing a solution that fits your requirements.
We offer solutions with a 100% satisfaction guarantee, ensuring you receive the best value for your investment.
Strata Imaging's Guarantee

FDA Certified Products

Factory OEM Specifications

100% Guarantee
Our clients
Trust Others From Around The World
Served over 4,000 Ultrasound and C-Arm Clients since 2004