OB/GYN Ultrasound Machines Buyer's Guide

Obstetrics and gynecological (OB/GYN) ultrasound machines are essential diagnostic tools, and new models improve accuracy and diagnostic capabilities every year, providing more data and clearer images to expecting parents. The number of manufacturers offering this equipment has increased as well, and there are hundreds of ultrasound machines on the market. Deciding which ones provide the best value and performance can be difficult. At Strata Imaging, we are here to help you determine which OB/GYN ultrasounds are best for women's health exams.
Here are some of the most common features of OB/GYN Ultrasound Machines and the best machines for medical practices of all shapes and sizes.
| | | | |
| --- | --- | --- | --- |
| Ultrasound Machine:  | GE Voluson E8 | GE Voluson S8 | Philips EPIQ 7 |
| Ranking | Best Premium OB/GYN Ultrasound Machine | Best Mid-Range OB/GYN Ultrasound Machine | Best Shared Service Ultrasound Machine with OB/GYN Features |
| Price Range | $70,000-$80,500 | $24,000-$36,000 | $47,500-$71,250 |
| 3D/4D Imaging | Yes | Yes | Yes |
| Monitor Size | 23" LED | 19" LCD | 21.5" LCD |
| Image Quality | HD- 1280×1024 resolution | HD- 1280×1024 resolution | MaxVue HD display provides over 1M pixels |
| Controls | Knob and Buttons plus 12" touchscreen | Knob and Buttons | Knob and Buttons plus 12" touchscreen |
| Battery Life | No battery | No battery | 45-minute charge |
| Workflow Features: | Customizable touch screen controls/shortcuts, Scan Assistant feature, user-centric interface, ViewPoint, OmniView, Volume Contrast Imaging (VCI) | Scan Assistant feature, user-centric interface, ViewPoint, OmniView, Volume Contrast Imaging (VCI) | iSCAN for B/C/D, |
| OB/GYN Features: | HDLive with a virtual light source, fetal cardiology, OmniView, Advanced Volume Contrast Imaging, SonoNT, SonoBiometry, SonoVCAD labor | HD-Flow, Anatomical M-Mode, SonoVCAD Labor, 4D Virtual HD, HDLive, HD-Zoom, Tomographic Ultrasound Imaging, SonoAVC follicle | 4D xMATRIX transducer technology, powerful image processing, efficient workflow, Microflow Imaging, TrueVue Pro |
| What sets it apart: | HDLive with a virtual light source adds anatomical realism to fetuses, Radiance System Architecture, advanced beamformer design yields excellent contrast resolution, fast processing speeds + frame rates, multi-touch imaging | Exceptional system performance, budget-friendly, volume technologies feature-set for 3D/4D imaging, Sono-Automation technologies decrease exam complexity | Extremely fast processing speeds, excellent image quality, superb walk-up usability, & full OB/GYN support. Can be used in other ultrasound applications like Cardiology |
The Typical Features of an OB/GYN Ultrasound Machine
Many women's health ultrasound machines come with 3D or 4D OB/GYN imaging. With 3D imaging, sound waves get emitted from different directions to provide a three-dimensional image of the fetus or uterus. 4D imaging produces a live video, letting parents see their unborn child's face live. These more sophisticated images can sometimes help doctors detect cleft palates and other birth defects.
Ultrasound machines for obstetrics and gynecology have streamlined measurements and calculations, such as fetus length measurements and expected birth weight. Additionally, they provide women health-specific reports, placental blood flow measurements, and some advanced systems that are capable of full fetal heart exams.
They're very popular among expecting parents who want to look at their unborn children face to face.
The GE Voluson E8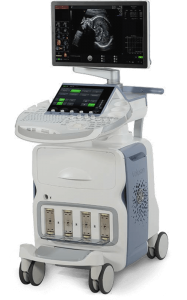 The GE Voluson E8 is one of our best premium OB/GYN ultrasound machines, and it usually costs from $25,000 to $37,500. Its HDLive system uses a virtual light source to add anatomical realism to fetuses, facilitating better assessment of the general anatomy and vascular structure in the first trimester. Radiance System Architecture, automatic image optimization (AIO), and advanced beamformer design provide outstanding contrast and resolution.
SonoVCAD labor is an automated 3D tool that measures fetal head progression, rotation, and direction and provides one straightforward report.
A sonography-based automated volume count (SonoAVC follicle) can help doctors assess patients' fertility by providing three-dimensional images of the size and number of ovarian follicles. SonoNT and SonoIT are semi-automated, and they help measure nuchal and intracranial translucency to discover birth defects in the first trimester.
The SonoBiometry system automates many other standard fetal measurements, including head circumference (HC), bi-parietal diameter (BPD), abdominal circumference (AC), humerus length (HL), and femur length (FL). Other features include:
Excellent frame rates and processing speeds
Flexible imaging and reporting formats
1280 x 1024 resolution
OmniView 3D ultrasound mode
A 23-inch LED monitor that lets expectant mothers view their ultrasounds easily
A 12-inch touch screen with customizable controls and shortcuts
Advanced 4D video
SonoVCAD heart for fetal echocardiograms
Advanced STIC (Spatio-Temporal Image Correlation) for full fetal heart exams in 2D or 4D
The GE Voluson S8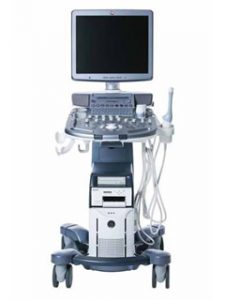 The GE Voluson S8 is a midrange device. It doesn't include as many premium features as the E8, but it still offers excellent quality and excellent performance. It's an ideal option for organizations on a budget, and it usually costs from $24,000 to $36,000.
Anatomical M-Mode increases the accuracy of 2D electrocardiography, and HD-Flow provides more sensitive, accurate 2D vascular imaging by monitoring blood flow. The ViewPoint electronic reporting and image management software makes communicating with patients and coworkers easy. The S8 also comes with:
1280 x 1024 resolution
3D/4D OB/GYN imaging
Sono-Automation technologies to reduce exam complexity
Three probe ports
A 19-inch LED monitor
A sleek, lightweight, portable design
4D Virtual HD video
HDLive
HD zoom capabilities
SonoBiometry
SonoNT
SonoIT
SonoAVC follicle
SonoVCAD heart
SonoVCAD labor
Automatic image optimization
The Philips EPIQ 7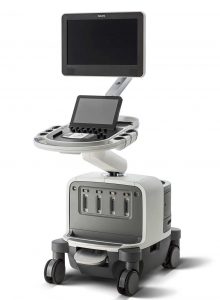 Technicians can use the Philips EPIQ 7 shared service device for OB/GYN, cardiac, breast, and other types of ultrasounds. It usually costs $47,500 to $71,250, and its versatility and premium features make the higher price worthwhile for many medical practices. It's extremely quiet and light, and its ergonomic design makes sonographers' jobs easier.
The WideSCAN system provides an expanded field of view when using the SonoCT real-time imaging software. XRES noise and artifact reduction provides better tissue and border definition, and the Fetal Heart Navigator (FHN) can calculate fetal heart volume in just 2 seconds. This ultrasound machine also comes with:
A 21.5-inch LED monitor
1920 x 1080 resolution
A 12-inch touch screen
3D imaging
A MaxVue HD display that provides more than a million pixels
4D xMATRIX transducer technology for clearer cardiac ultrasounds
MicroFlow imaging to detect slow or weak blood flow
TrueVue Pro for photorealistic fetal images
The most advanced Philips beamforming technology, nSIGHT
A 20-second sleep mode
A transport mode with a battery that can last 45 minutes
Strain-based elastography for gynecological or breast imaging
Four probe ports
Flexible reporting and measurement options
More Ultrasound Machines From Starta Imaging
We offer many other gynecology and obstetrics ultrasound machines, and they're available new, pre-owned, and refurbished. Choosing a women's health ultrasound machine with the right features allows you to optimize scans and procedures. It can also make ultrasounds faster, more comfortable, and less stressful for patients.
Contact us today to learn more about our OB/GYN ultrasound machines and how we can help you select the best ultrasound equipment with the capabilities you need for a reasonable price.
Additional Options From Strata Imaging
At Strata Imaging, we offer an extensive inventory of these musculoskeletal ultrasound machines and more. You can get a refurbished device or a brand-new model you can use to diagnose and treat patients. Contact us to learn more about the MSK ultrasound machines we have available.
Contact for Price Quote
Discover Ultrasound from Strata Imaging
If you are in need of an affordable option and are looking to save 30-60% over new OEM prices then allow our knowledgeable customer service and expert team to assist you in developing a solution that fits your requirements.
We offer solutions with a 100% satisfaction guarantee, ensuring you receive the best value for your investment.
Strata Imaging's Guarantee

FDA Certified Products

Factory OEM Specifications

100% Guarantee
Our clients
Trust Others From Around The World
Served over 4,000 Ultrasound and C-Arm Clients since 2004