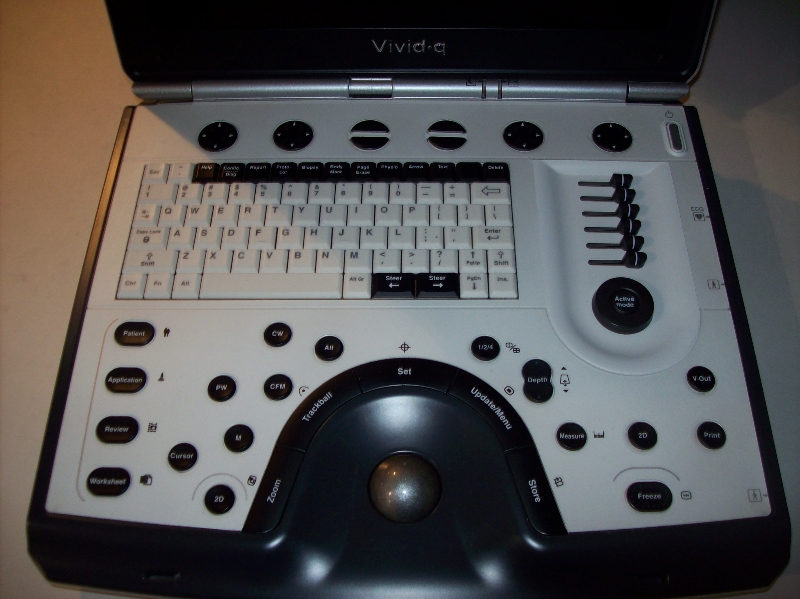 Refurbished
GE Vivid q
---
Call For Customization (Software and Probe Selection)

866-222-3025
---
Included in the price

90 Day Warranty
with extended warranty options
---

Download GE Vivid q Guide User Manual

FDA Certified
Products

Factory OEM
Specifications

100%
Guarantee
Product highlights
Type
OB-GYN / Shared services / Versatile
The Vivid q is GE's premium portable ultrasound machine design for cardiovascular applications. It is a portable, laptop-style system that boasts many features of console-based, high-performance GE machines such as the GE Vivid E9.
Compared to the GE Vivid i, the GE Vivid q looks very similar but packs in increased efficiency and additional quantitative features, including automated ejection-fraction calculation and M4S-RS. The Vivid q provides crystal-clear scans and various cardiac functions that lead to accurate diagnoses:
Real-Time 2D Imaging
Color Imaging
Blood Flow Imaging
Intra-cardiac Echo (ICE)
Spectral Doppler
Tissue Tracking
Tissue Synchronization Imaging (TSI)
Tissue Velocity Imaging (TVI)
Automated Function Imaging (AFI)
The portability and efficient workflow of the GE Vivid q makes it perfect for fast-paced, critical care situations such as the emergency room, OR, and cardiology ward.
Specifications
Applications
Cardiac, OB/GYN, Vascular, MSK, Urology
Features
B-Flow, M-Mode, Anatomical M-Mode, Color doppler, CW doppler, PW doppler, SCW doppler, Tissue doppler, Tissue harmonic imaging, Auto tissue optimization, Speckle reduction, Auto IMT, DICOM 3.1
Frequently Asked Questions
What preoperative scans can the GE Vivid q handle?
The GE Vivid q can perform the following preoperative scans: TEE (adult and pediatric), carotid evaluations, general intra-operative scans, transthoracic exams, and additional shared-service evaluations.
What is difference between the GE Vivid i and the GE Vivid q?
The GE Vivid i and Vivid q have a different color scheme, but otherwise look nearly identical. They are both cardiovascular ultrasound machines. The GE Vivid q has additional cardiac-based quantitative features including M4S-RS and automated ejection-fraction calculation which are not available on the Vivid i.
What ultrasound transducer probes are compatible with the GE Vivid q?
The GE Vivid q is compatible with over 16 portable ultrasound transducers that range from cardiac centric to other modalities.
Similar equipment
Strata Medical's Review
GE Vivid q
The GE Vivid q cardiac ultrasound machine has been a great addition to our facility. It is the same size as a large, modern laptop making it extremely portable. Along with its portability, the Vivid q has a fast startup time, making it perfect for fast-paced emergency situations. Additionally, the workflow is a breeze- it has a large keyboard, fully customizable controls with programmable keys, image controls, and image presets. These simple, intuitive additions make the Vivid q a powerful and quick diagnostic machine.
---
Call us for a price quote

866-222-3025
Get a Free Quote
GE Vivid q
Included in the price

90 Day Warranty
with extended warranty options
Looking to sell this device?
Get a Free Quote for GE Vivid q
I want a free price quote on the GE Vivid q, send it today!

Your information is private and secure with us
Included in the price

90 Day Warranty
with extended warranty options
Looking to sell this device?