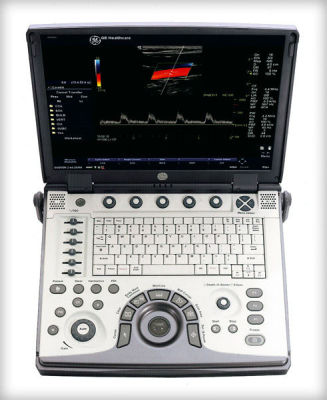 Refurbished
GE Logiq e
---
Call For Customization (Software and Probe Selection)

866-222-3025
---
Included in the price

90 Day Warranty
with extended warranty options
---

Download GE Logiq e Guide User Manual

FDA Certified
Products

Factory OEM
Specifications

100%
Guarantee
Product highlights
Popular Configurations
16L-RS, 9L-RS, 6S-RS, 12L-RS
The GE Logiq e ultrasound machine intersects great features with fantastic affordability and portability. It is a laptop-sized device weighing under 12 lbs, with a rotatable 15″ LCD monitor, with ergonomic button controls that boost efficiency and comfort. Its advanced TruScan, power doppler imaging (PDI), and simultaneous split-screen features make it an excellent choice for most diagnostic imaging applications. Although it is portable, the image quality is superb, with image rendering capabilities of up to 60cm and selectable manual or automatic image optimization.
A full shared-service machine, the Logiq e is perfect for most ultrasound modalities like OB/GYN, cardiac, GI, anesthesia, rheumatology, and more. Anatomy-specific image settings, needle recognition technology, SmartScan, and ComfortScan features all work to make your job EASIER, provide fantastic diagnostic imaging, and make your patients more comfortable.
Specifications
Applications
MSK, OB/GYN, Emergency Medicine, Cardiac, Vascular, Urology, Veterinary, Portable
Features
M-Mode, Anatomical M-Mode, Auto optimizaton, Stress Echo, Panoramic, DICOM 3.1, SRI, ECG, On-board patient data management, Color Doppler, Auto Tissue Optimization, Auto Spectrum Optimization, Auto CMF Optimization, Adaptive Color Enhancement, 15" High-Resoultion color LCD screen, USB DVD-RW drive ( external )
Frequently Asked Questions
What type of ultrasound probes are compatible the GE Logiq e?
Both the GE 8C-RS and the 12L-RS are compatibe with the GE Logiq e.
Can I save ultrasound images from the GE Loqiq e to a flash drive?
Yes, the GE Logiq e can connect and save data to any usb memory device
Does the GE Loqiq e support DICOM to send images through PACS systems?
Yes, the GE Logiq e has network capabilities and can easily send files direct to your radiologist to review.
Is the GE Logiq e capable of needle recognition?
Yes, the GE Logiq has needle recognition technology to assist with needle guided injections.
Similar equipment
Strata Medical's Review
GE Logiq e
The GE Logiq e is preferred by most of our ultrasound technicians for many reasons- its ease-of-use, portability, image quality, and its application flexibility. OB/GYN, GI, abdominal, ortho, vascular- there are not many diagnostic imaging applications that the Logiq E can't handle.
---
Call us for a price quote

866-222-3025
Get a Free Quote
GE Logiq e
Included in the price

90 Day Warranty
with extended warranty options
Looking to sell this device?
Get a Free Quote for GE Logiq e
I want a free price quote on the GE Logiq e, send it today!

Your information is private and secure with us
Included in the price

90 Day Warranty
with extended warranty options
Looking to sell this device?