Sell Your Ultrasound Machines and Probes to us!
We Make Selling Your Ultrasound Machine EASY!
Do you have unused or unneeded ultrasound equipment? Let our experts help you determine the best value for your machine.  We'll buy your spare machines, probes, and other peripherals for a fair price, even if they don't work. The process is easy with us when you decide you want to sell your ultrasound machine and probes. Contact our experts, they are happy to help!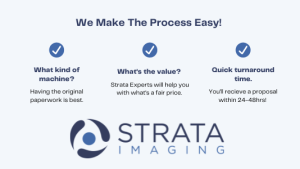 How To Sell Your Ultrasound Machine
We understand selling equipment isn't what you normally do that's why we try to keep it as simple as possible.  To help out here are a couple of questions we might ask during the purchasing process.
Do you have the original paperwork when you purchased the machine?

This will have all the answers we will need about the unit (Make, Model, etc.)

What's the condition? Working or not working?

Noting cosmetic imperfections, general age, and/or any imaging artifacts.

What is the value of the machine?

Features are key in determining a value. ie software levels, revisions.

Sell Your Ultrasound Machine To Us
Let Strata Imaging experts help you get the best offer for your equipment, fill out the form below.
Discover Ultrasound from Strata Imaging
If you are in need of an affordable option and are looking to save 30-60% over new OEM prices then allow our knowledgeable customer service and expert team to assist you in developing a solution that fits your requirements.
We offer solutions with a 100% satisfaction guarantee, ensuring you receive the best value for your investment.
Strata Imaging's Guarantee

FDA Certified Products

Factory OEM Specifications

100% Guarantee
Our clients
Trust Others From Around The World
Served over 4,000 Ultrasound and C-Arm Clients since 2004