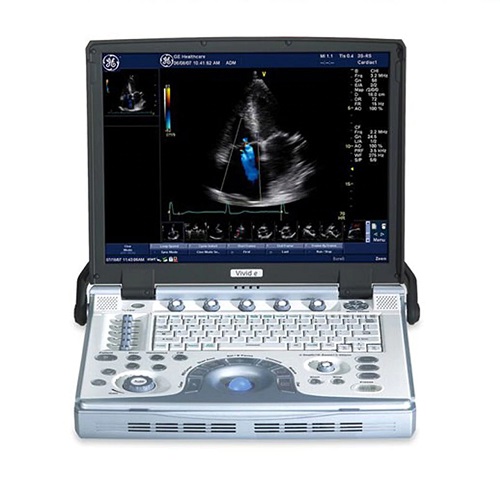 Refurbished
GE Vivid E
---
Call For Customization (Software and Probe Selection)

866-222-3025
---
Included in the price

90 Day Warranty
with extended warranty options
---

Download GE Vivid E Guide User Manual

FDA Certified
Products

Factory OEM
Specifications

100%
Guarantee
Product highlights
Type
OB-GYN/ Shared services / Versatile
Popular Configurations
12L-RS, 3S-RS, 8L-RS
The GE Vivid E is an industry-leading portable ultrasound machine for cardiovascular imaging. It is a shared service device ultrasound system with a focus on the cardiac modality. The Vivid E is a laptop-style ultrasound machine that is easily transferred between patient rooms, either on a cart or under an arm.
The GE Vivid E's technology is based on the GE Vivid 7 platform. It includes premium software options like Smart Depth, Adaptive Reject, CrossXBeam, Speckle Reduction Imaging, ICE Imaging, Tissue Tracking, Tissue Velocity Imagining, and more. However, despite all its advanced features and quality, it maintains a competitive price point.
Specifications
Applications
Cardiac, OB/GYN, Vascular, Urology, MSK, Portable
Features
M-Mode, Anatomical M-Mode, Color doppler, CW doppler, PW doppler, Power doppler, Tissue doppler, Tissue harmonic imaging, Compound imaging, Continuous high pulse repetition frequency, DICOM 3.1, Speckle reduction, IMT, Auto optimization, Stress echo
Frequently Asked Questions
Besides cardiac, what other applications can the GE Vivid E handle?
The GE Vivid E is cardiac focused, but has features for additional applications such as vascular, MSK, urology, pediatric, neonatal, abdominal, and small parts.
Is the GE Vivid E capable of handling echocardiograms?
Yes, the Vivid E can performs echos. For additional performance, select the Stress Echo and EchoPac optional features.
How many probes can be connected to the GE Vivid E?
The GE Vivid E is a small, compact system with only 1 active probe port which can be quickly and easily switched in emergency situations.
Similar equipment
Strata Medical's Review
GE Vivid E
The GE Vivid E is a tremendous portable cardiovascular ultrasound machine. Given the level of cardiac features, versatility, ease-of-use, and portability, we'd expect to pay much more than we have. With the EchoPac feature, we're able to quickly perform stress echos and other cardiac-specific exams and quickly diagnose heart conditions on potentially critical patients. Lastly, the ability to swiftly move the Vivid E to different rooms, either on the cart or in our hands, allows us to get to patients in need even quicker.
---
Call us for a price quote

866-222-3025
Get a Free Quote
GE Vivid E
Included in the price

90 Day Warranty
with extended warranty options
Looking to sell this device?
Get a Free Quote for GE Vivid E
I want a free price quote on the GE Vivid E, send it today!

Your information is private and secure with us
Included in the price

90 Day Warranty
with extended warranty options
Looking to sell this device?