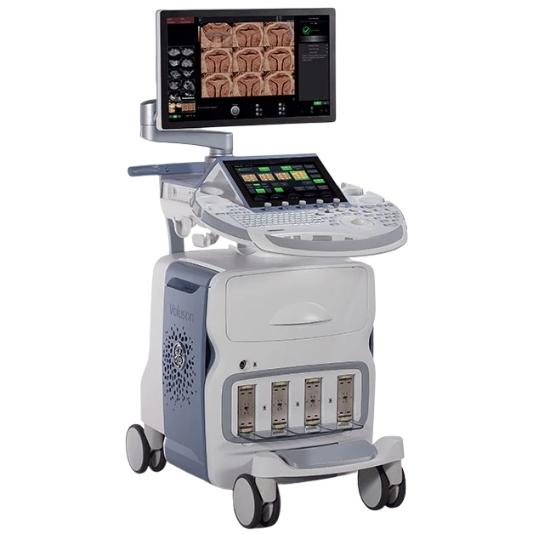 Refurbished
GE Voluson E6
---
Call For Customization (Software and Probe Selection)

866-222-3025
---
Included in the price

90 Day Warranty
with extended warranty options

FDA Certified
Products

Factory OEM
Specifications

100%
Guarantee
Product highlights
Type
OB/GYN / Shared services / Versatile
Popular Configurations
10.4-inch touch panel, 4D imaging, Scan Assistant
The GE Voluson E6 is an entry-level OB/GYN ultrasound machine in GE's "Expert" series. Compared to the Voluson E8, it has a slightly slower processor and not all the bells and whistles. It offers many advanced obstetric imaging technologies, including:
HD-Flow to monitor heart and lung perfusion
HDLive to view live fetal face images
Radiantflow which delivers quick visualizations of blood vessels
Advanced VCI with OmniViw to produce volume imaging from any imaging plane of a 3D or 4D image by drawing a line, polyline, curve, or a trace
SonoCNS to help image and measure the fetal brain
The Voluson E6 excels in performance and provides superior imaging for OB/GYN and other applications. The intuitive controls, including the 10.4-inch touch panel, make it easy to operate, and GE's Scan Assistant feature offers simple walk-up usability.
It provides superb image quality, fantastic workflow, and leading technologies and system architecture that boost performance in clinics of all sizes.
Specifications
Applications
OB/GYN, Breast, Cardiac, Urology, Vascular, Venous, Small Parts, Neonatal, MSK
Features
HDlive, Scan Assistant, Radiantflow, Avanced VCI with OmniView, SonoCNS, Uterine Trace, MI/TI limits, SonoDefense, Tricefy, 4DView, 3D Printing, Elastography, SonoBiometry, SonoVCAD Labor, SonoVCAD Heart, SonoACV, SonoACV Folloicle
Frequently Asked Questions
What is the Edison A.I. on the GE Voluson E6?
The Edison Artificial Intelligence on the GE Voluson E6 guides the sonographer through feal brain exams and greatly reduces the amount of keystrokes. The A.I. improves scan speeds and greatly helps in the procedure.
How many probe ports does the GE Voluson E6 have?
The GE Voluson E6 has 3 active probe probe plus a pedoff.
What size is the display on the GE Voluson E6?
The GE Vivid E6's screen is 19-inches and its touch panel is 10.4-inches.
Similar equipment
Strata Medical's Review
GE Voluson E6
The GE Voluson E6 ultrasound machine is an extremely capable unit for all OB/GYN clinics. If you've never used an ultrasound machine before, you'd be surprised how easy it is to complete procedures with the Voluson E6. Plus, you'll be up and running even faster if you've used GE machines before. It includes many familiar features and technologies, including HDLive and SonoCNS, to provide the best imaging and insights into the fetus and expecting mother.
---
Call us for a price quote

866-222-3025
Get a Free Quote
GE Voluson E6
Included in the price

90 Day Warranty
with extended warranty options
Looking to sell this device?
Get a Free Quote for GE Voluson E6
I want a free price quote on the GE Voluson E6, send it today!

Your information is private and secure with us
Included in the price

90 Day Warranty
with extended warranty options
Looking to sell this device?