Advanced ultrasound technology advancements have profoundly impacted the modern healthcare system. Thanks to the research and development efforts of companies like Esaote, today's ultrasound machines represent some of medicine's most advanced diagnostic tools and are continually evolving.
Founded in 1982 as a small startup, Esaote has grown into a global ultrasound and MRI manufacturer, operating in over 80 countries worldwide. The company has over 30 years of experience in researching, manufacturing, and commercializing technological solutions for healthcare applications.
This guide introduces the Esaote brand and two of the company's best ultrasound models.
About Esaote
Esaote has a unique value proposition compared to other leading ultrasound manufacturers. It provides medical imaging solutions in Ultrasound and Dedicated MRI that are complemented by Healthcare IT and technical services. As a result, Esaote devices offer a broad clinical spectrum, from prevention to diagnosis and follow-up.
You can find just about every type of ultrasound system on the market within Esaote's extensive catalog, including:
Cart-based Ultrasound
Portable Ultrasound
Shared Service Ultrasound
The array of Esaote's collection includes imaging for every medical specialty. Its devices have clinical applications for:
Cardiac
OB/GYN
Vascular
Urology
Abdominal
Small Parts
Pediatrics
Emergency Medicine
Veterinary
Top 2 Esaote Ultrasound Machines
Esaote has been a global ultrasound manufacturer for over 30 years, producing some of the market's most advanced ultrasound technologies to date.
While every machine in Esaote's catalog is worth mentioning, this guide highlights two of their best models – the MyLab X8 and the MyLab FIVE.
Ultrasound Machine
Details
MyLab X8
Price Range

: $39,000-$55,000


Type

: Shared-Service premium ultrasound machine


Monitor Size

: 21-inches


Imaging Modes

: 2D/3D/4D


Probe Ports

: 5


Controls

: Knobs, buttons, touch panel


Applications

: Cardiac, OB/GYN, MSK, Urology, Abdominal, Small Parts, Breast, Pediatrics, Vascular


Key Features

: One-touch image optimization, zero-click automation functions, quick boot time, onboard battery, touchscreen, 5 probe ports, EasyMode EasyColor, eDoppler, eScan, wide probe portfolio, DICOM, MyLab Desk evo, XLight 3D/4D, XStrain 2D, QIMT, CPI, ElaXto, XView, microV, xStrain4D, QPack

MyLab FIVE
Price Range: $10,000-$24,000
Type

: Portable, Laptop-Style Ultrasound Machine


Monitor Size: 15 inches
Imaging Modes: 2D
Probe Ports: 3
Controls: Knobs, buttons, trackball
Applications: Cardiac, Vascular, MSK, Portable, Anesthesia, Breast, OB/GYN, Emergency Medicine
Key Features: Tissue Enhancement Imaging (TEI), Tissue Velocity Mapping (TVM), XView, MView, XStrain, Quality Intima-Media Thickness (QIMT) detection, DICOM, 15-inch monitor, MyLab Desk, Compass M-Mode (CMM), CFM, CnTI, TPView, FWI (Fetal Weight Index)
MyLab X8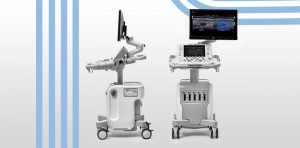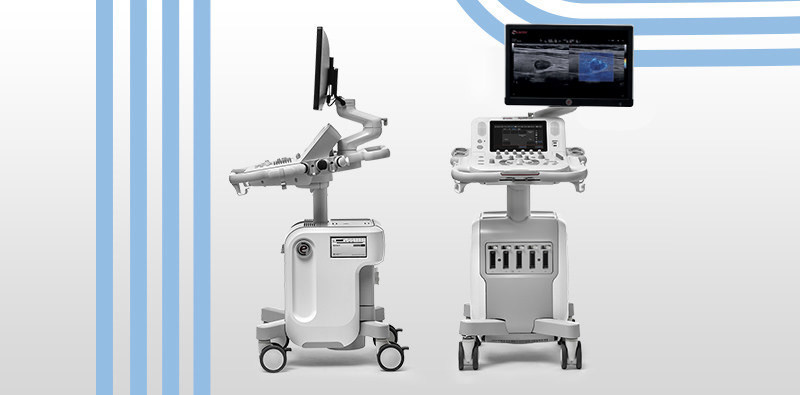 Key Features:
One-touch image optimization
Zero-click automation functions
Quick boot time
Onboard battery
Touchscreen
Five probe ports
EasyMode
EasyColor
Doppler
eScan
Wide probe portfolio
DICOM
MyLab Desk Evo
XLight
3D/4D Image Modes
XStrain 2D
XStrain 4D
QIMT
CPI
ElaXto
XView
microV
QPack
The MyLab X8 is a premium ultrasound machine with shared service functionality. It has an impressive set of advanced imaging features and supports clinical applications for:
Cardiac
OB/GYN
MSK
Urology
Abdominal
Small Parts
Breast
Pediatrics
Vascular
The MyLab X8 is highly-regarded for its image quality, cutting-edge ergonomics, and ultra-fast processing speeds. It displays high-resolution images on a 21" LCD monitor and has an intuitive touchscreen user interface that makes navigation during patient exams quick and seamless.
The system's one-touch image optimization allows users to enhance the quality of patient scans at the touch of a button, providing clinicians with greater diagnostic accuracy and confidence. And with five probe ports, the MyLab X8 makes switching between transducers easy and hassle-free.
Clinicians can also take advantage of the MyLab X8's smart automation functions like eDoppler and eScan to increase their workflow efficiency, improve productivity, and shorten exam times.
When it comes to advanced imaging features, the MyLab X8 is fully equipped. Its 3D and 4D imaging capabilities allow clinicians to view patient anatomy in real-time with incredible structural detail. The device also has several advanced Doppler modes for precise visualization and measurement of blood flow. The MyLab X8's Doppler modes include:
Color Velocity Doppler
Pulsed-Wave (PW) Doppler
Continuous-Wave Doppler
Power Doppler
The MyLab X8's many ergonomic features include an adjustable monitor and a high-flexibility floating keyboard for optimal scanning comfort. Plus, the MyLab X8 cart's front and rear handle, combined with 360° swivel wheels, allow for easy transport in and out of exam rooms.
MyLab FIVE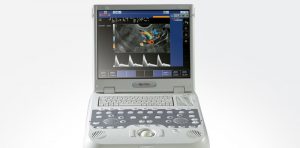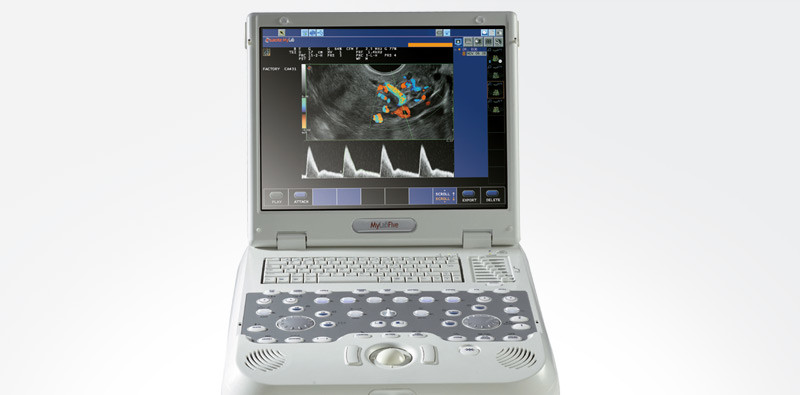 Key Features:
Tissue Enhancement Imaging (TEI)
Tissue Velocity Mapping
XView
MView
XStrain
Quality Intima-Media Thickness (QIMT) detection
DICOM
15" monitor
MyLab Desk
Compass M-Mode (CMM)
CFM
CnTi
TPView
Fetal Weight Index (FWI)
Price: $10,000 – $24,000
The MyLab FIVE is a portable ultrasound machine known for its versatility, ergonomic design, and ease of use. It boasts a 15″ high-resolution color TFT LCD monitor and a keyboard designed to minimize the user's hand movements.
When it comes to clinical versatility, the MyLab FIVE is second to none. The device has a compact design ideal for ultra-portability and is also configurable on three different trolleys, making it suitable for various clinical settings. Additionally, the MyLab FIVE is a shared service ultrasound and supports clinical applications for:
Cardiac
Vascular
Musculoskeletal
Anesthesia
Breast
OB/GYN
Emergency Medicine
The MyLab FIVE allows clinicians to examine their patients with the utmost diagnostic confidence. The system is equipped with the latest technologies, such as Tissue Enhancement Imaging (TEI), XView, and MView, which provide clear and detailed images even in hard-to-image patients.
The MyLab FIVE also offers a wide selection of probes, allowing any clinical requirement to be met. Its probe compatibility includes:
Multifrequency convex probes
Linear probes
Phased-array probes
Special-purpose probes
Lastly, the MyLab FIVE is an excellent device for improving clinical workflow and productivity. It's powered by MyLab Desk – Esaote's latest image management software which offers a comfortable reviewing, processing, and reporting station. MyLab Desk can be installed on a user's standard PC and represents a reliable solution for backup and remote archiving.
Esaote Ultrasound Machine Benefits
Esaote ultrasound systems come with a range of benefits that provide versatile, accurate diagnostic imaging performance across various clinical settings. Some significant benefits include:
Wide application support
Ease of use
Technologies and features
Dependability and Quality
Esaote Applications
Esaote manufacturers ultrasound systems for the following clinical applications:
Cardiac
OB/GYN
Vascular
Anesthesiology
Abdominal
Small Parts
Urology
Musculoskeletal
Pediatrics
Orthopedic
Trauma
Nerve
Lung
Emergency Medicine
Point-Of-Care
Veterinary
Esaote Ease of Use
Esaote designs its ultrasound systems to maximize the ease of use for end-users, allowing clinicians to perform quick and seamless ultrasound exams for their patients.
Ease of Use Design Features:
Workflow efficiency tools allow users to switch between imaging modes and use advanced features at the touch of a button or with very few keystrokes
Performance features include fast processing speeds that allow users to save and send cine clips with minimal delay
Walk-up usability allows users to perform standard ultrasound exams without the need for extensive training
Intuitive controls allow users to seamlessly navigate their Esaote devices
Fast boot times allow users to use their Esaote devices shortly after powering them on
Ergonomics refers to the design of Esaote systems which make them comfortable to use from various sitting and standing positions and monitor viewing angles
Battery life for Esaote units allows for multiple cord-free uses in between charging
Custom presets help guide clinicians through routine ultrasound exams
Esaote Technologies and Features
The array of Esaote's advanced imaging technologies and features includes, but isn't limited to:
Auto Intima-Media Thickness (IMT) feature gives automatic measurements of anterior and posterior walls for accurate carotid status
FHI is an innovative harmonic imaging technology that maintains the image resolution when imaging larger, hard-to-image patients
4D/virtual HD provides high-definition video of patient anatomy in real-time
Continuous-Wave (CW) Doppler improves accuracy when measuring high-velocity blood flow
Color Doppler allows for rapid visualization of blood flows, velocities, and volumes; a useful tool for detecting defects in the atria and ventricles
Q-Beam doubles the volume of transducer signals for deeper penetration and increased image resolution
Q-Image uses innovative algorithms combined with fast frame rates to significantly strengthen the image quality
Needle Enhancement for precise needle and catheter placements
Elastography displays tissue stiffness in real-time to provide clinicians with additional diagnostic information when scanning organs like the liver and breast
Esaote Dependability and Quality
Esaote ultrasound machines are durable, high-quality devices that provide consistent performance for both standards and demanding imaging needs.
Plus, Esaote's ultrasound systems come with an easily upgradable platform that allows the system to follow the technological trends and ensure investment value over a long-term period.
Esaote Ultrasounds Machines in Stock at Strata Imaging
In addition to the two Esaote ultrasound models compared in this article, Strata Imaging offers complete rental, maintenance, repair, and sale of almost every type (and brand) of ultrasound machine and related peripherals to all 50 states.
Browse our extensive catalog of ultrasound equipment to find the best fit for your medical practice.
When you buy from Strata Imaging, you get more than a first-class machine at a great price. You also gain access to our expert repair team and knowledgeable customer service reps.
Give us a call today at 866-770-9605 or fill out this form with any questions you have, and our dedicated service team will gladly assist you.
Contact for Price Quote
Discover Ultrasound from Strata Imaging
If you are in need of an affordable option and are looking to save 30-60% over new OEM prices then allow our knowledgeable customer service and expert team to assist you in developing a solution that fits your requirements.
We offer solutions with a 100% satisfaction guarantee, ensuring you receive the best value for your investment.
Strata Imaging's Guarantee

FDA Certified Products

Factory OEM Specifications

100% Guarantee
Our clients
Trust Others From Around The World
Served over 4,000 Ultrasound and C-Arm Clients since 2004