Philips CX50 Versus the Top Ultrasound Machines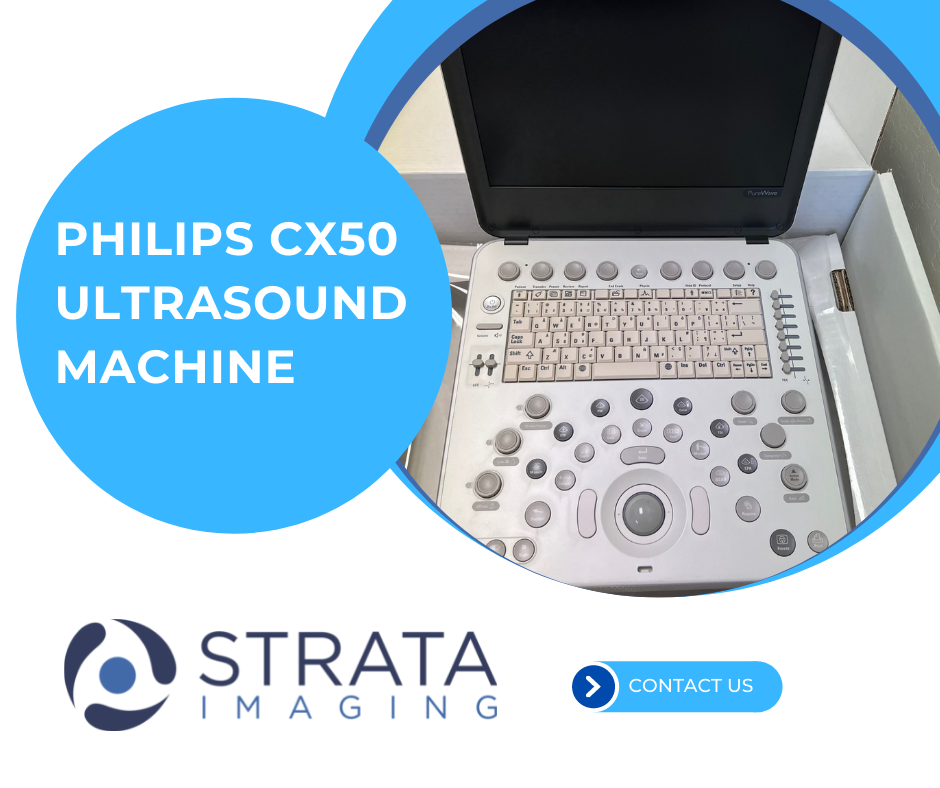 Finding the right ultrasound machine for your medical practice can be a harrowing task. With so many different models and new features flooding the market every year, it's hard to know where to start. On one hand, you want to make sure the ultrasound machine you purchase has all the imaging capabilities you need to deliver quick and accurate results to your patients. But on the other hand, you want to avoid paying an inflated price for a machine that has a ton of features you'll never actually use in your practice. That's why we've put together this performance-to-price comparison guide featuring some of the best portable ultrasound machines on the market.
If you are a medical professional or office manager in the market for a portable ultrasound machine, this comparison guide will help you determine which ultrasound machine has the highest value for your medical practice at the lowest cost.
Philips CX50 Vs Similar Models
The Philips CX50 model is currently one of the most highly considered ultrasound machines for healthcare practices across a variety of medical specialties. It is sleek and highly transportable with remarkably advanced imaging capabilities. Despite the CX50's compact size, it is a fully shared service device equipped to handle multiple ultrasound scan types, including cardiac scans, OB/GYN, vascular, kidney, urology, veterinary, and much more.
But the Philips CX50 isn't the only advanced portable ultrasound machine with shared service functionality. There are a few other alternative models that are equally as impressive. Let's take a closer look at the cost, features, pros, and cons for each model to determine which ultrasound machine will offer the greatest value to your medical practice.
Philips CX50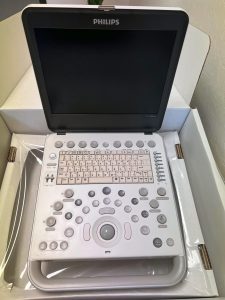 The Philips CX50 is highly-regarded for its versatility and premium image quality. With both single crystal probes and a 4D TEE probe, the CX50 produces astonishingly high-resolution images, allowing medical professionals to monitor and diagnose patients with the utmost accuracy and confidence.
While its advanced cardiac imaging features make it one of the best ultrasound machines for cardiovascular care units, its compact design, and shared service capabilities allow for easy transport and excellent performance in ER and point-of-care situations as well.
When you consider that some ultrasound machines in today's market can cost you upwards of $100,000, it is remarkable to know that Philips CX50 units only run between $20,000 to $40,000.
The Philips CX50 is fitted with a 15" LCD monitor, 2 probe ports, advanced imaging optimization, high-performance processing, and DICOM compatibility. Additionally, the Philips CX50 comes equipped with deep quantification tools for all applications to give you crystal clear imaging on every scan type, from anesthesia to vascular.
The Philips CX50 model sets itself apart with its high-end QLAB software allowing you to expand your patient's diagnostic information with several QLAB assessment and analysis apps including Strain Quantification (SQ), MicroVascular Imaging (MVI), GI 3D quantification, Live3D (4D) TEE, and ICE Intracardiac Echo.
Pros and Cons:
Fully integrated with Philips interventional X-ray systems so you can send, store, query, and retrieve images across devices
Advanced PureWave Technology allows for improved penetration in hard-to-image patients
SmartExam protocols that help you perform complete studies on every patient and significantly reduce exam time
The machine's knobs, buttons, and trackball offer seamless control over the device but it does not have a touchscreen like some of its alternatives
A 40-minute battery life, shorter than that of comparable ultrasound machines
GE Vivid iq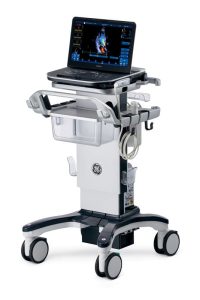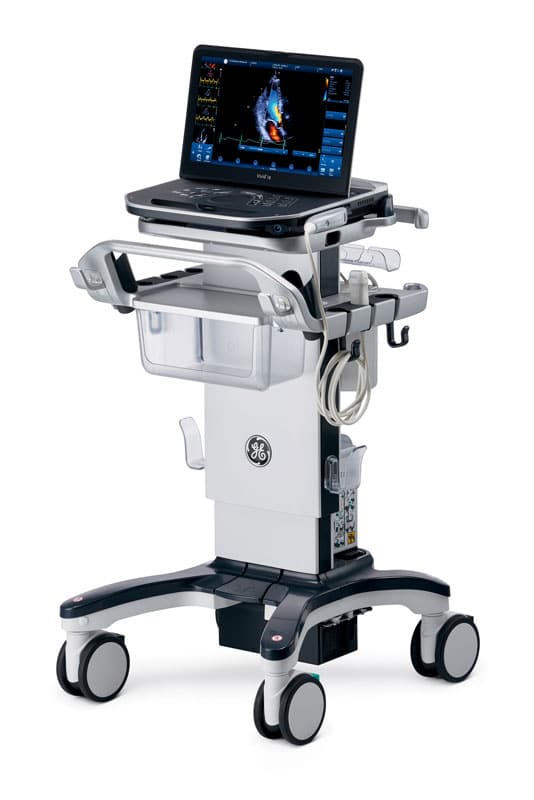 When it comes to power, portability, and premium image quality, the GE Vivid iq offers serious competition to the Philips CX50. The GE Vivid iq's Virtual Apex – Phased array probes provide a 120° sector for a wide field of view and enhanced visualization of structures at the sides of the sector.
Similar to the Philips CX50, GE's Vivid iq ultrasound machine offers a single crystal M4S-RS probe for feature-rich, high-resolution imaging. Additionally, the GE Vivid iq is a shared service device with applications for Cardiac, MSK, Pediatric, Small parts, OB/GYN, Vascular, and a host of others.
In contrast to the Philips CX50's trackball keyboard setup, the GE Vivid iq integrates a 15.6″ multi-touchscreen and trackpad for an enhanced user experience and intuitive workflow. However, the GE Vivid iq is limited to 2D imaging modes, unlike the Philips CX50's 2D, 3D, and 4D image mode features.
The GE Vivid iq is similarly priced to the Philips CX50, costing between $20,000 and $40,000.
Pros and Cons:
Lightweight with a sleek laptop-style design for ultra-portability between exam rooms and distant clinical locations
A newly designed mobile cart that protects the console during transportation and has increased height adjustments enabling a much better viewing angle for scanning while sitting or standing
Combines exceptional image detail with IntraCardiac Echo (ICE) technology so users have improved real-time monitoring and guidance during procedures
The 60-minute battery life may leave some users wanting more
Some users may prefer a conventional physical keyboard layout over the Vivid iq touchscreen design
Chison Sonobook 9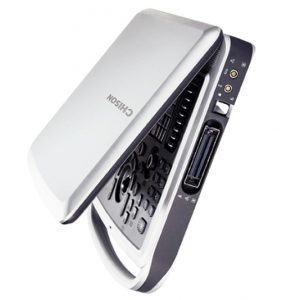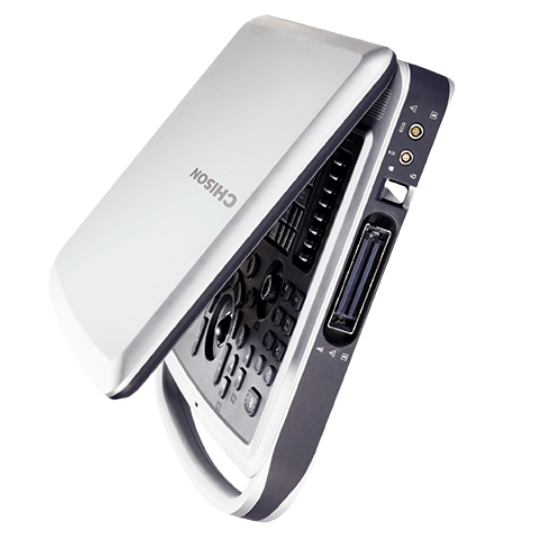 The Chison SonoBook 9 is a close runner-up to the Philips CX50 when it comes to image quality. This powerful, durable device uses the latest transducer technology for deeper tissue penetration, increased sensitivity, and an improved signal-to-noise ratio. As a result, you can achieve superior structural detail and crystal clear resolution, especially with hard-to-image patients.
The Chison Sonobook 9 excels in the area of cardiac imaging, and like the Philips CX50, it is a shared service device with additional clinical applications for OB/GYN, Anesthesia, Vascular, Emergency Medicine, and more.
The Chison Sonobook 9 has an internal Solid State hard drive (SSD) and incredibly fast processing speeds that set it apart from its competitors. Users of this machine will be impressed by how instantaneously they can save loops, adjust image quality, change modes, and export files. Whereas most portable ultrasound machines experience delays while saving cine clips, the Chison Sonobook9 has nearly no lag.
If you value high-speed processing you won't mind the slightly higher starting price point for the Chison Sonobook 9, which costs between $25,000 to $35,000.
Pros and Cons:
Fast boot-up speeds (<1 minute)
Instant switch between different ultrasound modes and measurements
AIO (Automatic Image Optimization for B-Mode and D-Mode)
2-hour battery life with active mode
Keyboard and trackball layout instead of a touchscreen
Mindray M9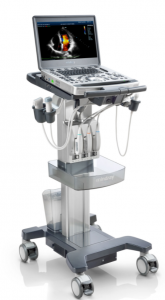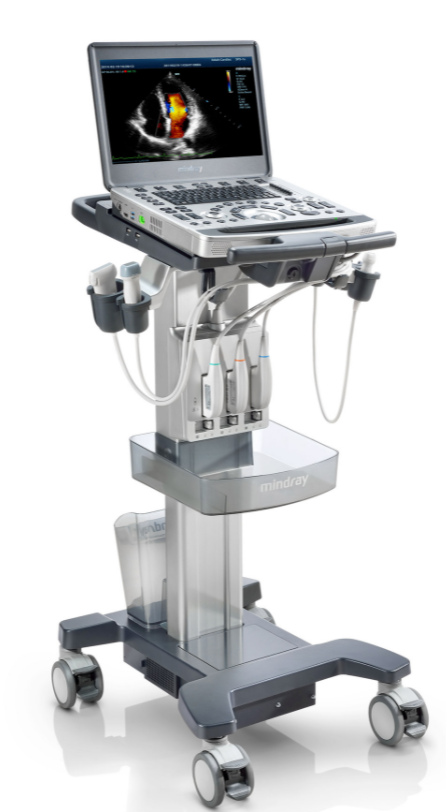 The M9 is Mindray's most advanced portable ultrasound machine. Similar to the Philips CX50, the Mindray M9 has single-crystal ultrasound transducers that allow for crisp, detailed image resolution on its 15.6" LED monitor. This slim, lightweight, shared service device allows for easy transport and offers optimal imaging with 2D, 3D, and 4D imaging modes across multiple clinical applications.
The Mindray M9 stands out from similarly priced high-end machines in its use of Mindray's patented Ultra-Wideband Non-linear technology in combination with contrast imaging, resulting in clearer images with less noise.
The device is also equipped with Echo-enriched beamformer technology that utilizes echo signals of adjacent beams to form one stronger imaging beam, providing an enhanced out-of-focus image resolution and deeper penetration.
The Mindray M9 costs between $28,500 and $42,750.
Pros and Cons:
Auto Intima-Media Thickness measurement of anterior and posterior walls for accurate carotid status
Natural touch elastography to reduce dependence on technician operation technique and improve user reproducibility for greater clinical utility
90-minute battery plus 3.5 hours of scanning with trolley mounted battery pack
Keyboard and trackball layout; no touchscreen
What to Consider When Buying an Ultrasound Machine
What is the intended use or clinical application of the ultrasound machine?
Ultrasound machines can be used for diagnostic imaging across a variety of medical specialties. If you intend to use your machine for more than one clinical application, you can save money by purchasing a shared service ultrasound machine rather than spending money on multiple devices.
What probes/transducers are required for your medical specialty?
The ultrasound probes/transducers you need for your medical office depend on the type of patients and cases you take on. Transducers come in different shapes, sizes and have specific features tailored for imaging different body parts.
Do you need a portable machine?
The size of your medical office can help you determine if you need a portable ultrasound machine or a stationary console. You will likely benefit from purchasing a portable ultrasound machine if you practice in a multi-specialty medical office where equipment is frequently moved between units.
What is your budget?
Brand new ultrasound machines can cost upwards of $100,000. You can purchase a refurbished ultrasound machine for significantly less money without sacrificing quality.
Will there be after-sales customer support?
New ultrasound machines typically come with a warranty that guarantees that a manufacturer will repair or replace a faulty machine or its part. If you buy a refurbished machine, it's important to assess the reputation of the seller and the quality of their service support. Do they offer repair or replacement services? How quickly do they respond to machinery failures?
Why Buy From Strata?
The Philips CX50, GE Vivid iq, Chison Sonobook 9, and Mindray M9 are all high-end portable ultrasound machines with multiple clinical applications. Your medical specialty, the healthcare setting you practice in and your budget will determine the best machine for your office.
In addition to the four machines discussed in this guide, Strata offers complete rental, maintenance, repair, and sale of almost every type of ultrasound system and related peripherals to all 50 states.
Browse our full catalog of ultrasound equipment to find the best fit for your business. Our knowledgeable customer service team will assist you in finding a solution that best fulfills your equipment requirements.
When you buy from Strata, you get more than a high-quality machine at an affordable price. You also gain access to our dedicated customer service and expert repair teams. Shop our ultrasound imaging products today and take your medical practice to the next level at an affordable cost.
Contact for Price Quote
Discover Ultrasound from Strata Imaging
If you are in need of an affordable option and are looking to save 30-60% over new OEM prices then allow our knowledgeable customer service and expert team to assist you in developing a solution that fits your requirements.
We offer solutions with a 100% satisfaction guarantee, ensuring you receive the best value for your investment.
Strata Imaging's Guarantee

FDA Certified Products

Factory OEM Specifications

100% Guarantee
Our clients
Trust Others From Around The World
Served over 4,000 Ultrasound and C-Arm Clients since 2004