Ultrasound machines are one of the healthcare system's most powerful diagnostic tools. They provide imaging for every medical specialty and function in every part of the hospital system, from operating rooms to ICUs.
Over the past decade, ultrasound capabilities have evolved remarkably, largely thanks to the research and development efforts of companies like SonoScape.
Since its founding in 2002, SonoScape has become one of the world's preeminent manufacturers of ultrasound machines. The company has received various awards and recognition from organizations worldwide and continues to be a leading innovator of modern ultrasound technology.
This guide introduces the SonoScape brand and two of the company's best ultrasound models.
About SonoScape
SonoScape's ultrasound systems have won the global favor and trust of medical professionals due to their performance, design, and price. The company has an established research and development team with research centers worldwide. Since its founding, SonoScape has continuously introduced novel medical equipment and technologies into the market every year.
You can find just about every type of ultrasound system on the market within SonoScape's extensive catalog, including:
Cart-based Ultrasound
Portable Ultrasound
Black and White Ultrasound
Shared Service Ultrasound
SonoScape's collection of ultrasound equipment includes imaging for every medical specialty. Its ultrasound systems support clinical applications for:
Cardiac
OB/GYN
Vascular
Urology
Abdominal
Breast
Small Parts
Pediatrics
Emergency Medicine
Veterinary
Top 2 SonoScape Ultrasound Machines
SonoScape has been a global ultrasound manufacturer for 20 years, producing some of the market's most innovative ultrasound systems to date.
While every machine in SonoScape's collection is worth mentioning, this guide highlights two of their best models – the X5 and the A6.
Ultrasound Machine
Details
SonoScape X5
Type

: Low-cost, portable, shared-service


Monitor Size

: 15.6-inches


Imaging Modes

: 2D/3D


Probe Ports

: 1


Controls

: Trackball, knobs, and buttons


Applications

: Cardiac, Emergency medicine, OB/GYN, Urology, Vascular


Key Features

: M-Mode, Color Doppler, Power Doppler, PW Doppler, CW Doppler, DICOM 3.1, Compound imaging, Tissue harmonic imaging, Speckle reduction, Auto optimization

SonoScape A6
Type

: Low-cost, entry-level, portable


Monitor Size: 12-inches
Imaging Modes: 2D
Probe Ports: 2
Controls: Trackball, knobs, and buttons
Applications: OB/GYN, Urology, MSK, General Imaging
Key Features: M-Mode, DICOM 3.1, Tissue harmonic imaging, B-Mode, Digital Beamforming, THI, Automatic Image Optimization
SonoScape X5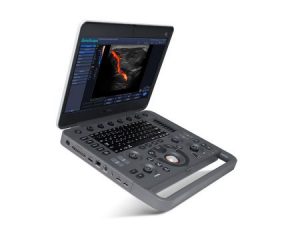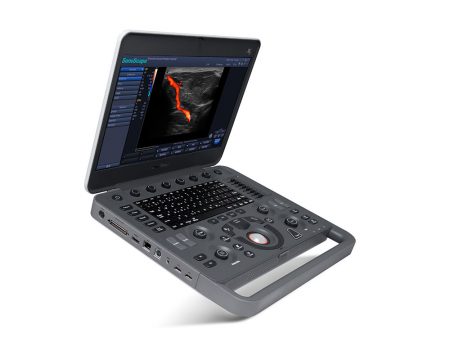 Key Features:
2D/3D imaging
Intuitive workflow
3-hour battery life
OB/GYN features
M-Mode
Multiple advanced Doppler modes
Tissue Harmonic Imaging
DICOM 3.1
Speckle Reduction
Auto Optimization
Spatial Compound Imaging
The SonoScape X5 is a color Doppler portable ultrasound machine with shared service functionality and an impressive set of advanced imaging features. In addition to having a women's healthcare package, the X5 supports clinical applications for:
General imaging
OB/GYN
Musculoskeletal
Radiology
Vascular
Urology
Emergency Medicine
The SonoScape X5's control panel provides seamless user navigation and an intuitive clinical workflow. It has a laptop-style design with a durable enclosure and sturdy handle, making transport around clinical grounds safe and easy. The device's robust battery life also offers three long hours of continuous scanning.
The array of advanced features in the Sonoscape X5 includes needle recognition, live 3D imaging for OB/GYN, and single-crystal transducer technology. The X5 also has several advanced Doppler modes, including:
Color Doppler
Power Doppler
Pulsed-wave (PW) Doppler
Continuous-wave (CW) Doppler
The Sonoscape X5's M-Mode features allow for accurate, real-time measurements of various echocardiographic parameters. It also boasts an Auto Optimization tool, allowing clinicians to automatically enhance image quality at the touch of a button.
Additional advanced technologies in the X5 includes Tissue Harmonic Imaging – a signal processing technique that provides better quality images than conventional ultrasound systems.
Overall, the Sonoscape X5 delivers robust and reliable performance for most clinical scenarios and excellent portability.
SonoScape A6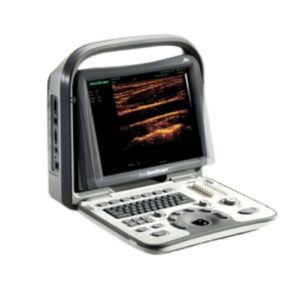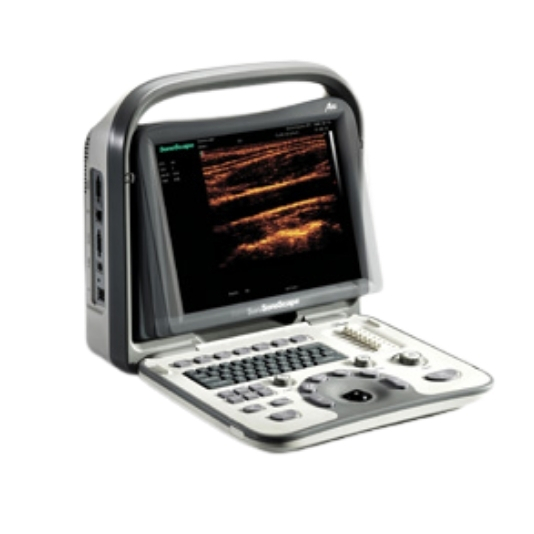 Key Features:
Black-and-White display
Tissue Harmonic Imaging (THI)
M-Mode
Automatic Image Optimization (AIO)
Adjustable short-cut keys
Built-in handle
DICOM
The SonoScape A6 is a portable black-and-white ultrasound machine with shared service functionality. It supports clinical applications for:
General imaging
OB/GYN
Musculoskeletal
Urology
The SonoScape A6 has a compact, light-weight design and a built-in handle for ultra-portability between exam rooms and distant clinical locations. It also has a built-in Lithium-ion battery, allowing hours of continuous scanning.
Similar to the X5, the SonoScape A6 uses Tissue Harmonic Imaging (THI) to improve the overall image quality, allowing clinicians to read patient scans confidently and accurately. The system further improves image quality with an automatic image optimization feature, enhancing scanning resolution at every level.
The device also boasts adjustable short-cut keys, allowing users to navigate the system with minimal keystrokes for an improved clinical workflow. Plus, the system is DICOM compatible, so users can easily store, transfer, and receive files from other imaging modalities and network devices.
Overall, the SonoScape A6 is a durable, portable device with an excellent price-to-performance ratio. It's a superb option for clinics requiring advanced ultrasound capabilities on a conservative budget.
SonoScape Ultrasound Machine Benefits
SonoScape ultrasound systems come with a range of benefits that provide versatile, accurate diagnostic imaging performance across various clinical settings. Some significant benefits include:
Compatibility with many applications
Ease of use
Technologies and features
Dependability and quality
SonoScape Applications
SonoScape manufacturers ultrasound systems for the following clinical applications:
Cardiac
OB/GYN
Vascular
Anesthesiology
Abdominal
Small Parts
Urology
Musculoskeletal
Pediatrics
Orthopedic
Trauma
Nerve
Lung
Emergency Medicine
Point-Of-Care
Veterinary
SonoScape Ease of Use
SonoScape ultrasound machines are highly-regarded for their ease of use, allowing clinicians to perform quick and seamless ultrasound exams for their patients.
Ease of Use Design Features:
Workflow efficiency tools enable users to switch between imaging modes and use advanced features at the touch of a button or with very few keystrokes
Performance features include fast processing speeds that allow users to save and send cine clips with very little delay
Walk-up usability allows users to perform standard ultrasound exams without the need for extensive training
Intuitive controls allow users to seamlessly navigate their SonoScape devices
Fast boot times allow users to use their SonoScape devices shortly after powering them on
Ergonomics refers to the design of SonoScape systems which make them comfortable to use from various sitting and standing positions and monitor viewing angles
Battery life for SonoScape units allows for multiple cord-free uses in between charging
Custom presets help guide clinicians through routine ultrasound exams
SonoScape Technologies and Features
The array of SonoScape's advanced imaging technologies and features includes, but isn't limited to:
Auto Intima-Media Thickness (IMT) feature gives automatic measurements of anterior and posterior walls for accurate carotid status
FHI is an innovative harmonic imaging technology that maintains the image resolution when imaging larger, hard-to-image patients
4D/virtual HD provides high-definition video of patient anatomy in real-time– for OB/GYN and cardiac applications
Continuous-Wave (CW) Doppler improves accuracy when measuring high-velocity blood flow
Color Doppler allows for rapid visualization of blood flows, velocities, and volumes; a useful tool for detecting defects in the atria and ventricles
Q-Beam doubles the volume of transducer signals for deeper penetration and increased image resolution
Q-Image uses innovative algorithms combined with fast frame rates to significantly strengthen the image quality
Needle Enhancement for precise needle and catheter placements
Elastography displays tissue stiffness in real-time to provide clinicians with additional diagnostic information when scanning organs like the liver and breast
SonoScape Dependability and Quality
SonoScape ultrasound systems are sturdy, high-quality devices made to resist wear and tear and protect your investment for the long term.
SonoScape devices are built-tough using durable materials that can weather a hectic and sometimes messy clinical environment.
SonoScape Ultrasounds Machines in Stock at Strata Imaging
In addition to the two SonoScape ultrasound models highlighted in this guide, Strata Imaging offers complete rental, maintenance, repair, and sale of almost every type of ultrasound machine and related peripherals to all 50 states.
Browse our extensive catalog of ultrasound equipment to find the best fit for your medical practice.
When you buy from Strata Imaging, you get more than a first-class machine at a great price. You also gain access to our expert repair team and knowledgeable customer service reps.
Give us a call today at 866-770-9605 or fill out this form with any questions you have, and our dedicated service team will gladly assist you.
Contact for Price Quote
Discover Ultrasound from Strata Imaging
If you are in need of an affordable option and are looking to save 30-60% over new OEM prices then allow our knowledgeable customer service and expert team to assist you in developing a solution that fits your requirements.
We offer solutions with a 100% satisfaction guarantee, ensuring you receive the best value for your investment.
Strata Imaging's Guarantee

FDA Certified Products

Factory OEM Specifications

100% Guarantee
Our clients
Trust Others From Around The World
Served over 4,000 Ultrasound and C-Arm Clients since 2004