Philips Affiniti 70 Versus the Top Ultrasound Machines
Ultrasound machines are the first go-to tool for diagnostic imaging. Healthcare facilities, imaging centers, clinics, and physician practices all rely on them for fast diagnostic imaging. In mere minutes, a physician can diagnose a patient with ultrasound images. A surgeon can effectively navigate a probe during surgery with live ultrasound images.
There are hundreds of ultrasound machine models and technology changes frequently which can make the selection process complicated and confusing.
One top machine is the Philips Affiniti 70, it is a high-end share-service device, but not your only option. In this guide, we compare it to three top alternative machines to help you uncomplicate the selection process and find the best ultrasound machine for your needs, so continue reading to learn more!
Philips Affiniti Versus Other Ultrasound Machines
Getting a new ultrasound machine is a complicated task. There are hundreds of ultrasound machine brands and models available. They are often classified in high, mid, or low-range groups, which helps with selection.
The Phillips Affiniti 70 is in the high-end group with multiple advanced technologies. Those in the mid-range include Affiniti 50 with some of the same Affiniti 70 advanced technology but less advanced transducers. The low-end group includes GE Logiq S8 and Siemens Acuson X300.
Depending on your clinical needs, budget, and modalities, one of the four ultrasound machines will likely suit your needs. Here is how they stack up:
Ultrasound Machine: 
Philips Affiniti 70
Philips Affiniti 50
GE Logiq S8
Siemens Acuson X300
Price Range
$45,000 to $67,500
$27,000 to $38,000
$26,000 to $39,000
$12,000 to $20,000
Monitor Size
21.5" LCD
21.5" LCD
19' LCD
18" LCD
Monitor Resolution
1024 x 768
1024 x 768
1280 x 1024
800 x 600
Touchscreen
12"

12"

9"

None
Imaging Modes
2D/3D/4D
2D/3D/4D
2D/3D
2D
Shared Services Capable
✔
✔
✔
✔
Applications

Cardiology & Vascular
Emergency Medicine & Trauma
Fetal
MSK
Obstetrics & Gynecology
Pediatric
Surgery
Urology

Cardiology & Vascular
Emergency Medicine & Trauma
Fetal
MSK
Obstetrics & Gynecology
Pediatric
Surgery
Urology

Breast
Cardiology
Neonatal
Obstetrics & Gynecology
Urology
Vascular

Breast
Cardiology & Vascular
Emergency Medicine & Trauma
Obstetrics & Gynecology
Pediatrics

Key Features

PureWave Transducers
ShearWave Elastography
4 Active Probe Ports

21.5" Monitor
12" Touchscreen
4 Active Probe Ports

Customizable S-Agile Architecture
E-Series Transducer Compatible
Stress Echo Functions
CrossXBeam,
AutoIMT,
E-Series and XDclear Probes Compatible

Cardiac Suite
Specialized Reporting Packages
Tissue Contrast Enhancement
QuikStart Rapid Boot
Philips Affiniti 70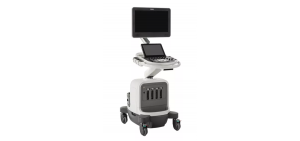 The Philips Affiniti 70 has the capability of providing high-quality general and clinical specialty diagnostic mages. It aligns most often with cardiovascular applications. Its advanced technology includes PureWave transducers for deeper penetration. It is a complete cardiovascular solution that delivers walk-up useability, efficiency, and reliability.
Pros
21.5" LED Display
12" Touchscreen
Easy walk-up useability
Advanced PureWave Transducers
Advanced AutoDoppler, Tissue Harmonic Imaging, SonoCT Compounding, XRES, SonoCT, & iScan
OB/GYN FlexVue
Standard Vascular Package
Cons
Higher Price
Lacking Technology of Competitors – Shared Services with Cardiac CW Doppler & TVD Tissue
Velocity Doppler
No Backup Battery
Philips Affiniti 50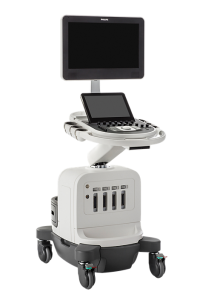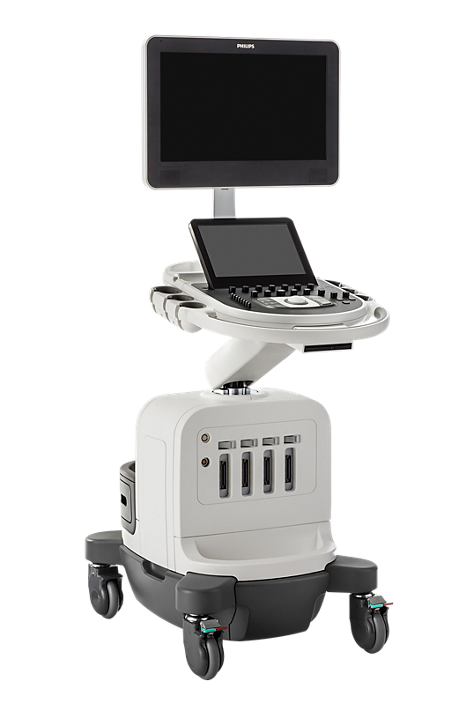 The Philips Affiniti 50 is a shared service ultrasound machine that borrows design elements from the Philips premium EPIQ models. The Affiniti 50 has most of the same advanced technology as the Affiniti 70, except for PureWave transducers and ShearWave. Essentially, the Philips Affiniti 50 is a lower-cost alternative to the Affiniti 70 with fewer features.
Pros
21.5" LED Display
12" Touchscreen
Some Affiniti 70 Advanced Technology
Vascular Package Standard
Inexpensive Transducers
Cons
Lacks Advanced PureWave Transducer
Lacks Advanced ShearWave Elastography
Less Powerful Image Processor
GE Logiq S8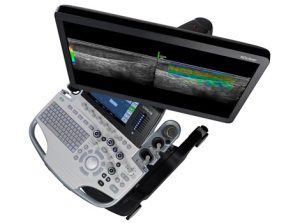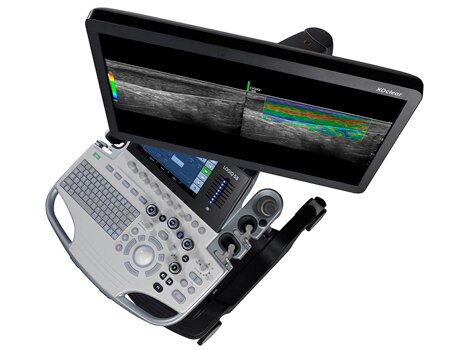 The Logiq S8 is designed for versatility to accommodate the diagnostic imaging needs of multiple clinical specialties. It has advanced features like Speckle Reduction (SRI-HD) and Harmonic Imaging but is considered a low-end model. This machine strikes a balance between price and performance with its 3D/4D imaging. The GE Logiq S8 goes neck-and-neck with the Philips Affiniti 70, offering many of the same capabilities and hardware.
Pros
Accommodates All Patient Sizes via deep probe penetration
Customizable S-Agile Architecture
E-Series Transducer Compatible
AutoIMT, Elastography, Speckle Reduction, & CrossXBeam
Cons
19" Monitor
9" Touchscreen
No Backup Battery
Siemens Acuson X300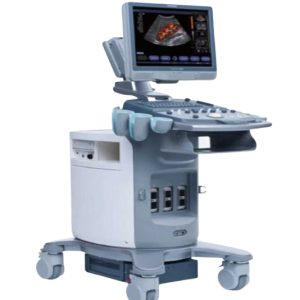 The Siemens Acuson X300 is a shared-service ultrasound system designed and equipped for cardiac diagnostic imaging. It is a mid-range cardiac machine with shared-service capabilities and a multi-directional articulating monitor which greatly improves ergonomics. The Acuson X300 perfectly balances technology and features with an affordable price point. Compared to the Philips Affiniti 70, it has fewer features, no touch panel, but costs significantly less.
Pros
Lower Cost
QuikStart Rapid Boot (<12 seconds)
Ergonomics
Dynamic Tissue Contrast Enhancement
syngo® Arterial & OB Packages
Cons
Limited 2D & M mode
No Touchscreen & Smaller Monitor
Less Advanced Hanafy Lens Transducer
Lower Image Size Resolution
Choosing the Right Ultrasound Machine
You likely know your budget, needs, and wants for an ultrasound machine. The Philips Affiniti 70 ultrasound machine is a great versatile option that will fill the needs of various clinics. However, you may not need all the bells and whistles it provides or your clinicians and technicians prefer a different brand, like Siemens.
If you're struggling to find the best ultrasound machine for your facility, our experts at Strata Imaging Solutions can help. We have knowledgeable ultrasound pros that can help you find, purchase, and get up and running the best ultrasound machine to meet all your needs within your budget.
Contact for Price Quote
Discover Ultrasound from Strata Imaging
If you are in need of an affordable option and are looking to save 30-60% over new OEM prices then allow our knowledgeable customer service and expert team to assist you in developing a solution that fits your requirements.
We offer solutions with a 100% satisfaction guarantee, ensuring you receive the best value for your investment.
Strata Imaging's Guarantee

FDA Certified Products

Factory OEM Specifications

100% Guarantee
Our clients
Trust Others From Around The World
Served over 4,000 Ultrasound and C-Arm Clients since 2004