Philips EPIQ 5 Versus the Top Ultrasound Machines

When it comes to medical imaging, accuracy and efficiency are key to providing quick and reliable results to your patients. Top medical practices require premium devices with advanced imaging technology, powerful processing speeds, and ergonomic workflows to deliver the best possible care during diagnostic exams.
Several premium ultrasound machines on the market provide spectacular image quality and powerful performance across multiple clinical applications. But despite their equally impressive performance, each device also offers unique benefits not found in its competitors, and this may determine your purchase.
This article compares and contrasts the major differences between four of the best ultrasounds on the market while highlighting the features that will help you narrow down the best ultrasound for your medical practice.
Ultrasound Machine
Details
Philips EPIQ 5
Price Range: $42,500 to $63,750
Monitor Size: 21.5 inches
Imaging Modes: 2D/3D/4D
Probe Ports

: 4 probe ports


Controls: Touchscreen, knobs, buttons, and trackball
Applications: Cardiac, OB/GYN, Vascular, Urology, MSK
Key Features: Anatomical Intelligence for Breast, TrueVue advanced 3D display, MaxVue HD display
Philips EPIQ 7
Price Range: $47,500 to $71,250
Monitor Size: 21.5 inches
Imaging Modes: 2D/3D/4D
Probe Ports: 4 probe ports
Controls: Touchscreen, knobs, buttons, and trackball
Applications: Cardiac, OB/GYN, Vascular, Urology, MSK
Key Features: xMATRIX probes, Anatomical Intelligence for Breast, TrueVue advanced 3D display, MaxVue HD display
Siemens Acuson Sequoia
Price Range: 
Monitor Size: 22 inches OLED
Imaging Modes: 2D/3D/4D
Probe Ports: 4 probe ports
Controls: Touchscreen, knobs, buttons, and trackball
Applications: Cardiac, OB/GYN, Vascular, MSK, Urology
Key Features: InFocus Imaging, Custom Tissue Imaging, Modality Compare, InTune Transducer Technology
GE Voluson e10
Price Range: $47,000 to $51,000
Monitor Size: 23 inches LED
Imaging Modes: 2D/3D/4D
Probe Ports: 4 probe ports
Controls: Touchscreen, knobs, buttons, and trackball
Applications: Cardiac, OB/GYN, MSK, Vascular, Urology
Key Features: Radiance System Architecture, Edison—Artificial Intelligence, SlowflowHD, Radiantflow, HDlive Technologies, SonoCNS
Philips EPIQ 5 Vs. Similar Models
The EPIQ 5 is one of Philips' most highly rated premium ultrasound machines for top hospitals and imaging facilities across various medical specialties. This top-of-the-line device handles the most demanding general imaging practices with speed and consistency.
It comes fully equipped with the latest scanning features and advanced imaging technologies that deliver remarkably detailed high-resolution images. As a shared device, you can use the Philips EPIQ 5 for most types of scans, including cardiac, OB/GYN, Vascular, Urology, MSK, and more.
While the Philips EPIQ 5 provides exceptional imaging performance, a few other competitors on the market are equally notable, namely the Philips EPIQ 7, Siemens Acuson Sequoia, and the GE Voluson e10. It's worth considering one of EPIQ 5's alternatives to determine the absolute best fit for your business.
Let's take a detailed look at the cost, features, pros, and cons for each competing machine to determine which of these premium ultrasounds will offer the greatest value to you and your patients.
Philips EPIQ 5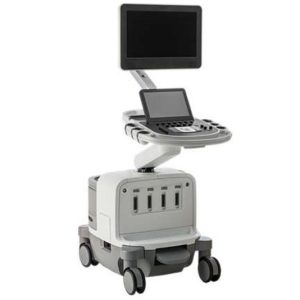 The Philips EPIQ 5 is a new and improved version of Philips' older iU22 xMatrix ultrasound machine. Compared to its predecessor, the EPIQ 5 has a more compact design while providing users with a larger touchscreen and a 21.5" LED monitor for an enhanced navigation experience.
The device works with single crystal transducers that produce astonishingly clear high-resolution images, allowing doctors and technicians to diagnose patients with uncompromised confidence and precision. Additionally, the EPIQ 5 offers innovations in Anatomical Intelligence for Breasts screenings, making it one of the best ultrasound machines for OB/GYN practices and women's healthcare.
As a shared service device, the EPIQ 5 is suitable for clinicians across every medical specialty. Its cutting-edge TrueVue Advanced 3D Display produces remarkably lifelike 3D images that users can manipulate with adjustable light and shadow contrast over the entire 3D volume.
And if that's not enough, the Philips EPIQ 5 also comes equipped with MaxVue High-Definition Display that increases the image viewing area by 38%, making it easier to visualize patient anatomy from multiple angles.
The Philips EPIQ 5 ranges between $42,500 and $63,500. This is a bargain for a premium device with a full range of imaging capabilities and high performance across multiple clinical applications. With four probe ports plus 2D, 3D, and 4D imaging modes, the Philips EPIQ 5 is well-suited to cover the full scope of a typical medical office's ultrasound needs.
Pros:
110 Sec boot-up time and high processing speeds so users spend less time waiting
SmartExam protocols help you perform complete studies on every patient and significantly reduce exam time
Advanced PureWave and nSight Imaging technology that increases penetration by up to 76% for better scans of hard-to-image patients
DICOM capability allows patient data to be shared across devices
Cons:
45 min battery life may leave users wanting more
Philips EPIQ 7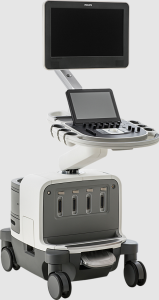 The Philips EPIQ 7 is a premium ultrasound machine that shares much of the same advanced imaging capabilities as its counterpart, the EPIQ 5. This includes Anatomical Intelligence for Breasts, TrueVue Advanced 3D Display, and MaxVue High-Definition Display. Like the EPIQ 5, the Philips EPIQ 7 is a shared service device with exceptional imaging performance across multiple clinical applications, including Cardiac, OB/GYN, Vascular, Urology, MSK, and more. Additionally, the EPIQ 7 comes equipped with four-probe ports, a 12" touchscreen, and a 21.5" LED monitor. The Philips EPIQ 7 stands apart from the EPIQ 5 through the introduction of its xMatrix Transducer – an advanced crystal probe that improves image quality and offers every imaging mode all in one device, including:
2D, 3D, and 4D
Live xPlane
Live MPR
MPR
Doppler
Color Doppler
CPA.
Users can effortlessly switch between imaging modes at the touch of a button. And as one of the lightest ultrasound machines in its class, the EPIQ 7 allows for easier transport between distant clinical locations.
Faster processing speeds, improved portability, and clearer imaging through xMatrix probes raise the price of the EPIQ 7 slightly above the EPIQ 5, costing between $47,500 and $71,250.
Pros:
Transcranial Doppler (TCD) fusion that improves vascular imaging performance and reduces dependence on CT or MRI scans in stroke cases
DICOM capability lets users view CT, MRI, NM, and mammography images on their EPIQ device
A MicroCPA feature for better visualization of small vessels and more accuracy when evaluating organ perfusion
Cons:
45 min battery life is shorter than some of its competitors
Siemens Acuson Sequoia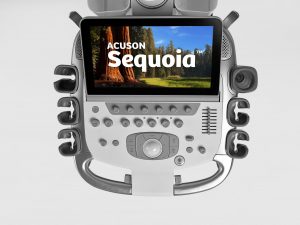 Like the Philips EPIQ 5, the Siemens Acuson Sequoia is a premium shared service device with multiple clinical applications, including Cardiac, OB/GYN, Vascular, MSK, Urology, and more. The Siemens Acuson has four probe ports, 2D, 3D, and 4D imaging for live video, a touchscreen user interface, and a 22" OLED monitor, which is slightly larger than the EPIQ 5.
The Siemens Acuson Sequoia sets itself apart from its competitors through its unique BioAcoustic Technology. This leading-edge technology uses users' data worldwide to reduce patient variability and provide greater imaging accuracy and diagnostics. It is beneficial for large, hard-to-image patients.
The system's InFocus imaging feature uses focused transmit beams for deep tissue penetration while preserving image quality at every depth. Custom Tissue Imaging uses the speed of sound correction technology to adjust to specific body types while maintaining the image's resolution. The Siemens Acuson Sequoia sets the industry standard for providing clear, high-resolution images in patients of every shape and size.
Pros:
Modality Compare feature that allows for a side-by-side comparison of images from other devices (e.g., CT) during real-time ultrasound viewing
InTune Transducer Technology matches transducers to the best acoustics for each clinical use to optimize patient diagnostic exams
Cons:
Heavier than its competitors
GE Voluson e10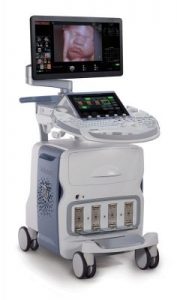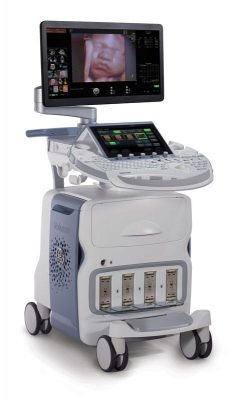 The GE Voluson e10 sits in a class of its own when it comes to advanced imaging for OB/GYN practices. Voluson's cutting-edge e4D technology combined with the system's curved matrix electronic 4D probe makes the Voluson e10 one of the most highly-coveted ultrasounds for women's healthcare.
This device allows clinicians to assess fetal health and monitor a range of complex women's health issues with accuracy and confidence. At the same time, the GE Voluson e10 offers shared service functionality for various clinical applications, including:
Cardiac
MSK
Vascular
Urology
The GE Voluson e10 stands out from other premium ultrasound systems in its use of innovative Radiance System Architecture together with HDlive imaging that displays crystal clear images in real-time on a large 23" LED monitor. This powerful device provides superior processing speeds and renders exceptional, realistic imaging in less time than its alternatives. The price for the GE Voluson ranges from $47,000 to $51,000.
Pros:
Edison-Artificial Intelligence in SonoCNS for improved viewing and measurements of the fetal brain
SlowFlow HD for better visualization of blood perfusion in small, low-velocity vessels
RadiantFlow for detailed vascular imaging and a near-3D view of blood flow tiny vessels
Cons:
20 min battery life, the shortest of its competitors
No sleep mode
What to Consider When Buying an Ultrasound Machine
To get the most value out of your ultrasound purchase, take time to consider the following: the image quality of the device, the advanced features needed in your practice, the system's ergonomics, the warranty guarantee, and the availability of after-sales support from the seller. Here are the top considerations.
Image Quality
Image quality and resolution-enhancing features are among the most important factors to consider when purchasing an ultrasound machine. Image quality heavily influences the quality of care you provide to your patients. Premium ultrasound machines with advanced imaging technology can lead to more accurate clinical observations and diagnoses. Choosing an ultrasound device that delivers the image quality you need to monitor and care for patients with confidence is important.
Advanced Features
When narrowing down your options between similar ultrasound machines, it helps to identify the features and tools you use most frequently in your practice. Some advanced features to look for include:
Compatibility with a wide selection of transducers
HD Live imaging
Intracardiac Echo (ICE)
Shearwave Elastography
3D/4D imaging
Artificial Intelligence tools
Workflow efficiency tools
Productivity enhancements
Ergonomics
Ergonomics is a big consideration for clinicians who spend a significant portion of their day imaging patients. The ergonomics of an ultrasound machine affects the comfort and workflow efficiency of the user experience.
You can determine a system's ergonomic value with the help of questions such as: how easy is it to adjust the monitor for optimal viewing angles? Can the device be adjusted for both seated and standing use? Does the system have any cable management features to prevent cords from tangling and dragging, reduce cable contamination, and avoid tripping hazards?
Warranty
The warranty coverage of your ultrasound purchase is critical to consider before buying. It's also important to determine the availability and service timeframes for parts if your device needs repairs.
Here at Strata Imaging, we offer a warranty on most of our new and refurbished ultrasound equipment and strive for a 24 hour or less response time to customer repair requests.
Reliable After Sales Support
Even the highest quality, most durable ultrasound machines won't escape the inevitable wear and tear of repeated clinical use in a busy healthcare setting. Before purchasing an ultrasound system, It's essential to assess the reputation of the seller and the quality of their service support. Do they offer repair or replacement services? How quickly do they respond to machinery failures?
Strata Imaging is a trusted industry leader when it comes to exemplary after-sales support. We offer a complete rental, maintenance, repair, and sale of almost every type of ultrasound system and related peripherals. And every Strata purchase comes with a dedicated customer service support and repair team.
Why Buy From Strata?
The Philips EPIQ 5, Philips EPIQ 7, Siemens Acuson Sequoia, and GE Voluson e10 are all premium ultrasound machines with shared service functionality. These top-of-the-line machines offer fantastic performance in any clinical setting but may have unique benefits particularly suited to your business needs.
You can maximize the patient care you provide by identifying your prospective ultrasound's advanced features, ergonomic value, warranty guarantees, and after-sales support options.
In addition to the four premium machines compared in this guide, Strata offers complete rental, maintenance, repair, and sale of almost every type of ultrasound system and related peripherals to all 50 states.
Browse our full catalog of ultrasound equipment to find the best fit for your clinical staff and patients. If you run into any questions, give us a call! Our knowledgeable customer service team can assist you. Strata Imaging understands and highly respects the demanding nature of running a medical business, and we are determined to help you find a solution that best meets your equipment needs.
Contact for Price Quote
Discover Ultrasound from Strata Imaging
If you are in need of an affordable option and are looking to save 30-60% over new OEM prices then allow our knowledgeable customer service and expert team to assist you in developing a solution that fits your requirements.
We offer solutions with a 100% satisfaction guarantee, ensuring you receive the best value for your investment.
Strata Imaging's Guarantee

FDA Certified Products

Factory OEM Specifications

100% Guarantee
Our clients
Trust Others From Around The World
Served over 4,000 Ultrasound and C-Arm Clients since 2004