Philips Sparq Versus the Top Ultrasound Machines

It's common to not know where to start when looking for an ultrasound machine. There are a lot of variabilities both in features and cost, even among ultrasound machines of the same class. As a medical professional, the quality of care your team delivers can mean the difference between a correct diagnosis and a misdiagnosis, which is sometimes a life and death situation. This makes it all the more important to identify the best-suited imaging equipment for your patients' needs.
This article compares the Philips Sparq to three other quality alternatives, namely the GE Venue 40, the Philips Affiniti 50, and the Philips Epiq 7. We highlight each of their standout features, strengths, and weaknesses so buyers can more easily identify the right fit for their business.
Ultrasound Machine
Details
Philips Sparq
Price Range

: $22,000 to $33,000


Monitor Size

: 17 inches


Imaging Modes

: 2D


Probe Ports

: 3 probe ports


Controls

: Touchscreen and touchpanel 


Applications

: Cardiac, Vascular, Emergency Medicine, MSK


Key Features

: M-Mode, Color M-Mode, Anatomical M-Mode, Directional color doppler, CW Doppler, PW Doppler, Power Doppler, Tissue Doppler, Continuous high pulse repetition frequency, Tissue harmonic imaging, Compound imaging, Needle recognition, Auto optimization

GE Venue 40
Price Range: $6,000 to $10,000
Monitor Size: 10.4 inches
Imaging Modes: 2D
Probe Ports: 1 probe port
Controls: Touchscreen, knobs, buttons, and trackball
Applications: Abdominal, MSK, Emergency Medicine, Vascular, Anesthesia, Breast, Small Parts
Key Features: Auto Tissue Optimization, Integrated speaker, Wireless LAN, Tissue Harmonic Imaging, Color, Power Angio, Pulse Wave Doppler, M-color Flow Mode, < 17-second boot uptime
Philips Affiniti 50
Price Range:$27,000 to $38,000
Monitor Size: 21.5 inches LCD
Imaging Modes: 2D/3D/4D
Probe Ports: 4 probe ports
Controls: Touchscreen, knobs, buttons, and trackball
Applications: Cardiac, OB/GYN, Vascular, MSK, Urology
Key Features: InFocus Imaging, Custom Tissue Imaging, Modality Compare, InTune Transducer Technology
Philips EPIQ 7
Price Range: $47,500 to $71,250
Monitor Size: 21.5 inches
Imaging Modes: 2D/3D/4D
Probe Ports: 4 probe ports
Controls: Touchscreen, knobs, buttons, and trackball
Applications: Cardiac, OB/GYN, Vascular, Urology, MSK
Key Features: xMATRIX probes, Anatomical Intelligence for Breast, TrueVue advanced 3D display, MaxVue HD display
Philips Sparq Vs. Similar Models
The Philips Sparq is a versatile ultrasound machine with shared service functionality. It falls within the midrange class of ultrasounds and provides reliable imaging performance in multiple clinical settings, including:
Cardiac
Vascular
Emergency Medicine
MSK
The Philips Sparq is a great option for most medical practices, but you may find even greater satisfaction in one of the alternatives compared below. All four ultrasound machines in this comparison guide are shared service devices with superb imaging capabilities. Continue reading to see how each machine stacks up in its standout features, price, pros and cons, and more.
Philips Sparq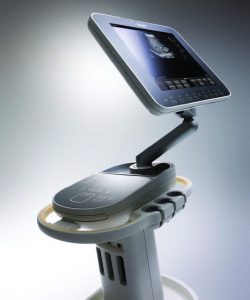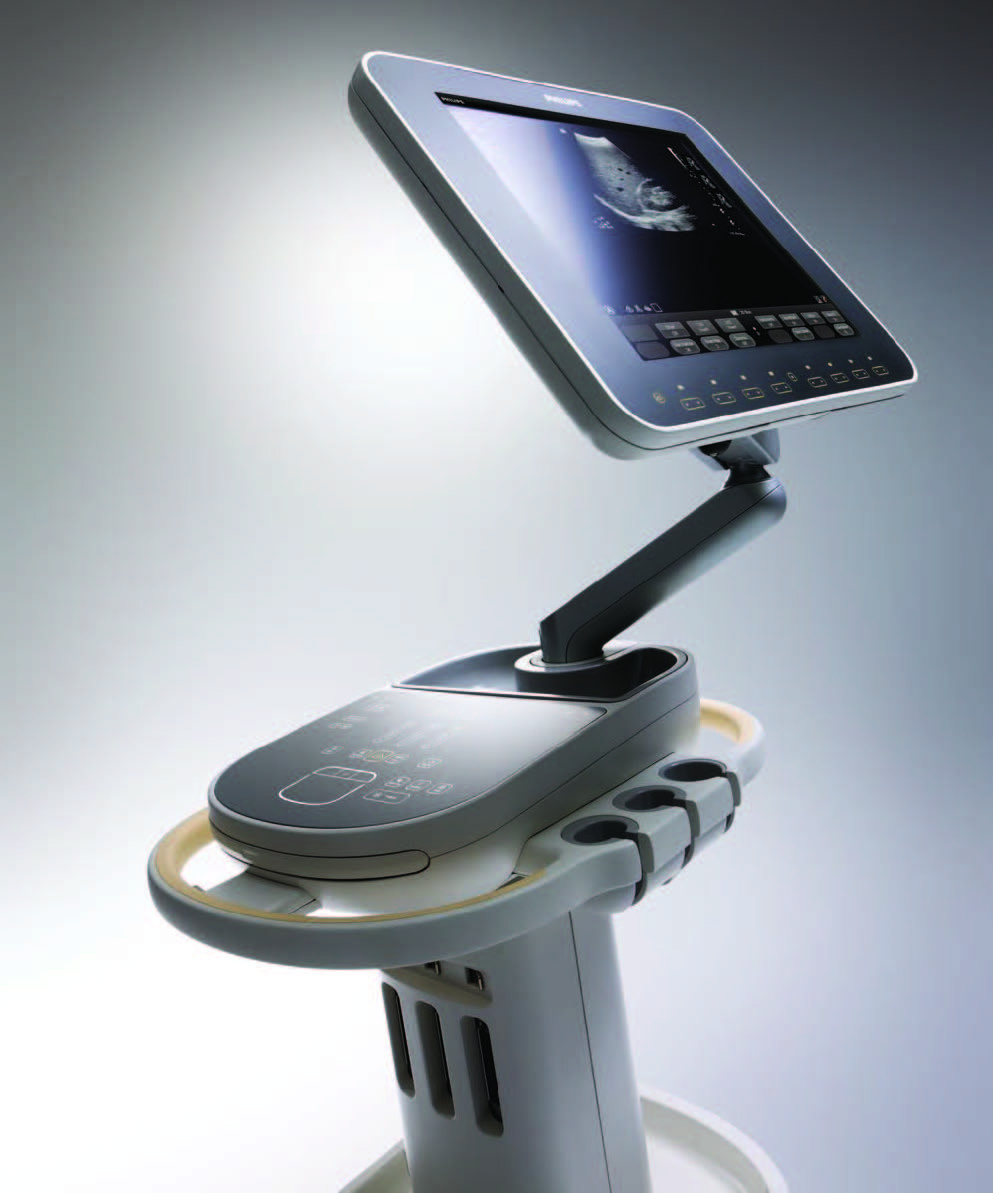 The Philips Sparq is lightweight and well-regarded for its maneuverability. It has a sleek, unobtrusive design and performs particularly well in point-of-care situations and emergency rooms. The control panel is a sealed, glass-tempered touchscreen surface that is easy to clean, making it a great option for operating rooms where equipment is routinely bespattered.
The Philips Sparq provides clear, high-resolution images on a 17" monitor with the help of advanced imaging features like Tissue Harmonic Imaging and Compound Imaging. It also has multiple doppler settings and serves as a great diagnostic tool in vascular care units and other clinical settings where monitoring blood flow is critical to care. The Sparq's many doppler settings include:
Directional color doppler
Continuous-wave (CW) Doppler
Pulsed-Wave (PW) Doppler
Power Doppler
Tissue Doppler
As a midrange ultrasound machine, the Philips Sparq strikes the perfect balance between price and performance. Midrange units are some of the most commonly purchased ultrasounds because they tend to fulfill both the basic imaging needs and budgets of most medical practices. The price for the Philips Sparq ranges between $22,000 and $33,000.
Pros:
Supports Philips' advanced PureWave Transducer Technology
M-Mode, Color M-Mode, and Anatomical M-Mode features allow for accurate, real-time measurements of various echocardiographic parameters
Needle Recognition feature for precise needle and catheter placements
iSCAN Auto Optimization of gain and time gain compensation (TGC) to continuously provide a high-quality image during scans
Continuous high pulse repetition frequency
Cons:
No 3D or 4D imaging modes
GE Venue 40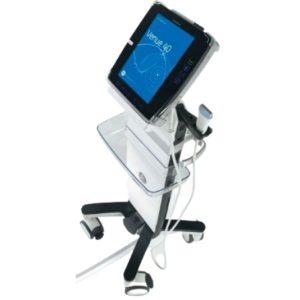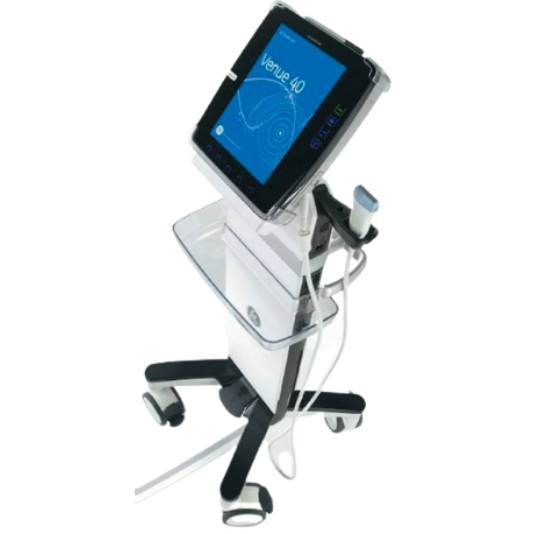 The GE Venue 40 is a handheld ultrasound machine that clinicians can take anywhere. It provides excellent portability and can also be mounted on a cart or the wall for greater imaging stability. Cleaning the device is a breeze due to its integrated waterproof touchscreen monitor design.
Similar to the Philips Sparq, the GE Venue 40 is a shared service device with multiple clinical applications, including:
Abdominal
MSK
Emergency Medicine
Vascular
Anesthesia
Breast
Small Parts
The GE Venue 40 also shares several of the imaging features found in the Philips Sparq, including Tissue Harmonic Imaging and Pulsed-wave Doppler. Additionally, the GE Venue 40 offers Color Power Angio (CPA) imaging, allowing clinicians to visualize blood flow in small vessels that are undetectable by conventional color doppler techniques.
The GE Venue 40 stands out from other ultrasound machines in its combination of portability and processing speed. This small, powerful device has a <17 second boot-up time, significantly faster than many other ultrasound machines on the market. The price of the GE Venue 40 ranges between $6,000 and $10,000.
Pros:
Auto Tissue Optimization allows clinicians to optimize scan images for various types of tissue
Integrated Speaker
Wireless LAN so users can connect the Venue 40 to their other compatible devices
M-Color Flow Mode feature allows clinicians to calculate flow noninvasively in small blood vessels
Fast boot time (17 seconds) is perfect for critical applications
Cons:
No 3D or 4D imaging modes
One probe port
Philips Affiniti 50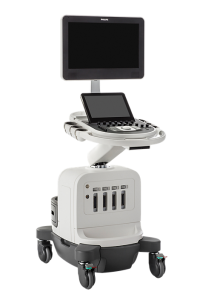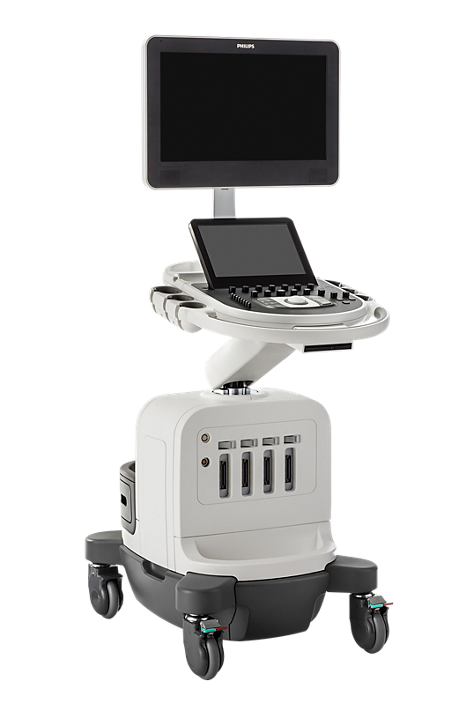 The Philips Affiniti 50 shares many similarities to the Philips Sparq. It is a midrange, shared service ultrasound machine that offers exceptional imaging performance in multiple clinical settings, including Cardiac, OB/GYN, Vascular, MSK, Urology, and Emergency Medicine. Like the Philips Sparq, the Affiniti 50 has a broad range of doppler imaging settings, including:
B Doppler
M Doppler
PW Doppler
CW Doppler
Color Flow Doppler
With PureWave crystal transducer technology combined with advanced features like Panoramic imaging and 3D/4D image modes, the Philips Affiniti 50 produces astonishingly clear images on a 21.5" LCD monitor.
The Philips Affiniti 50 sets itself apart from the competition with its high-end QLAB software, allowing clinicians to easily expand a patient's diagnostic information with various QLAB assessment and analysis apps, including GI 3D quantification, Intima-Media Thickness (IMT), MicroVascular Imaging (MVI), and Vascular Plaque Quantification (VPQ).
The price for the Philips Affiniti 50 ranges between $27,000 and $38,000.
Pros:
4 probe parts
DICOM 3.1 compatibility
Tissue Specific Presets (TSP) for improved imaging in hard-to-image patients
AutoSCAN automatically and continuously optimizes the brightness of the image at the default gain and TGC settings
Tissue Harmonic Imaging
Contrast-Enhanced Ultrasonography (CEUS) improves visualization of anatomic structure and lesions, especially for patients with contraindications to CT and MRI
Anatomically Intelligent Ultrasound (AIUS) feature automatically identifies anatomy and performs the most common tasks during exams
Cons:
No HD Live feature
No 3D Echo feature
Philips EPIQ 7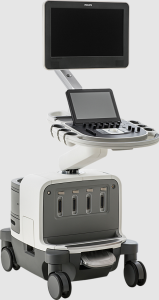 The Philips EPIQ 7 is a premium shared-service ultrasound machine with clinical applications for Cardiac, OB/GYN, Vascular, Urology, Musculoskeletal, and a host of others. It has the full range of Philip Sparq's imaging capabilities plus a whole lot more.
The Philips EPIQ 7 stands in a league of its own in the area of advanced imaging technology. Some of its most notable features include TrueVue advanced 3D Display and MaxVue HD Display, providing remarkably lifelike 3D images and a more realistic display of anatomical features.
Additionally, the Philips EPIQ 7 has an Anatomical Intelligence for Breasts feature, making it one of the best ultrasounds for women's healthcare.
The price of the Philips EPIQ 7 ranges between $47,500 and $71,250.
Pros:
nSight technology that increases ultrasound penetration by 76% for optimal imaging in hard-to-image patients
MicroCPA for better visualization of tiny vessels and organ perfusion
Shear wave elastography for improved liver assessment and evaluation of tissue elasticity of various traumatic and pathologic MSK cases
Cons:
45 min back-up battery life is shorter than some of its competitors
What to Consider When Buying an Ultrasound Machine
The ideal outcome for most prospective ultrasound buyers is to find a machine within their budget that has all the imaging features needed to deliver reliable, quality care to their patients. To achieve this, it is critical to clearly define the intended clinical use of your ultrasound machine before making a purchase. Buyers should also determine if they need a new or refurbished machine and who the end-users of the equipment will be.
Intended Clinical Use
The intended clinical use of your ultrasound machine will likely be the determining factor in your purchasing decision. Most healthcare teams benefit from buying a shared service ultrasound machine that they can use across multiple medical specialties.
Another consideration is whether you will use your ultrasound for diagnostic purposes, treatment, or both – this will determine the key features to seek out in your prospective ultrasound system.
For instance, surgical teams and anesthesiologists often use ultrasounds for perioperative purposes and will benefit from purchasing a device with advanced features like HD Live viewing and Needle Recognition for precise needle or catheter placements.
New vs. Refurbished
Should you purchase a new or refurbished ultrasound machine? On the one hand, new ultrasound systems often come with longer warranty coverage. On the other hand, refurbished ultrasound machines can provide equal performance to new machines at a fraction of the cost.
If cost is a determining factor for you, consider purchasing a refurbished ultrasound machine from a seller with high-quality after-sales support.
Strata Imaging has a proven track record of excellent after-sale technical support, offering full maintenance and repair services on every purchase. We take customer service seriously and strive for a 24 hour or less response time to all customer repair requests.
Additionally, Strata Imaging has an extensive offering of ultrasound parts to cover you in the event of damages or partial machinery failures.
End Users
Who will be the end-users of your ultrasound machine? Seasoned physicians who deal with complex medical cases and have years of experience using imaging equipment may desire a premium device with advanced imaging features, like the Philips EPIQ 7.
On the opposite end, teaching institutions looking for an ultrasound primarily to train medical students may find satisfaction with a less expensive option like the Philips Sparq or GE Venue 40.
Why Buy From Strata?
The Philips Sparq and the Philips Affiniti 50 are two outstanding midrange ultrasound machines with the imaging capabilities to satisfy most medical practices. Clinicians requiring a broader range of advanced features may turn to the more expensive Philips EPIQ 7.
If you're looking for an extremely portable machine, the GE Venue 40 is a great option.
In addition to the four ultrasound machines compared in this article, Strata Imaging offers complete rental, maintenance, repair, and sale of almost every type of ultrasound machine and related peripherals to all 50 states.
Browse our extensive catalog of ultrasound equipment to find the best fit for your healthcare team.
When you buy from Strata Imaging, you get more than a first-class machine at a great price. You also gain access to our expert repair team and knowledgeable customer service reps.
Contact us today with any questions you have, and our dedicated service team will gladly assist you.
Contact for Price Quote
Discover Ultrasound from Strata Imaging
If you are in need of an affordable option and are looking to save 30-60% over new OEM prices then allow our knowledgeable customer service and expert team to assist you in developing a solution that fits your requirements.
We offer solutions with a 100% satisfaction guarantee, ensuring you receive the best value for your investment.
Strata Imaging's Guarantee

FDA Certified Products

Factory OEM Specifications

100% Guarantee
Our clients
Trust Others From Around The World
Served over 4,000 Ultrasound and C-Arm Clients since 2004